Sometimes an artist comes out of nowhere, burns like Roman candle, and sets the music scene alight. Boston's Julie Rhodes is one such artist. She is on a roll. Her debut CD continues to rack up rave reviews and her live shows are drawing crowds. After one year in the music business, she snagged a Boston Music Award for Best New Artist at last December's annual award show at The House Of Blues.
"It feels great," Rhodes exclaimed. "Boston has always been my home, but I'm just getting started out as a musician. So, to be recognized by my community this early on in my career is so rewarding to me. "
Rhodes initially got involved with the greater-Boston music scene as an enthusiastic fan of live music. At a young age, she didn't have much interest in anything other than going to see bands play live.
"I spent most of my time hanging at as many venues as I could get myself into without a fake ID," she said. "After a while, you kind of start to know everyone. By the time I was ready to start making my own music, I already had this amazing network of friends, musicians, music lovers that help me get my start. A good friend of mine, Michael Panico, got me in touch with some local bookers early on who were nice enough to take a chance on us. "
Curiously, the youthful Rhodes had already developed an interest in Americana roots music. She was drawn to the genre because it was wide umbrella of offerings, many different genres and styles of playing to capture the imagination of a young singer.
" I love different aspects of it for different reasons," she said. "Some of it for the honesty, some of it for the musicality, the message, the community." Interestingly enough, Rhodes was also a fan of genres more associated with her age group, making her move toward American Roots music even more compelling. Pop rock, rock, and reggae just weren't enough for her.
"I've really always been a fan of roots music; I just found it in unlikely places," Rhodes said. "Growing up, I was really into the pop-punk scene because that's where the all ages shows were. But, even then, I always gravitated toward the bands within that scene that had country, soul and blues influences. I can thank a lot of those bands for opening my eyes to so much of the music I love today."
Rhodes debut album, Bound To Meet The Devil, released in 2015, included renowned engineer John Gifford at the FAME studio in Muscle Shoals while her album was being produced by her good friend Jonah Tolchin. "Jonah was the one who connected me with all of the amazing players as well as most of the engineers that we worked with" she said.
After those connections were made, Rhodes found he Muscle Shoals experience to be beyond anything she ever expected, especially for a young artist recording her debut album.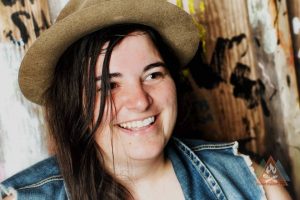 "Recording at FAME was like a dream," she said. So much history in that building; you could feel it as soon as you walk in the door. The walls were lined in photos of everyone from Etta James to Duane Allman. There were little reminders everywhere of the magic that had been created there over the years. The coolest thing I saw was just sitting on a shelf, an old tape reel of outtakes from Duane Allman's anthology."
One of the fringe benefits of meeting people at FAME studios was getting to work with some established names in the music industry, like organist Spooner Oldham whose work can be heard on many landmark albums that came of Muscle Shoals.
"Jonah reached out to John, and John got in touch with Spooner, who has been known to do some session work at FAME every now and then. It was such an honor to have him," Rhodes said.
Critics and other industry types are already talking about Rhodes songs. With titles like "In Your Garden," "Collector Man," and "Hurricane," she's been burning up local radio play lists. As with any artist, Rhodes said her songs were inspired by real life events and situations. Some of her songs are more deeply felt and more deeply personal than others.
"'In Your Garden' is inspired by societal beauty standards and our tendency to disregard and devalue those who don't fit within them," she said. "It's basically a big fuck you to anyone who has strung somebody along or kept a relationship secret because they were too afraid of what people might think."
Before she grew up to be an aspiring rock star, Rhodes worked at and then managed an ice cream stand. She recounts some of her experiences and feelings about those days in her song "Collector Man."
"I was feeling overworked and underpaid, and I kept getting these constant calls from debt collectors about student loans and the like," she said. "They would call like ten times a day. Despite working 50, 60 hours a week, I just wasn't making enough to get ahead." She also has a song on her album titled "Digging," which is her double meaning theme. "It's supposed to signify the feeling of
digging your own grave, but is also a metaphor for scooping ice cream."
Her song "Hurricane," which reveals advanced observation at her young age, was inspired by an old relationship. "It's about being with someone who you love, but just can't get along with anymore. You find yourself ignoring the signs because losing them would hurt too much," she said.
Rhodes has kicked off her career with a well received album recorded in Muscle Shoals, winning a Boston Music Award, and maintaining a very busy touring schedule. Asked where she would like to take her music from here, she closed out this interview with a one word answer:
"Everywhere."