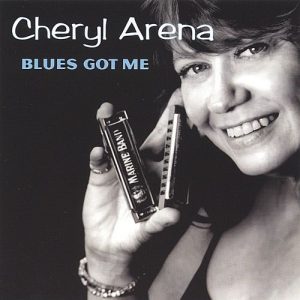 It's been about 14 years since Cheryl Arena released her debut CD Blues Got Me. After all of this time, the disc still serves as a fine document of her abilities and she can still use it as a calling card to get into all kinds of venues. Her songs range from inventive originals clever of arrangements of timeless classics, from basic, assertive guitar driven blues songs to more elaborate horn laden material for big bands. Produced by the legendary Duke Robillard, Arena's talents on vocals and harmonica manage to standout among her impressive song craft and imaginative arrangements.
Opening cut "Blow My Blues Away" finds Arena playing a country blues harmonic melody. Its amicable vibe sets the scene for her poignant longing for locations with strong blues identities. Her expressive vocal finds a good home amidst well accented electric guitar lines and a gentle, emotive, acoustic twangy six string.
"Love Gone Wrong" offers more flinty guitar, this time with honky tonky piano. Arena gives it her sultry best, letting her strong but silky smooth croon speak for itself without any affectation. She's feeling it, and she makes her listener feel it.
Arena shows her whimsical side with "Shave It," a call to her man to get clean shaven. Her harmonica treatment is full of wit, blowing intervals of sweet, tender notes in between her playful list of gripes about that stubble. Scott Shetler's clarinet melody becomes a second winsome personality in this piece and before you know it, this whole tune becomes another on this disc to fall in love with.
Horn tufts make "Listen To What I Say" a more muscular presence and the tune proves Arena can handle a forceful personality number. She makes her deal clear with her pointed vocal delivery and a thickened harmonica line, one loaded with bulbous notes. The horn section is Gordon Beadle, Scott Shetler, and Scott Aruda and Ms. Arena holds her own against this veritable Boston horn squad.
Title track "Blues Got Me" stomps right in with authoritative pride. Arena's harmonica, with its soul drenched phrasing, rocks out over Matt Woodburn's gritty guitar work. Her vocalizing here is another treat for the ears as she applies her girlish timbre ever so charmingly to this personal anthem. Pushy drumming from Mark Teixeira and bucking bass work from the albums low end man Ted Bukowski keep this one moving with funky aplomb.
"It Ain't Right" is uptempo, hotdogging, two step shuffling blues and Arena and her band shuffle things in the right way. Arena's speedy harmonica line zig zags with precise phrasing and a cool tone as her band lets loose underneath her with a mountain tempo boogie.
Arena covers the old Buddy Johnson number "About To Break My Heart" with tender, girlish aplomb. Her vocal rides over horn swells and a considerately picked guitar melody with sensitive, tasteful self-restraint. Holding back lets the innate prettiness of her voice shine through and express the vulnerability of the theme.
Arena returns to her own original material on "Living In The Moment." Here, she finesses her way through a slippery, sliding vocal line and twisty lyrics. Her band's mild, jazzy backdrop gives her room to unleash some spiky harmonica lines that match the raw emotion of this traveling, nonstop piece of energy.
Arena really gets her harmonica groove on during her cover of Little Walter's "Baby." She rides the classic harmonica line well, keeping it flinty, emotive, and tasteful while making those notes spiral off in a pleasant direction. It's uncanny how her smooth, pretty vocal sounds so natural and empowered next to her horn section's thrusting tuft of musical muscle.
Arena gets into more witty writing with "He Ain't No Prince," turning the fairy tale metaphor around to make a point about disappointment and disillusionment. Her sultry approach makes one realize this lady just elevated her taste and will be on the prowl for a finer gentleman. Matt McCabe's piano here is another highlight, a classy series of notes that makes one imagine Arena wearing a long black dress and white velvet gloves and pearls as the lights come up over her in the city's finest establishment.
Arena gets to showcase more of her harmonica zeal on Charles Grossley's "You Better Change." This time around, Arena commits herself to a fierce line, one she blows out with melodic precision and emphatic boom. She has to. She's blowing alongside ace guitarist Matt Woodburn and over bassist Ted Bukowski and her CD drummer Michael Dunford. This one is just a spinning top of excitement.
Arena closes out her incredible album with an arrangement of Philemon Hou's "Grazing In The Grass." Her lilting harmonica line wafts beautifully over a rhythmic piano line and peppy percussion. It's a fine farewell for now song and the harmonica player leaves us with a sweet desert to remember the main courses of her CD.
Arena had much to be proud of with this Blues Got Me masterwork and to this day it helps her win over new fans as much as her live shows, live performances that run the gamut from classy chanteuse to high energy aggression. We can only hope that Ms. Arena is around the scene for a long, long time.