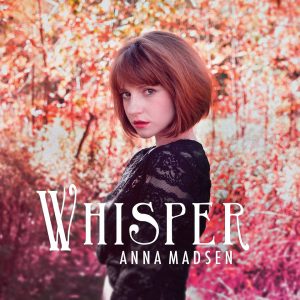 Have you ever gotten the feeling that something big was about to happen in the music scene? Well, you should get that feeling now. Anna Madsen is about to drop a full length CD, and it's certain to make splash throughout New England. Her Whisper album is loaded with many fine touches in each savory rock-electronica match up. Having teamed up with Pittsfield, New Hampshire based producer Brian Coombes, exciting guest musicians from the national music scene, and a few of the Northeast's best local players, Madsen now offers her fans a huge kaleidoscopic view of her rangy and sometimes otherworldly talents.
Madsen jumps right in with a relentless beat on opening track "Devil's Garden." Once she has the listener hooked into her world, she treats the ears with her perfectly controlled vocal emissions. Steady, persistent, letting enough of her flavorful voice slide over her intriguing sounds cape, Madsen keeps us glued to her intriguing lyrics. Voice and synth created sounds run along side each other in pleasing waves as the motion filled groove moves on. Speaking of groove, local drummer Eric Wagley and multi-genre journeyman drummer Jonathan Mover put plenty of palpable energy beneath the upper register allure.
Her dreamy voice on "If You Run" glides like a cloud over an engaging, brittle baroque melody that doubles back on itself in an old world fashion. One can picture king and queen and their courtiers moving to this in a castle dance while more poppy keyboard, bass, and drum work keep things in the 21 Century. Madsen's voice is deliciously cool, riding over classically inspired melodic pistons, small spikes, twisty vocal strides. It's catchy but more importantly, it's all so involving, like stepping into another world where there lots of moving parts to keep one intrigued.
Last year's single, "Palm Reader," which became a popular music video throughout New England, has been reworked here. Madsen's chant like vocalizing is hypnotic with the music beneath her vocal line feeling epic, a melodic line filled with emotive qualities while an eccentric percussion pattern furthers the sense of drama. Guest musician Kate St. John, formerly of Dream Academy, applies a light melodic underpinning with her cor anglais. One could easily lose oneself in this piece. It sounds at once other worldly and familiar, like something out of a dream.
"Black Dress" features the early Genesis lead guitarist Anthony Phillips on one of the guitar lines. Aside from the exciting guest musician, Madsen offers strident, sultry belts as well as more deeply felt quieter expressions. Using her voice as a perfect instrument adds a tremendous color and tone to this dark themed tune. The instrumentation around her is also stunningly dark and expressive, each little nuanced note contributing to a perfectly contrived scenario.
"Dead Daisies" has a catchy chorus made up of high pitched coos that intrigues the imagination with its tones while tugging the ear with it rhythm. Madsen keeps the entirety of the tune songbird pretty, eccentric, and eerily effective. It's also a radio friendly song that could find its way to modern pop radio.
Madsen is one of the best local artists when it comes to capturing a mood. "Golden Room" quietly unfolds a lovely but haunting vocal along with intervals of forlorn melodic piano notes. It's also a song that the listener cannot just turn away from. Everything going on in this tune, from its haunted tone to its more grand sweeping moments, pulls the listener right into its sorrowful world and carries him along for a ride through its darkness.
Moving along with a jaunty, mid-tempo bounce in its step, "Luna" is infused with delightful instrumentation. Jeremy Harman's bouncy cello gives it a fun, barking undertow. Producer Brian Coombes gives it sweet pop melody courtesy of his mellotron. Madsen's girlish, whispery vocal leads one through that pretty soundscape with her classy, considerate phrasing and more of her unusual but sweetly delivered coos. This one is just a gem of familiar rhythmic pattern with an alternative view of how to deliver the upper register instruments.
"Paint The Town Red" is obvious hit single material. Its smacking percussion echoes with an infectious beat. Madsen's uptempo vocal clip rides an enticing melody line comprised of sweet, electronic notes that one feels compelled to listen to. Madsen's voice here manages to be lush, smooth, and bright, a beacon which emits a signal to joy in its tone and timbre as much as the lyrics she's finessing.
Jordan Tirrell-Wysocki shoots some intrigue into "Cimmerian" with his tense fiddle line and Eric Wagley plays especially adept drum fills, injecting little nuggets into its involving groove. Madsen's voice carries well over a plethora of keyboard instruments like mellotron, optigan, omnichord, harpsichord, and celeste. The harpsichord suggests a mild Beatles influence while the others keep this tune firmly lodged in its own beautiful, perfect world of exotic, otherworldly sounds. It's uncanny, too, how well Madsen can maintain herself as the focal point with so much intricate instrumentation percolating around her.
Madsen's carefree, girlish vocal delivery on her lilting close out "Fingerprints" is just a dreamy joy. Lead by Myron Kibbee's brittle guitar melody and surrounded by Brian Coombes synthesized bubbles, this mellow piece tickles the ear with its unobtrusive intricacies.
Bonus track "Palm Reader Extended" plays on the strengths of the shorter, previous version on this disc. It's also a second chance to catch Madsen's larger than life vocalizing, a lifted, lofty quality in her voice that meets the challenge of leading this momentous tune.
Madsen, Coombes, co-writers, and impressive support players have come up with a masterful CD. Her high scaling vocal, lyrics, and mixture of traditional rock instruments with electronic sounds and unusual keyboards come together in one intriguing, mesmerizing soundscape.
https://www.facebook.com/events/400930996906045/