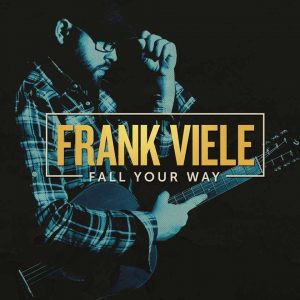 Frank Viele's latest CD Fall Your Way is loaded with hard charging, rootsie rock and roll. Few can belt a rocker like Viele can and few can match his pure emotional honesty heard in his mellower tunes. This Connecticut icon will surely go far with this Vic Steffens produced album.
Opening track "Broken Love Song" features guest Joe Bonamassa on a sizzling slide guitar line while Viele and his crack band keep this one humming along. Guitars do a lot of the talking here while busy players hold up all of the song's cornerstones. Bass and drums power this forward with plenty of wallop.
Viele's "Kalifornia" gets an assist from an able horn played by Bill Holloman. Soulful lines sway over a funky groove pattern while Viele gives us a heartfelt coolness as he croon this travel song with a perpetual motion. The entire piece funks its way forward with an effusive sound and persistent groove that makes one want to move.
A more acoustic guitar laced number, "How Dare You Say You're Sorry" travels a pleasant mid tempo lane. Within its loose structure a blend of guitar gristle from Max Cappello and Andy Abel keep it filled with something compelling and rocking.
Another mid-tempo cruiser, "Alexa," rides a wafting, breezy current. Layered with organ, horn, and soulful backing vocals, it moves like a feather in a summer breeze. Viele's gentle, mildly raspy vocal delivery coats with another ladling of something special. He carries the personal nature of this song well, making one feel how important it is to him to sing her praises and he finesses his lyrics with a neo-hippie vibe that fills it with flavorful colors and tones.
"Easy Money" is a light footed funk piece. Viele's chorus, complete with female backing vocals, sways in, does its hooky job, and sways out so he can take his rightful place among gently unfolding horn and guitar lines. Constructed to finesse at an easeful pace, this one makes an impression by balancing several colorful, tuneful instruments and voices at once.
Getting all mellow, pared down, acoustic guitar driven, quiet piece "When You Gonna Come Home" makes you feel longing, longing for companionship. Tom Barraco's peppy percussion and producer Vic Steffens' sublime keyword work give this tender song a emotive backdrop that highlight's the lead vocals personal touch even more.
Remaining acoustic, quiet, and reflective, Viele goes into "Tonight I Must Leave Your Arms," another tender piece about separation. His soulful rasp works wonders with the subject matter while bittersweet guitar phrasing and forlorn organ chords bring it all perfectly home to the listener.
"Monsters In The Hall" is a lilting melodic affair. Clipped vocal delivery among a gently sway of instrumentation brings this message home with plenty of self-assured aplomb. This one feels the vibe of the story and goes with it, and there's a slight Dave Matthews Band influence going on.
"Some Day I'm Gonna Make You Mine" glides in with breezy sax, light acoustic guitar picking, and a wafting organ swirl. This one has a neo-hippie vibe wrapped up in jazzy horn excursions, lofty keys, and an expressive lead guitar phrase. It conjures a feeling of a young man observing and chatting coolly with a young woman in a modern nightclub. Its hefty build up, too, adds to the tuft of coolness this tune is all about.
"You Don't Have To Go" pushes it way forward with a frisky beat and brisk guitar, organ, and horn. A good radio song for motorists cruising down the highway on a summer Sunday afternoon, it brings Viele's swagger to the forefront of the song. His brisk delivery is loaded with raspy soul and rock and roll foreshadowing in his measured mannered. He makes you feel like something good go very wrong in this story and drives you full throttle into the possible, impending disaster. Max Cappello's fiery lead guitar takes us there in this thrill packed adventure.
"You Don't Have To Go" travels at a brisk pace. It's funk-rock. It's a gritty, real life drama. It's a fun party tune. It might make you want to dance. It might make you want to drive your car around the track at a buck-fifty. It's stop-start pauses are very dramatic and Viele is in top rocking form when he sings over a sudden stop in instrumentation.
"Kick Up Your Heels" is funky and danceable, with a layer of speedy organ work and an incisive lead guitar phrase worked appropriately into the sound. The horn blowing all the way through this, and over some funky guitar riffs, also parcels out a generous heaping of cool.
Viele's take on Bob Dylan's "You're Gonna Make Me Lonesome When You Go" is wholesome and winsome. Pared down, Viele shines in this heartfelt arrangement. Close out number, "I Just Don't Know," is Viele's farewell until next time song. He croons this easygoing number with a deep soulfulness and steady purpose, making it a moving, memorable finish.
Viele came up with one of New England music scene's best albums with this Fall Your Way CD. It's balance of forcefulness and tenderness impresses throughout, and Viele has a unique sound that could carry him far.