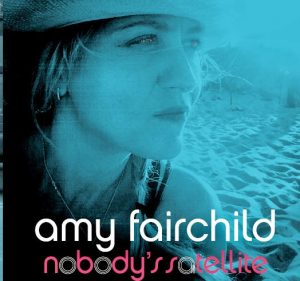 Boston singer-songwriter Amy Fairchild's new CD Nobody's Satellite is a quiet reflection on the hopes and challenges of being single. Utilizing her especially fine timbre for each song's expression, Fairchild makes powerful emotional and music statements in each track. She meets emotional truths head on while carrying her message with subtle, sophisticated touches, vocal techniques that tweaks each of her songs to perfection. Her assembly of acoustic and electric musical accompaniment allow her to paint an even larger picture while keeping things tender, beautiful, and colorful. She uses more co-writers this time around, and that has lead to some wise creative choices, taking her music in some newer directions.
"Save Myself Tonight" opens this album with a warm, friendly bounce. Fairchilds' honey smooth vocal pours over her song with girlish pluck as she croons this anthem of self-empowerment. A bright, shiny lead guitar sings its phrase prettily before Fairchild returns with her own charming delivery of this song's lofty theme.
"When He Was Mine" looks back on a failed relationship with wistful longing. Fairchild drawls her lyrical nostalgia when she reflects on previous places and times with perfect assertions and sustains, making her listener feel the angst she can't get out of her system.
"Simple Thing," co-written with her producer Adam Steinberg, chugs along on the strength of a jumpy electric guitar and a smacking drum drive. Fairchild, with a kittenish purr, croons over this soundscape with a series of twisty vocal melodies and raw, emotive sustains, keeping the listener glued each step of the way.
Title track "Nobody's Satellite," another co-written with Steinberg, is more of an acoustic guitar driven, personal ballad tune. Its flowing grace allows Fairchild to belt it out more heartily, an assertive vocal riding a carefully constructed melody line. Her girlish timbre contrasts well with the fierce independent streak of the lyrics, making it somewhat ironic, playful, and winsome.
"Always (All I Got)," by Fairchild and Steinberg, is a study in successful self-restraint. The tune finds Fairchild's earthy, smooth, and emotive vocal asserting itself over a more folksy acoustic guitar melody. Here, she gives just enough of her precious raw timbre to reach the listener's sweet spot without overwhelming.
"Love Don't Wait," co-written by Matthew Szlachetka, has a country flavor in Jon Graboff's pedal steel melody. Its ringing tones make the perfect backdrop for Fairchild's tender reflection on reasons not to let love pass by. Her vocal approach here is to assert herself like an anthem, adding weight and importance to what she is saying. Fairchild's vocal soars with forceful emotional meaning as her truths wave at us like a huge flag in the wind.
Fairchild sings a lilting melody over Andy Santosapago's brittle mandolin rhythm on "Feeling Tonight." Vocally, this tune takes one over the peaks and valleys of life as well as the twisty lyrics with gentle aplomb. The effect is perfect. Her song makes one want to sing and clap along to her merry chorus after following her lush vocal through many nice turns in the melody line.
"Three Words," written by Todd Thibaud, lets Fairchild show what she can do with another's song. She sings the heck out of this work, one she clearly relates to. It's uncanny how Fairchild makes this one her own with her emotive sweeps, vocal lines that take the sound far and wide, keeping her own personal stamp on things.
"When I Was Six (And You Were Four)"finds Fairchild crooning sweet and high over a tenderly played acoustic guitar line. Her voice rides up the range of feeling and of musical reach with each verse, making this a lively piece as well as a thoughtful reflection on an innocent time in her life. Her lyrics bring her story alive with brilliant clarity and spark: "Time just beat you down/ Aren't you tired of carrying it around?/Like an ancient meteorite/It takes so long to get the light."
"It Won't Be Mine" is a lovely piano ballad. The ivories, with their somber, forlorn melody, allow Fairchild to, once again, hit the listener's tender spot. She moves in a subtle vocal fashion over those piano tinkles, like a classy jazz piano bar crooner. Michael Peipman's flugelhorn line contributes greatly to the mood conjured here as it coats it with another layer of class.
Fairchild closes out her album with her poignant piece "Favorite Chair." Her piano and vocals follow a somber but hopeful road as she considers all that her mother has lived through and all that her mother will never share. Her vocal and piano bring it all to the forefront of the song, a song that sounds wide, expansive, epic, even though there are only two instruments.
Fairchild has taken a step forward with this Nobody's Satellite album. While it gets more acoustic and mellow than her previous works, it reaches a higher artistic and emotional level for this singer-songwriter. Fairchild is even more emotionally bold here than she's ever been, and, she is more artistically colorful, expressive, and, at once, self-restrained. Nobody's Satellite is a huge artistic statement.
Amy Fairchild's CD Release Party for Nobody's Satellite will occur on April 29th at Burren Backroom in Somerville, Massachusetts.