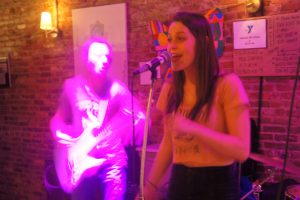 New England's queen of neo soul Gretchen Klempa took time out of a busy musician's schedule to update us on the state of her band Gretchen And The Pickpockets. The group has temporarily reduced their three gigs a week schedule down to three gigs a month so they can invest time in getting their next album together.
"We recorded an album last fall at Dimension Sound Studios in Jamaica plain," she said. "We've been taking out time with the album. We're mixing it currently, trying to get artwork going, just focusing on the album." Klempa said her band will resume a fuller performance schedule once the album is released.
Klempa said the new Pickpockets CD will feature "our classic funk, soul, jazz kind of songs but there's going to be some new songs with some weird sounds. Right now our hurdle is trying to make an album instead of individual songs," she said.
There is also some new directions. "I'd say half and half," she added. "All of the songs are a little different than what were used to be playing but a lot of them are horn driven." The band augments its trumpet player with a second trumpet player, a saxophone player, and two trombones player.
Klempa said she was influenced by numerous singers and bands when she was growing up. "I grew up as a pop baby. I listened to pop growing up," she said. "I'm now, as I've been in a band, we all listen to jazz and soul. I've been listening to a lot of Nina Simone, and Al Green. I also like Vulfpeck. I think they do a really cool job of mixing modern music with old sounds from old bands."
For Gretchen & The Pickpockets, Klempa and her band mates initially fell into a soulful, R&B sound with a bit of a rock edge.
"I don't thing there was ever any settling on something," she said. "We all came just came together and we all have our interests and I think we kind of found what we all liked, our common interest. I think it just kind of happened." Klempa also said that after four years, she and the band are still figuring out what their sound should be.
Klempa began her interest in music as a fan of Britney Spears and Pink. As a child she would sing into her mirror, mimicking her favorites. In fifth grade, Klempa got to sing a solo at a school variety show, after a teacher decided she could handle a song by herself. "That's when I started singing more," she said. "That was the first time my teacher, an elder, said I was a good singer and said I should sing a solo."
Klempa received her BA in Political Science-International Affairs and she minored in French. She worked on political campaigns during her college years. She's currently waiting tables at night, as it gives her the flexibility to travel to other countries. She's been all over Europe and she recently visited Peru.
"I've always traveled," she said. "I think it's really interesting to learn about different cultures. I think it's really important. It opens my eyes to different things."
Klempa also has memorable moments with her Gretchen & The Pickpockets. Road trips are her favorite part of the band experience. Earlier this week, she and her band mates had to drive four hours from Boston to Sugarloaf, Maine. "We always like eating. We like to eat together. It's kind of fun. We're all kind of foodies."
Klempa had to move from her native Exeter, New Hampshire to Harvard Square once her band became hugely popular. "I grew up in New Hampshire but I live in Boston now," she said. Pickpockets guitarist Richie Smith is studying at Longy School Of Music. "He is a great," Klempa said. "I think he inspires the band to push themselves and learn more about music. He has introduced me to a wide range of music that I have never listened to. We drive up to New Hampshire every week to practice. So, Richie and I listen to a lot of albums in the car, and I think that has helped us to become better musicians."
Klempa's brother Mike Klempa is the band's bassist. Trumpet player Ryan O'Connell went to graduate school at Tuft's University for composition and is currently teaching music for his daytime job. Drummer Tom O'Connell teaches drum lessons. The band members all contribute to the Pickpockets' songwriting.
"We all write them," she said. "Sometimes one person writes a whole song. Ryan is a really great writer. Ryan, the trumpet player, writes a lot of our awesome songs. For other songs, people bring ideas to the group and we all formulate together and write together, which is kind of cool."
Klempa's Gretchen & The Pickpockets have been doing well in their four years of existence. They've won awards. They play name venues all over New England. They receive plenty of press and radio play.
"I feel we all have a common goal and our goal is to one day have a living off music and sustain our lives with music," she said. "I think it would be really cool to be a touring band and share our message with people."
Gretchen & The Pickpockets have a gig at Great Scott in Allston, Massachusetts opening for Chrystal Garden(featuring Boyd Tinsley from Dave Matthews Band) on March 20th.