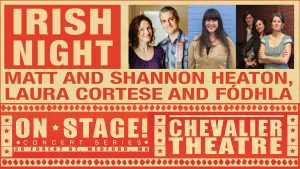 Irish Music Night featuring Matt and Shannon Heaton, Laura Cortese and Fodhla
The On Stage! concert series at the Chevalier Theatre in Medford, MA is pleased to
welcome a triple-bill of the Boston-area's finest Irish Music performers: Matt and
Shannon Heaton, Laura Cortese and Fodhla on Saturday, March 18th at 8:00 pm.
Award-winning duo Matt and Shannon Heaton are two of the most sought-after
traditional Irish Music performers in the country. Their record "Lover's Well" was named
fusion Album of the Year by Irish American News, and Shannon was named female
Musician of the Year TWICE by LiveIreland. Scott Alarik of The Boston Globe writes
"Their playing is masterful and inventive, their arrangements city-smart and spacious."
Singer/songwriter/fiddler Laura Cortese, often hailed as a folk luminary and a powerful
performer, will be doing a rare solo set at this show. Described by John Wenzel of The
Denver Post, "Her open-armed approach to her art reveals a determination to spread
the word about folk music and dance without watering down their distinctiveness."
Fodhla has been dazzling the Irish Music scene from small pubs to large festivals for
several years. The trio has created a sound rooted in the traditional Irish music that
fiddler Ellery Klein and flute player Nicole Rabata honed during years abroad in the Irish
cities of Cork, Limerick, and Ennis. They are also influenced by the depths of Nicole's
virtuosic classical music career, Ellery's Americana sounds, and guitarist Bethany
Waickman's soft-spoken, yet driving, guitar playing.
For the On Stage! concert series, the theater is transformed into an intimate,
coffeehouse-style venue by placing both the performer and the audience on stage
together. With this set up, the venue capacity is approximately 100 people, creating a
unique setting to get up-close and personal with world-class musicians.
For more information about the show and to purchase tickets, please visit the Chevalier
Theatre website at www.chevaliertheatre.com.