Hello again gentle readers,
I have another Buzz column for you all and it's just loaded with information about New England artists with upcoming gigs.
Barry Goudreau's Engine Room CD Release Party this Saturday, April 22 at The Lynn Auditorium. (I'm not going to write in a lot of information here about Barry Goudreau because after 40 years we know who he is and we get it…B.C.) https://www.facebook.com/events/1428071667224645/
Dave B And The Hotshots at John Harvard Brewery & Alehouse tomorrow, April 22nd; The group will play the Harvard Square venue for two sets, 9:30 p.m. to 11:30 p.m. https://www.facebook.com/Dave-B-the-Hot-Shots-290790197643060/?pnref=lhc
Thelonious Monkfish Hosts Second Annual Jazz Festival
Thursday, April 27 – Sunday, May 7
Lineup includes NEA Jazz Master Sheila Jordan, Yoko Miwa Trio, Dominique Eade, The Italian Tenors (Bergonzi, Garzone, Tiberi) Eula Lawrence and more
"…in a neighborhood known for its quirks and oddities, Thelonious Monkfish manages to stand out. Despite a long history of live music in the area, Monkfish is the only venue dedicated to jazz." — Bostonbarhopper
Thelonious Monkfish, the extraordinary restaurant/jazz club in Central Square, will host the second annual Thelonious Monkfish Jazz Festival with eleven consecutive nights of performances featuring some of the Boston area's top artists from Thursday, April 27 – Sunday, May 7, 2017. Performers include NEA jazz master Sheila Jordan, The Italian Tenors featuring tenor sax legends Jerry Bergonzi, George Garzone and Frank Tiberi, inimitable pianist Tim Ray, pianist/composer and club favorite Yoko Miwa, pianist/vocalist Paul Broadnax, jazz vocal virtuosos Dominique Eade, Patrice Williamson, Eula Lawrence, and Daniela Schachter, harmonica legend Mike Turk and pianist Christian Li.
All shows no cover except for Sheila Jordan performance ($10) and master class ($35). Dinner reservations are highly recommended. Thelonious Monkfish is located at 524 Massachusetts Avenue, Cambridge. For more information, call 617-441-2116 or log on to http://www.theloniousmonkfish.com/
Don Campbell, Maine country singer-songwriter announced the following dates:
Thursday, April 27 – Four-piece performs An Evening of Dan Fogelberg Music – Music Box Supper Club, Cleveland OH – 7:30 pm Tickets/info: www.musicboxcle.com
Friday, April 28 – Four-piece performs An Evening of Dan Fogelberg Music – Green Wood Coffee House concert series, Ann Arbor MI – 8 pm Tickets/info: www.greenwoodcoffeehouse.org
Saturday, April 29 – Four-piece performs An Evening of '70's Singer-Songwriters Music – The Castle on Charles, Rochester NH 7:30 pm Tickets/info: www.castlenh.com

FYI – The Six-Piece Band will be back at Jonathan's of Ogunquit on Saturday, October 21st for An Evening of Dan Fogelberg Music. Tickets on sale now! 8 pm. www.jonathansogunquit.com
Summer cruises on Casco Bay Lines on sale now! 7-10 pm 21+ eventswww.cascobaylines.com
Thursday, July 13th
Thursday, August 10th
Saturday, September 9th
Special Independence Day show! On July 4th, join us for a special edition of the Band's Veterans Appreciation show at the Seaside Pavilion in Old Orchard Beach, Maine! www.seasidepavilion.org
Vocalist Patrice Williamson and guitarist Jon Wheatley celebrate the release of Comes Love – an homage to Ella Fitzgerald and in particular her collaboration with guitar great Joe Pass – on Tuesday, April 25 at 7:30 p.m. at The Regattabar. The date marks the 100th anniversary of the birth of Ella Fitzgerald and the release of Comes Love on Williamson's own Riverlily Records. Joining Williamson and Wheatley for this performance are pianist Mark Shilansky, bassist Keala Kaumeheiwa and drummer Ron Savage. https://www.facebook.com/patricewilliamsonjazz/?fref=ts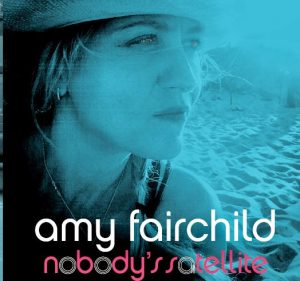 Amy Fairchild's CD Release Party for her new Nobody's Satellite album, recently reviewed here on BillCopelandMusicNews.com. http://www.billcopelandmusicnews.com/2017/03/amy-fairchild-makes-huge-personal-artistic-statement-with-nobodys-satellite-album/
Here is the dope on Amy Fairchild: Northampton, MA marks the beginning of Fairchild's musical career with the release of her first record, "She's Not Herself' which quickly garnered high honors from local papers and revealed Amy to be a talented songwriter who deftly gets to the heart of the matter. Fairchild truly came into her own when she teamed up with songwriter/producer/multi-instrumentalist Adam Steinberg and in 2002 released, "Mr Heart." Songs from this record went on to receive high honors in multiple songwriting contests, including first place in several categories in The John Lennon Songwriting Contest, Maxell Song of the Year and Billboard World Song Competition. Dave Marsh of Rolling Stone said, "If there still was a recording industry, this would come out on a major label and would be such a big hit you'd be sick of her by now. Not many people make records this good." Since then she's toured extensively, opened for countless others (Ben Folds, Joan Osborne, Robbie Fulks, Paul Brady, Pat Benetar and others) and continued to write and record. Now living in Boston, she's showing no signs of stopping, releasing her 5th CD (yet to be named!) also produced by Adam Steinberg, this April.
www.amyfairchild.com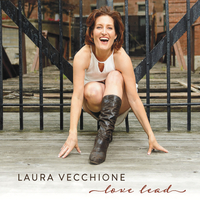 Laura Vecchione, on May 13th, will perform her third CD Release Party for her sensational new Love Leads album. All the action will go down at The Center For The Arts in Natick, Massachusetts at 8:00 p.m. Guess what? This Laura V show is also a fundraiser. Attendance helps fund and celebrate the work of Family Promise Metro west. This non-profit works to take families in the Metro-West area from homeless crisis to permanent sustainability. 100% of the proceeds go to the work of Family Promise. Purchase tickets through the Family Promise site link provided above! Join us at TCAN afterwards for the post show reception! COMPLEMENTARY DESERT PROVIDED BY BOSTON DESSERTS! https://www.facebook.com/events/171649373332458/?notif_t=plan_user_invited&notif_id=1492622283943405
https://www.facebook.com/lauravecchionemusic/?fref=ts
Bluegrass And Beyond is a bluegrass night at Chevalier Theatre's OnStage! Concert Series will feature some fine local bluegrass talent on May 13th, at 8:00 p.m.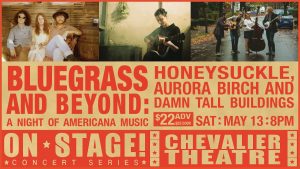 HONEYSUCKLE:
Honeysuckle is a highly respected progressive folk act that successfully blends older influences and traditional instrumentation with modern effects and inspiration, comprised of Holly McGarry, Benjamin Burns, and Chris Bloniarz. www.honeysuckleband.com
Boston Music Awards 2016 nominee for Best Americana and Best Folk Artist
Americana/Roots Act of the Year Big Red's Red Line Roots' 2016 Album Of The Year
Boston Music Awards 2015 nominee for Best Folk Artist and Best Americana Artist
Newport Folk Festival, Converse Rubber Tracks artist
AURORA BIRCH:
Chicago native and Berklee College of Music graduate Aurora Birch is a folk-rock singer/songwriter based in the greater Boston area. She specializes in heartfelt, contemplative songwriting, weaving purposefully through the spectrum of nonsense and lucidity, of infinite and infinitesimal, of delicately fanciful and brutally blunt. As a performer, Aurora composes remarkably captivating moments that extend to every seat in the house. With a perfect pairing of singer and song, she exudes an undeniable magnetism on stage. www.aurorabirch.com
DAMN TALL BUILDINGS:
Through street performing on Newbury St., Boston, this dynamic quartet formed the foundation for the fully-immersive and truly electrifying performance for which they are known today. DTB has performed at numerous venues and festivals across the continental U.S. – most recently including GreyFox Bluegrass Festival, Philadelphia Folk Festival, Podunk Bluegrass Festival, Bluegrass On The Bogs, Vinegrass, Freshgrass Festival (where they were awarded 2nd place in the 2016 band competition). www.damntallbuildings.com
https://www.facebook.com/events/275101022918244/
Jazz pianist Yoko Miwa celebrates Pathways – her first new album in five years – at The Regattabar in Cambridge on Friday, May 19. Joining Miwa are trio-mates bassist Brad Barrett and drummer Scott Goulding. https://www.facebook.com/Yoko.Miwa.Trio/?fref=ts
That's all for now, gentle readers. Keep on rockin' and reading.