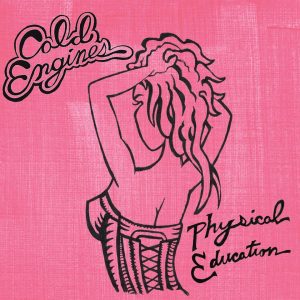 Cold Engines just keep on getting better and better. This prolific band, based in southern New Hampshire, is about to release its fourth album in three years. Their new Physical Education album is their best yet. The band has harnessed its tight, rocking sound into something even tighter while adding a much funkier feel to their songs. The title track as well as songs titled "Bring Out Your Body," "Pretend We're In Love," "All Night," and "Sexual Feelings" show the band getting into much more suggestive material, whether for commercial appeal or simply because it matches their funky sound, one can only guess.
Opening title track "Physical Education" gets the blood flowing, the head bobbing, and the toes tapping with its initial guitar riffs. The boys keep this energy going, right up into their breezy chorus about getting physical. The guitar and rhythm section maintained a quick pace and the lead vocal keeps finessing this high octane drive. The instrumental portion is sly and intriguing while a lead guitar phrase smolders with an explosive power. Before this song is over the listener is already looking forward to the rest of the album.
"Money" goes full swing into funk. One can picture a dance floor getting quickly crowded when the band gets into this live. A bleating guitar riff leads a rhythm section force of nature. An additional horn player keeps this one bright, colorful, and it adds to the funk with tremendous flair. It's a busy, intricate number with lots of moving parts and the boys in this band bring all of the elements together to create a fiercely appealing song.
"Face Of A Woman" takes the listener for a stroll through a mellow jungle of instruments and an easy going lead vocal build up. Soulful singing, amidst a backdrop of lolling drum fills, bass force, and a slow, smoldering lead guitar, adds a lot to an already meaningful soundscape. This song pulls one in with the assurance of a tractor beam while keeping the ears and the soul fully engaged.
"Bring Out Your Body" bops its way forward with a steadily delicious groove. The bass and drums juts out and struts, delighting the ear while pulling one closer into this band's sound. A rhythm guitar jumps on top of the rhythm section, rides it, and pinches out another layer of funk appeal. The lyrics are suggestive, the vocals soulful, and the lead guitar burns with an incendiary mission. One can feel the guitarist waving a torch of fiery light over the groove and subject matter like the brave leader of a search party.
Taking things down tempo, "Pretend We're In Love" lets singer David Drouin emote at the microphone about a weighty subject: being alone with a member of the opposite sex. The song also lets the band's talents spread out with style, each player eventually unfurling a larger, wider, more expansive sound. It certainly grows into something special.
Back into funk guitar riffage and horn swagger, "Over Now" turns up the heat with blaring, driving instrumentation, creating a wall of sound composed of towering guitar and blissful brass wails. This one rotates widely on a solid axis, making the listener feel its huge sweeping power.
A sly groove and a coaxing guitar line make "Calling For Me" another funk-rock treat. The vocals are soulful as hell, pleading and plaintive, keeping the listener's ears glued to the emotive vibe. The players grease this one up with steady momentum, shifting dynamics, and well placed fills and chords. A lead guitar phrase cuts through the sonic atmosphere with jagged excitement without rupturing the perfectly constructed mountain of sound around it. Perfect.
"Shine A Light" is a breezy, peppy rock-R&B combo. The vocals are soulful. The nimble guitar riffs are funky. The rhythm section plays it with a light bounce. It eventually blossoms into a wider, more colorful beauty of a power ballad, carrying everything in its wake along with it. "All Night," too, is a sleepy, crawling piece of fun. It builds up into a larger work on the strength of a doo wop influenced vocal approach. The rest of the band swings around it, and it's cooler than an icy beer in mid summer. And, again, it's fun to hear this band blow up their sound into something huger than where they started.
Closing track "Sexual Feeling" is a slow dance rock song influenced more by The Rolling Stones and Marvin Gaye than anything else this band has done. The lead singer emotes like the best blue eyed soul singers and his falsetto is a slice of aural heaven. The groove is seductive and the guitar playing tender. This is one that men, if they're smart, will have playing on their car stereo when they're driving that exciting date to his or her place.
Cold Engines just keep on growing as vocalists, musicians, and songwriters. Each glorious album somehow manages to outdo the one they had released last time. Physical Education is another exciting push forward for Cold Engines, and, one can only wonder where a band with such quality music and a very busy gig schedule will go from here.
This album will be officially released on June 1st, 2017.