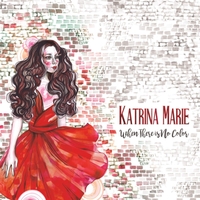 Katrina Marie has just released a gem of a CD titled When There Is No Color. It should be in the player at any house party or at any happening event where fun music is played. Katrina Marie rocks, rolls, and offers up all kinds of soulful expressions. There is no challenge her vocal prowess cannot meet and there is no style she cannot finesse.
When There Is No Color opens with a "Clock Tower," a swinging, jiving number with an oldies rock and roll rhythmic pattern. Katrina Marie's sultry rasp makes for its own layer of cool as the changes going on with the players beneath her voice keep the toes tapping and the fingers snapping. Katrina Marie's horn section help brings this all to three dimensional life with their color bursts of sound.
"Ain't No Waste" blends hip R&B styles from the early 1960s to the early 1970s but stands as something fresh and new that can knock you socks off. Katrina Marie gets funky with her belty verses and sultry coos. She winds up coolly before going into the more alluring, rocking sections. A hooky chorus completes the scene, making this song sound like something we all should have heard on the radio a thousand times before while maintaining a freshness and vigor in its chugging energy.
A tender piano ballad titled "Crimson" gives Katrina Marie a chance to slow things down and bare her soul at the microphone. This string laced moody piece finds her using her powerful range to ride up the emotional Geiger counter while diving deeper into the soul of this piece. The soundscape here feels as wide and expansive as a film score, giving this sultry singer a huge mural to dance across with her throaty expressions.
Still in a somber mode, "Wise" gives Katrina Marie another chance to show what she can do with a down tempo pace and a tender, lilting string section. She tastefully restrains her raspy range, keeping her vocal rich in texture and timbre as she makes her way through a twisty lyrical pattern. She's all class, smoothly riding up in range, just enough to let the feeling grow while holding onto her easeful groove. One can almost picture her in a silky black dress and gloves crooning this in an upscale piano jazz bar.
Katrina Marie rocks things up with "Hard Fight," another one that lets her belt with style, cool, precise, releasing just enough of her unlimited energy at a time. Guitarists David Cohen and Mariann Uleberg-Cohen keep this one hopping with snappy riffs and smoldering leads. Keyboardist Joshua Fobare offers a simmering organ grind and the rhythm section will likely keep people dancing to this one live. Katrina Marie simply builds her vocal approach into a force of nature, spearheading this number with her sultry sass.
"Not Afraid" stomps its way forward with a deliberate swagger. Katrina Marie is one tough mama here, wrapping her raspy belt around an aggressive groove, riding a pushy guitar progression with fearless forward motion. Waves of organ chords and a blistering guitar attack help support this singer's fierce expression of a courageous lifestyle. Bass guitar player Jordan Alegant and drummer Seth Botos keep this one coming at you with a deliberate march of hard driving groove.
Back into mellower territory, Katrina Marie lets her sultry rasp just ooze over a forlorn piano line in "What Is Real." A wistful reflective piece, she shows her more sensitive side, crooning and cooing beautifully over that piano and alongside a moody string section. That she can make her sultry rasp into something that reaches the heart like this number does is just another striking testament to her vocal prowess.
Katrina Marie closes out her eight song album with her romantic slow dance vibe number "To The Sun." With just a little push from the rhythm section, a touch of emotive piano tinkling, and a splash of tender strings behind her, Katrina Marie emotes as smoothly as a velvet glove. Managing to hit the listener's emotional bulls eye, this soulful vocalist hints at many colorful influences from Detroit, Memphis, and maybe a little bit of Broadway.
Katrina Marie has certainly come up with a solid calling card in this When There Is No Color album. Rocking and soulful, colorful and tuneful, sultry and tender, she is a singer with a wide palette of approaches and musical styles to choose from. This album gets more impressive and enjoyable with each listen, indicating that Katrina Marie will be a name we'll all be seeing a lot more of real soon.