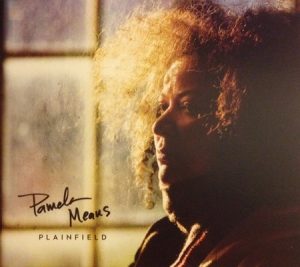 Pamela Means's eighth CD Plainfield is a solo acoustic delight. Snappy acoustic guitar playing, raw, emotive vocals, and lyrics focused on personal and social justice make for one fine organic work. Titled after the western Massachusetts town of Plainfield that inspired Means creativity during a dark period in her life, the album speaks volumes of what's going on in the human heart during this time in American history.
Opening track "Black Bear" focuses on the genders and races of people Means had dated in the past before she came to place of solitude and to a peace of mind. Her voice has a bit of a growling edge, and it's a treat to hear her sustain her vocal while slapping out a fierce piece of acoustic guitar work.
"James Madison" is an anti-government protest song that borrows a quote from this fourth United States president for her chorus: "The purpose of the government/Is to protect the minority of the opulent/From the majority." Means's quirky timbre and considerate vocal phrasing milk the irony of every word she sings in service to her song. . Her edgy, flinty acoustic guitar work is another plus. There is a chord progression that feels ironic and tragic while she delivers suggestions of devastated Cherokees, raped slaves, and hemp smoking found fathers.
"Color Of The Skin" recounts Means's father, a black man who moved from Jim Crow Tennessee to the northeast in 1952. She bases the song from her father's point of view, observing violence against blacks regardless of people being more polite to minorities or regardless of having a black president. Means's whispery delivery makes her message speak loudly, delivering delicious, insightful irony at every twist in her lyrics. And that acoustic guitar punctuates her anger with a steady crispness and verve.
A woven tuft of acoustic guitar notes and chords, "On My Own" finds Means praising the solitude she enjoys in her western Massachusetts rural serenity. She whips up a feisty, climactic acoustic guitar, a sound as big and powerful as a bonfire after she's exhausted the pleasures of her life. Her vocal delivery is as solid as the woods surrounding her mountain home and burns as brightly as the fireplace wood she lives off of.
"Whenever We" takes things down tempo and mellow. Softer, more subtle guitar notes move around just enough to accompany Means's quiet approach here. She's missing a previous lover and her ponderous thoughts lead to beautiful imagery: "A pirouette and a leap/Lover lift me up a clean sweep/Thought I was something to keep/A saboteur never sleeps while insomnia weeps." An enticing chorus completes the scene and keeps the listener glued to the tender emotional drama unfolding before one's ears.
Lamenting what her family lost to suicide, "My Brother Was" delves into the profound past tense meaning of the song title. All of this songwriter's descriptions paint a picture not only of her brother but, in sequence, describe him descending into deeper despair, forming a narrative line through imagery. Her coos and whispery vocal application make one feel the mournfulness of loss while reminding that someone loved him enough to have so many thoughts about him.
"I Just Called Her Ma" manages to describe a woman who lived the life of the down and out while being able to love her daughter through it all. A soft, plaintive vocal and a punctuating guitar line carry this one straight into the listener's heart. Means continues the mournfully beautiful theme in the next song as well. "Cinnamon And Chocolate" finds the singer-songwriter recalling things she liked and didn't like about her previous lover. Means purrs her lyrics with considerate vocal phrasing over a well paced guitar assertion. All of these elements come together to paint a complex picture of a complex break up while finding space to invite the listener into a beautifully sparse sonic landscape.
Instrumental piece "Castor And Pollux" lets us feast our ears on the clever, flinty guitar lines that have entertained us so well up to this point. Ace acoustic guitar skills is only one arrow in Means's quiver but it is one of her sharpest tools. Aside from her lyrical insights and vocal prowess, she can also hit any emotional bulls eye with her effective treatment of the melody line using carefully accented notes. Her melodies and chords carry well this piece and its serious solitude.
Close out track "Tuesday Come Early" features more of Means's gentle, whispery vocal glide. Here, her mid tempo groove leaves plenty of room for her pretty coos and nimble guitar picking. This one goes by so smooth and subtle it just barely kisses the listener's ear. Yet, the piece has a presence that can be felt longer after the song has finished playing. Means is all about memories here, childhood memories, memories of a bad relationships. Good or bad, Means has a way of making the experience seem inevitable, necessary for growth, and this is what makes even her most emotionally dire songs feel so beautiful.
Means has accomplished a lot with just her voice, guitar, and a studio. Other than Mark Alan Miller, who recorded, mixed, and mastered this disc at Sonelab Recording, it's all Pamela Means all over this Plainfield disc. That's a good thing, as a lot of Pamela Means is a lot of good musical, lyrical stuff.