You can never have too much of a good thing. Tommy Castro has been gearing up for his Six Strings Down tour with fellow guitarist-vocalist Mike Zito. The two modern blues titans have teamed up in one act to bring exciting shows and arrangements of each player's songs. Castro looks forward to bringing this new tour to New England next week for the New England Blues Summit at the Cape Cod Resort And Conference Center.
"Mike and I have been friends for a while and we've talked about going out on tour together, maybe both bands going out on tour," Castro said. "This spring was rolling around and my new record doesn't come out until next Fall, and I thought it would be a good time to do something different."
Aware that Zito was changing bands at the same time, Castro called him up to ask him he'd come along with Castro and The Painkillers, with both guitarists playing on stage together all night, as opposed to one opening for the other. "We'll play some his songs, some my songs, some cool cover ideas I think will work out great for the two guitars and the two vocalists," Castro said. "I ran it by him and he said he'd love to do it. Mike agreed to do it, and here we go. It's going to be a blast."
Castro pointed out that these sorts of team ups have happened many times before in music history. He cautioned, though, that it only works if there is good chemistry between the two artists. "I wouldn't want to go out there with just anybody," Castro said. "I would be careful that I'm going to be sharing the stage with someone that I like personally and that I respect as an artist, and that's that. Our styles will go together just fine. We're different, but it all will work together really well on stage."
Castro and his band The Painkillers are still touring in support of their 2015 release, Method To My Madness. Castro's songs on that album, like "Common Ground" and "Shine A Light," were inspired by the crazy political world that was beginning to take shape. "It was a couple of years ago I was writing these songs, so it was already crazy enough," he said. "It just really disturbs me that people are so divided out there. They're not just having differences of opinion. It's gotten really nasty out there. So that was my message of 'Hey, we're all in this together man.'"
Castro, when penning the album, was thinking something along the lines of what maybe the Staples Singers would do. Castro's "Shine A Light," co-written with one of his songwriting partners, Ron Cohen, initially started out as guitar lick. Cohen had come up with a guitar lick that matched something from Castro's notes. Castro's idea worked well with what he was hearing.
"So, the story, again, is about the way certain things are going on in the world that are scary, disturbing," Castro said. "I'm pretty sure most people feel like that from time to time and are just looking for some sort of help in dealing with it."
Castro's crunchy, tuneful guitar tone on Method To My Madness was made possible by his Delaney Castro Caster Guitar, which he had a prototype of when he was recording the album. "I like to try to combine a bunch of things I like in one guitar," Castro said. "I like the shape of the buck masters and I like the Strat necks and I like on Gibson's those hum buckers, standard double coil hum buckers and I like the sound of an old P-90 and I like your old Stratocaster pick ups, single coil pick up. I used my 66 super reverb and my category 5 Vera."
Castro produced Method To My Madness himself, feeling that after making several records with many different really good producers, it was time for him to take the reigns.
A San Francisco bay area native, Castro's musical style was influenced by the west coast sound where he's from. Most blues acts where he lived included a lot of Memphis soul and other soul material into their sets with traditional Chicago blues, Texas blues. Songs by Otis Redding, Wilson Picket, and James Brown marked their set lists every night.
"That's just kind of the way we do it here," Castro said "That was a big influence on what I do. If you listen to my records, that's basically what I do. Whether it's my original stuff or covers, those are the three things; blues, soul music, and rock and roll."
Castro's first influence was his brother Ray, a sibling six years his senior. Castro's older brother was one of those cool teenage cats who'd bring home many cool record albums. When his brother wasn't home, the younger Castro would take over his big brother's record collection and rock out in his room. "He started playing guitar, and a few years later I started wanting to play guitar too," Castro said. "I have to say that I don't know if I'd being this if it wasn't for him, my older brother Ray. We're very close still. He don't play much any more."
During Castro's formative years he was listening to the rock and roll he was hearing on FM radio. The Rolling Stones were a staple by then and Cream had just released their first album. Paul Butterfield Blues Band made a huge impression on the young, aspiring guitarist as well as Taj Mahal's Giant Step album, a record which spent a lot of time on Castro's turntable.
"Then I started to continuing to be more interested in the blues side of things," Castro said. "I started figuring out where these guys were getting their songs from. I started listening to more Muddy Waters and B.B. King. A little later on I started becoming a fan of the great soul singers." Bay area groups at the time like Elvin Bishop, Cold Blood, and Tower Of Power were bands Castro would go see.
"Just recently we lost Chuck Berry and J. Geils. Both of those guys were big influences on me," Castro said. "I love Chuck Berry songs. Things would be so different without Chuck bringing what he brought to the music. And when I found the J. Geil's Band, man, I was just like that was my favorite band for a while. If I wanted to be like anybody it would have been like the J. Geils Band. I loved the way Peter Wolf sang. I liked the style. I loved the way the band just rocked. It all had blues and soul influence but they rocked the hell out of everything. Magic Dick is a good friend of mine now. We've done some gigs together. In fact, we'll be doing the Blues Cruise together again next January. We'll probably do a little tribute to J."
Castro said he has one quality that is a good thing and at the same time a bad thing to him as a musician, his limited attention span. He was never able to study any other guitarist, at length, because it would take several hours of serious wood shedding. "I always thought 'Why would I want to sound like B.B.? I love what he does. But, I don't want to sound like him, that's him. I learned a lot of stuff from listening to B.B. King. I learned a few of his licks. The same thing with Albert and the same thing with Buddy Guy, and the same thing with any number of blues guitarists that I love. I picked up a few things from anybody's style."
Castro knows a lot of guitarists who spend time learning to play and sound like a given guitar hero. "They can play just like Albert King," he said. "I never did that, and if I wanted to, I don't think I could do it. I have a learning disability of sorts. My attention span just won't allow me to sit there for hours and practice like that."
Castro admitted that his limited attention span had hindered him in school. Terminology like Attention Deficit Disorder had yet to be developed. "We didn't know it," he said. "I was just a shitty student. I just sucked at school. They didn't have words for it in those days, really. I was never diagnosed. I was never taken to a therapist. They didn't have the school check me out to see what was wrong with me. They just said 'Shape up, kid. Do your work and quit clowning around.' I would always be the class clown, and it turned out I just had a really hard time focusing. Now, of course, they all about those things, and I've had to deal with that with my own kids."
Castro believes that the increase of students being diagnosed with A.D.D. and other learning disabilities results from our modern day environment. "We've been poisoning our population for decades," he said, "with pollution, chemicals, and additives in foods, all in the name of big business and profit. A lot of dangerous things are just out there for people to consume. They're finding out a lot of things in that area nowadays. There's a lot of cases of kids having these disabilities."
Yet, none of his own issues with concentration keep Castro from getting his job done. He has another album in the pipeline, ready to drop in the fall. Most of his guitar and vocal parts are completed but some of his guest performers still have to come in. "I've learned to deal with this because, well, you have to," he said. "You just have to find your own way to work to get things done. Instead of sitting for four hours working on music, I'll work for an hour, and hour and a half, and I'll come back later and work. Everybody has something that their personality brings to the music. I think, probably, if I wasn't the way I was, my music would be different."
Changing things up from album to album has become a consistency for Castro. After 2012, tired of his horn laden big band sound on his previous albums Soul Shaker, Painkiller, and Hard Believer, Castro left his horn section behind. Castro also had to deal with some other personnel changes while wanting to record some blues material that didn't require horns.
"I changed it up for the reasons of doing something different, moving forward with my music and trying some new things out," Castro said. "At the same time my original bass player Randy McDonald was ready to come back into the fold. We put our heads together: what are we going to do now; what are we going to do for the next 10 to 15 years. We decided to bring it down to a four piece group, and it's been great. The latest configuration I have, the group I have now, is the same group that played on Method To My Madness and this new one that will come out in the Fall."
Castro is looking forward to taking his Tommy Castro-Mike Zito show to the New England Blues Summit on April 28. "It's always a good part of the country of us. We have a lot of fans in that area," the guitarist said. "The energy is great. When you have multi-act festivals and you have larger groups of people, it tends to be more exciting and more fun. You can be sure that you have some new fans in the audience. That's always cool."
New England Blues Summit organizer John Hall is ecstatic about Castro and Zito playing the first night of his three days in paradise event. "I love Mike Zito," Hall exclaimed. "I wanted him with Samantha Fish last year. Have him this year with one of my other favorite guitarists."
Castro has been putting together a set lit for him and Zito to know what to play. His new "Lose Lose" song, which jumps out from the Method To My Madness album of good songs, will likely be played in the live show. That particular song came about after Castro had a quirky conversation with Joe Louis Walker. The two decided to work on a song called "Lose Lose." While Castro ended up writing and recording the song on his own, he gave Walker some credit for getting the idea rolling. "He was in on the idea at the time," Castro quipped.
Castro has been honored with six Blues Music Awards, including the 2008 B.B. King Entertainer Of The Year Award. "It felt great," Castro said. "First of all, B.B. is my hero. It's the highest honor that the Blues Music Awards offers. It's like the grand prize. I never expected to be nominated for a thing like that. There's such great talent out there. I was surprised and honored when I got the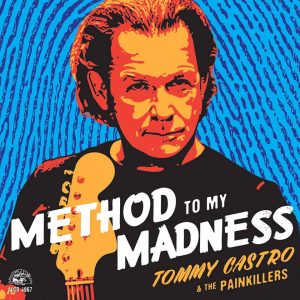 nomination. I sure as hell didn't expect to win it. That was just a big, big day. I was just so proud and happy. I do work really hard at this, and I've been working hard at it for a long time. It was nice to be recognized by my peers and fans."
Tommy Castro & The Painkillers and Mike Zito will appear on the first night of the New England Blues Summit, April 28th, at Cape Cod Resort And Conference Center in Hyannis, Massachusetts. The opening day of the event begins at 3:00 p.m. with Johnny Hoy & The Bluefish playing in the lounge. Tommy Castro & The Painkillers and Mike Zito perform at 9:30 p.m.
http://www.newenglandbluessummit.com/