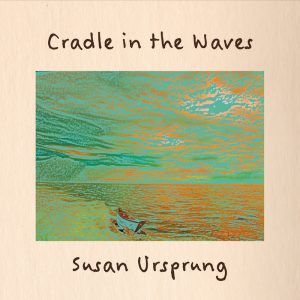 Susan Ursprung recently released her Cradle In The Waves CD to a very appreciative fan base. This album has a lot to offer her listeners. Ursprung not only has a lovely voice that she displays with an artful, tasteful self-restraint and musical self-discipline, she fills in the colors of her original songs with a host of unusual instruments and some usual instruments used in usual ways. A beautiful voice augmented by beautiful melodies and engaging patterns fleshing out some very interesting lyrical themes makes for a fantastic listening experience.
Opening song "Between The Copper And The Oar" begins with Ursprung singing without accompaniment before a moody upright bass chimes in with its haunting allure. An acoustic guitar strum completes the welcome mat so Ursprung can croon with sweeping aplomb. Her crisp timbre and warm delivery bring to vivid life the imagery of bygone laborers. There is an old world quality to her music which seems influenced by and maybe tinged with Celtic. Like Celtic, Ursprung makes the listener feel the passage of time that makes her story stronger.
"Tower" glides into the listener's consciousness with gentle guitar strumming and a light touch from an upright bass. Here, Ursprung's lovely voice hovers over her soundscape with sweetness and tenderness. This combination of stature and warmth creates a lofty feeling that makes the song work as a folksy anthem. Ursprung gathers more momentum as she goes along, gathering steam from persistently maintaining her lofty post and easefully offering her lyrical imagery. A pretty flute accompaniment helps maintain the delicate lift of this number.
The rollicking roll of "By St. Peter's Bay" keeps the number filled with motion. Gritty banjo picking and a second, hard to describe instrument called a piccolo give Ursprung a moving platform for her vocals to hop scotch over. It's a treat for the ears and joy for the heart to hear how she makes her voice skip to the beat. This number invites everyone to join in at the country fair dance, motivating step dancers, hand clappers, and cheerful observers to follow the action.
Feeling like a weeping film soundtrack number, "For John Keats" is Ursprung's love song to a favored poet. One can picture the time period Keats lived in as Ursprung carries us through his story with an old world vocal delivery. She employs what can best be described as an 18th century ballad vocal approach. She wraps her voice around a tuneful melody and travels coach speed alongside a lovely, moving flute line. Ursprung builds a sense of importance to this man's work and life with her mounting details, all finely delivered with her lilting vocal line.
"If Lovers Part" finds Ursprung waltzing her voice over a classy upright bass line. She is the epitome of the high class jazz chanteuse, swaying her voice coolly over a breezy acoustic guitar riff as well as a more forceful string instrument. Listeners will not be able to get enough of this bit of funkiness from Ursprung. She moves her voice in unexpected ways around the snappy groove.
"Hands In The Wool" weaves a fine texture with acoustic guitar, moody upright bass bowing, and a couple of interesting flutes, a Renaissance Flute on the bridge and a Baroque flute on the Celtic melody. Ursprung cuts through the tangle of fine notes with a sharper timbre and a more lilting vocal melody line. She injects her rhythmic lilt perfectly in just the right moments in the musical swells, giving this piece a feeling of movement and strength. The acoustic guitar sounds more brittle and fanciful than usual. It is Audie Bridges on the Terz ( a Veillette guitar that's a small 12 string tuned up higher and it rings higher than a mandolin).
"Lock And Key" gets a rumbling nudge from a nice thick percussion instrument. Layered over that is a late 1960s hippie vibe from a pleasantly meandering electric guitar that feels like it has a mind of its own. One could listen to this song all day as it features Ursprung sailing pleasantly over a breezy melody line while pretty flutes spring up around her. It's like a garden of sweet instrumentation with something noticeably growing at each turn. It could have been a huge hit during the Summer Of Love, 1967.
"All The Words," with its pretty acoustic guitar accompaniment and percussion punctuation, allows Ursprung room to swing her voice around her verses with snazzy aplomb. She uses the dramatic switch to successfully make this song lively and vibrant. Her voice is as lovely and free as the flute melody wafting in the breeze around her. The result is a tapestry of fine musical notes that travel with ease and finesse.
Ursprung rocks things up a bit with the country flint, beat driven "Things Could Be Worse." She moves it with more speed and adding a pleasant honky tonk chirp to her chorus. While listeners are dancing a two step shuffle to this country beat, Ursprung and company entertain with gritty electric guitar, fancy flute through a Leslie speaker, and, of course, her sprightly country girl vocals.
"The Kind Of Child I Am" brings Ursprung back into a more traditional singer-songwriter approach. Traveling down tempo, she asserts her vocal to reach an anthem like presentation, her emotions rising high at just the right moments. It's also another song that is difficult to categorize. It's too easy to call her a singer-songwriter with a flair of instruments and idioms from other time periods. She utilizes her electric sitar player here in a modern context. To say she's trying to conjure the 1960s with the electric sitar would be misleading. She's a fully unique songwriter who uses many different instruments and support player to service her songs. Yet, it's her voice that stands out the most. Her firm message easily settles into a lofty perch at the beginning before finishing things up with an elegant sustain near the end of this piece.
Folksy ballad "Letter To Ruby Neil" is a message song with Ursprung's lofty vocals and high minded ideas coming together as one personal banner of hope. She also impresses in the way her vocal runs alongside a fanciful, timeless flute melody.
Ursprung closes out this fine album with the intriguing, percussion driven "Raining Angels." This vocalist presses her sweet, flowing vocal melody against brittle acoustic instrumentation and the results are magical. Her tenderness is finely highlighted against her support instrumentation while a flinty flute interval, mild low end notes, and other assorted musical flavors create a colorful garden of sound around her voice.
Ursprung has created a multi-colored, multi-textured listening experience with this Cradle In The Waves album. She takes a uniquely creative approach to each of her songs and the results are this very musically successful album. Bravo.