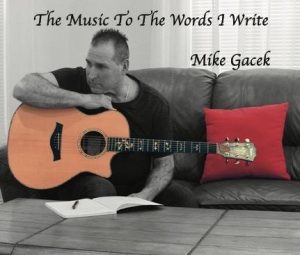 Mike Gacek's honest, heart-felt reflections on his personal life result in his most lyrically and musically inspired work ever. Not only does everything on his new The Music To The Words I Write album sound good, it makes the listener feel good by reaching something deep inside the listener with its soulful depth and worldly wise perspective. A little help from fellow singer-songwriter Neal Ward goes a long way toward the fulfillment of these songs.
Opening track "We've Got Something" begins the CD with a breezy, easygoing vibe and a forward moving declaration of Gacek's current romantic relationship. The song's assured glide gives a sense of a relationship's solidity as Gacek's charming rasp coats this one with something warm and special. A light guitar riff beneath his voice makes the listener want to follow its rhythmic skipping sensation.
"The Rest Of My Life" finds Gacek milking every one of his vocal notes for all they're worth in this soulful, down tempo expression. This singer-songwriter-rocker is letting his beloved know that he is looking forward to their lifetime of bliss. His effusions of emotion come across well in this thoughtfully written and considerately delivered love ballad. A lap steel guitar offers a generous line of feelings in and of itself. Played by Duke Levine, it weaves a second emotive layer that keenly wraps around Gacek's nimbly picked lead line. Backing vocalist Amanda Gomes joins Gacek on the chorus for even more tender expression. It alls comes together as a strongly constructed, beautifully rendered love song.
"I'm Dying (Just To Be With You)" is a playfully, jauntily delivered mid-tempo rocker. Gacek's flinty, rolling lead guitar line pours forth with its own emotive force while the singer-songwriter side of him makes you feel it with his words. Jesse Williams nudges it all along with his intricate touches of bass and Andy Plaisted injects clever fills to keep this one loaded with motion filled action and flow.
"Real Good Time" moves with a surefootedness in its down tempo sway and an adeptness in its twisty chorus. The listener can feel this one taking him somewhere. Like traveling on a magic carpet, heading toward a special destination, having a "Real Good Time" is a place to arrive at and enjoy, and Gacek and his crew render that notion quite well here.
"Living The Dream" makes it clear that this singer-songwriter is enjoying his life. A lap steel guitar that echoes over a flinty electric guitar expresses a feeling of contentedness. Gacek's breezy vocal delivery is full of warmth as his words reflect his philosophy of living the dream, which, for him, is just being happy with himself.
Gacek's CD gets more dramatic on "Born With A Broken Heart." The listener can feel its bold assertions from the opening bursts of electric guitar. That guitar sound evolves into something bigger and bigger and much more involving as this mighty, slow boiler builds up into something stormy, tense, and heart rending. Gacek sings about someone who was born into an emotionally disadvantaged situation and has not learned how to love. This hard driving, feisty guitar sparking number is a beautiful lament for all the good things this person cannot have feelings about.
"My Whole World" is a touching number about Gacek's daughter. Starting with their first meeting in the maternity ward, his "Eight pounds, four ounces" of joy inspired this story of parental love and personal growth. The singer-songwriter builds his expression of love and adoration over the course of the song until it becomes a powerful declaration, an anthem of a father-daughter relationship.
Gacek's other love comes across well in "I Love Boston." From the sports teams to the city's history, Gacek loves it all. Built around a driving rock beat and flinty guitar assertions, his salute is felt in his whole hearted delivery in his chorus. Catchy in an anthem manner, this tune could be picked up a sports network, a national team, or maybe even city hall for a major event.
Official closing track "I'm Gonna Try" is about a hearty effort to get through a trying day. Gacek's vocal climb, soulful and raspy, makes one feel what the song is all about. It's contemplative in its lyrical development and smooth as Jack in its musical personality.
The album finishes with a wedding version of his "My Whole World" composition. Its renewed richness suggests he made a present of his song for his daughter on her wedding day.
This latest Gacek CD The Music To The Words I Write is his most personal and compelling to date. He's stronger than ever musically and he generously offers a lot of emotional honesty, more than he ever has before. Whatever great things have happened in Gacek's life in the time since his last album were great things for his listeners as well. This is fantastic material.