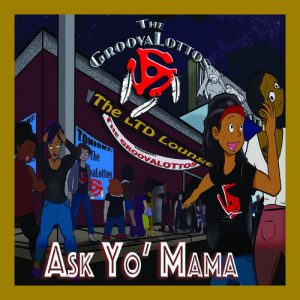 The GroovaLottos's debut album is called Ask Yo' Mama, and the music, lyrics, and their humor between the music has as much attitude and spunk as that title. I'm not sure that the fictional radio station "Black Ass Radio" that ties most of the album together could ever get on the air in real life. But The GroovaLottos's should certainly be getting some air play for these funky, jazzy compositions.
Opening track "Ever So Close" is made of different sections, and each one is cool. First, it's a sparkling keyboard diamond. Then there is soulful coos and crooning over a lot of fine funk style drumming and smooth bass runs. It's certainly an engaging piece in the way all of its soul music approaches dovetail into something that reaches the listener on a personal level while delighting the ear.
The second track begins with something called Medium Rare Groove Show on WBAR FM. Host Shoobie Doobie is interviewing The Groovalottos. The band members introduce themselves on the show as their bubbly, soft music plays in the backdrop. Some comedy ensues when one band gets a call in from his own mother who upbraids him for not knowing his funk.
Title track "Ask Yo Mama" lets the Groovalottos return to laying down more of their fine soul music. Their vocals are honey smooth. Their danceable beat is infectious, made up of several drum fills that give the bass guitar a jungle gym to climb over. Keyboards dive in and become a melodic rollercoaster while two different choruses overlap into a hip clever bit of vocal interplay.
"Do You Mind (If We Dance With Your Dates)" is light soul pop. High harmony vocals over pulsating organs and drums become good catchy fun. Once the listener gets beyond their comedic lyrics, he can appreciate the multitude of rushing organ notes and chords that do their own funky dance of sound.
Back into the radio show interview with "WBAR – The Real Deal" in which they explain they don't use loops, they play real music. They also talk about their influences before they go back into their songs. Segue into "Just Is…" and the band offers more of their spicy keyboard chords, sounds that make you tap your toes, juxtaposed with their soulful chorus motions and lyrical glides. The singing style on the way of this song is a fine example of soul combined with vocal gymnastics. Nice work.
"M.I.L.E. finds the band getting a little bit darker in their tones and more elastic in their funk groove. One can feel these boys bending sound with their bass guitar thump, backbeat, and electric piano tinkling It's also a treat for the ears to hear them talking about how much fun can a chipmunk funk if a chipmunk could funk. Their vocal intertwine for some amusing, entertaining, primitive tribal vibes.
Needless to say, the band has even more fun with their song "Temple Of A Sacred Clown." A crazed, high-pitched cackle lets you know the cat they're singing about is crazy as a loon. The band's hip, busy funk style make one feel the zany with their ripples of energetic keys that play beneath the Joker-like madness happening in the backdrop.
"Will I Ever" makes one want to move his feet very swiftly to its rushing vocal clip. It also has a nice flute like melody beneath the edgier melody line coming from the electric piano. Throw in a second vocal and a bunch of tight handclaps and The GroovaLottos show an even deeper creativity, making something catchy out of light amounts of this, that, and the other thing.
"Dem Big Girls" reminds a bit of Frank Zappa in their frankly tasteless but witty lyrics. The jazzy, free flow of the music contrasts brilliantly with gusts of background harmonies. Snappy rhythm section work and hefty piano tapping make a motion filled feeling and it all adds up to another fun moment on this album that's loaded with as much fun as funk.
"Just Friend Blues" pokes fun at the modern day platonic relationships in that many people in them usually wish they were more than friends. It's snappy, punchy in its groove, funky in its keys, and cleverly soulful in its lyrics and smooth lyrical delivery. It also has a touch of doo wop style in its background coos, an element that coats this number with a likable oldies feel.
"Thief In The Night" bops along its merry way with an unrelenting groove. There's spoken narrative about a man who had an encounter with a mystical goddess before it goes back to kind of love song. Crinkles of piano and groove snaps keep this one in motion with tasteful brittleness.
"Autumn Moon" soothes the ear and the soul with its smooth and tender vocal delivery. The lead singer here breathes pure soul as he croons this dandy. Charming and romantic, this one will call the couples onto the dance floor whenever the band plays it live. It vocals are like a clarion call to love and joy.
"WBAR – To Be A Goovalotto" is another interview with the band on "Black Ass Radio." It's interesting to hear their concepts while enjoying the radio interview format, complete with snappy percussion and low end in the backdrop.
"The Storm" is a soft soul gem, lulling one in with its easy going groove, smooth bass runs and peppy, well placed drum notes. Vocals here glide over a lush but mellow keyboard line to create a magic carpet ride motion. The band really show their power by being able to make a huge impact on the listener while still keeping this song on the light, gentle side of their repertoire.
The Groovalottos close out strong with "ImaPhunkYa," a more driving funk number, complete with palpable bass notes, chugging drum work, and a weave of vocals on the chorus that make this a tasty, knobby piece of happy jive. The groove is so alluring that it's easy to image the entire crowd at one of their shows being called to the dance floor like a pied piper effect.
The GroovaLottos have already got a very busy and wide ranging touring schedule. With this disc as a calling card, they're likely to spread their joy to all four corners.