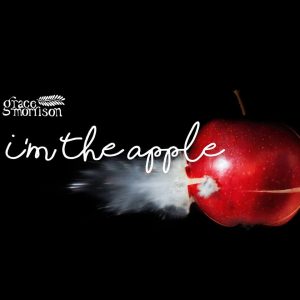 Grace Morrison's latest CD I'm The Apple is a treat for the ears on every track. Morrison's bright, chirpy timbre and vocal glide make her a winsome favorite in the local scene. Her songwriting prowess allows her to conjure many fine lyrical moments, and the instrumentation she and her support band lay out sparkle in their own special light during their special moments. This especially true of producer Jon Evans guitar work and the extra texture offered by backing singer John Baptista.
Opening with title track "I'm The Apple," Morrison wastes no time unleashing her sweet but assertive vocal chops. Her chirpy purr rides over a flinty electric guitar and a handful of edgy, rootsy acoustic instruments. A tuneful chorus is infused with touches of banjo, fiddle, and mandolin that flavor her song beautifully. All of the elements combine to offer a country soulfulness amid a fine flow of energy that engages with its many moving parts.
"Big Man" rocks a bit harder. Morrison sings with a swagger and she pushes her voice assertively through her lyrical take down of someone who wasn't as big as he thought he was. Her gutsy delivery is augmented well with electric guitar gruel and a seriously persistent groove. It's a treat for the ears to hear how she shifts from aggressive belting to gentler, softer vocalizing.
Going mid-tempo and sentimental on "Sippin' On Love," Morrison pays out a pretty vocal line that eases its way smoothly through her twisty lyrics. Her charming, winsome appeal contrasts well with the snappy backbeat and flinty guitar work beneath her voice. She pulls one right into her chorus with a mighty tug, Then, the chorus roots itself in the listener's head with its familiar theme.
"The Ropes" is a punchy, rolling number. Morrison's pretty purr eases over a pillow of organ chords and a sprawling, humming guitar line. Her vocal sustains here are honey sweet and smooth, in between her vocal lines, which find her asserting her voice, making her voice climb, scale heights of emotional and musical tension.
"Still Standing" continues Morrison's penchant for sounding strong, sweet, and melodic, seemingly without effort. She has a way of making this anthem feel personal and universal at once. Her message and voice are just bursting with emotion, purpose, and force, all without losing her tender, sweet timbre and girlish delivery.
Getting more rootsie and reflective, Morrison emotes with school girl tenderness on "Leaving On My Mind." It's another treat here to hear her vocal sustains before her chorus seals the deal with a projection of independence. A forlorn fiddle melody and a brittle mandolin further the feelings of this ditty as she pushes forward with her lilting vocal.
Within a warm embrace from a string section and tuft of organ chords, Morrison's voice on "A Warmer Night" spirals upward with tremendous force. From her heartfelt, tender opening, with Liz Schultz's moody cello and alluring acoustic guitar strumming, to her sudden eruption of vocal, a soaring, climbing thing that mounts the soundscape of this number, building a solid arc then moves over with sustainable grace.
"Lorraine" is a haunting, rustic flavored ballad in which Morrison builds suspense with dramatic vocal and instrumental build ups. More importantly, Carla Kihlstedt's violin keeps things eerie and mysterious while drummer Matthias Bossi loads it with snappy fills. This country tinged piece echoes with all those country roots songs of yesteryear. It also strikes a balance between emotions. One one hand, it moseys along at an amicable pace but on the other it has a tone that hints of a foreboding future.
Morrison's catchy country roots flavored "Oh Alma" captures the ear on every level. Morrison's chirpy sweetness and fetching chorus, the perky instrumental sprawl, and the pushy drum work conspire to keep the listener occupied with every twist, with every moving part.
"The Trouble," with its spiffy beat, makes one want to dance a jig as its acoustic instruments give it further snap. Morrison croons over the intricacies laid out by her band with a silky verve.
"Taking Johnny Home," centered on returning a fallen soldier to his hometown, shows even more of Morrison's sentimental side. There is enough of a marching beat to inform of its military service seriousness. The lively melodic bounce gives a beautiful sense of respect and pride. Morrison croons this one with a personal fervor that carries the narrative arc like it's a burning torch on a dark night.
Close out track "America" features a real purty electric guitar line waving in the breeze. Alongside it, a Daniel Byrnes picked banjo makes its rustic presence felt with a crispy pattern. With such backing, Morrison knocks it out of the ballpark with a tender application of her supple vocal ability. She reaches her high notes with a pretty timbre and expresses the emotive content of her theme with girlish wonder.
Morrison runs the gamut from rocking, country flavored verve to tender, emotive roots ballads on this I'm The Apple album. With subtle nuance and numerous individual parts, Morrison paints a stunning portrait of the modern American landscape with masterful lyrical details and an emotional force that cannot be denied.