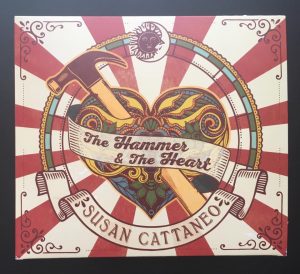 There are times when an artist has to move forward in a big way. Boston's roots singer-songwriter Susan Cattaneo went for broke and recorded a double disc CD set. This new album, The Hammer & The Heart, teeming with quality songs and high octane guest musician and singers, should be a huge artistic success, the kind that will gain her new respect and awe from listeners. From the larger movements of sound to the more subtle nuanced touches, Cattaneo paints a large, masterfully portrait of the American landscape while injecting her own personal points of view with an honestly that sometimes soothes and sometimes stings.
Disc one of Cattaneo's magnum opus Americana roots rock album begins with a rockin', electric guitar version of her song "Work Hard Love Harder," a personal anthem that makes you feel this singer-songwriter's love for living in the moment. With a catchy, spirited chorus and feisty guitar work from Brian Henneman and John Horton behind her, Cattaneo makes her words and music come to life with a pulse pounding authenticity.
"The River Always Wins" swaggers in with Mark Erelli's lofty, fetching acoustic guitar and his lap steel guitar weaving a handsome, ringing roots vibe. Cattaneo's lead vocal wraps around her emotionally honest lyrics as the guitars create an undeniable feeling of being out on the range. One feels the chorus "come down from the mountain/Like judgment from on high" because of the emotional urge and the raw timbre of the woman belting it. Backing vocals from Erelli texture it in more of the range timbre and drummer Marco Giovino and bassist Jesse Williams carry it forward with a palpable, swaying groove.
Cattaneo co-wrote "In The Groove" with Commander Cody's Bill Kirchen. Kirchen here teams up with guitarist Duke Levine to conjure the dual grist of crying rockabilly lead guitar and brittle rhythm guitar that Cattaneo so often favors. Thrown in some honky tonk piano and soulful organ and this singer has the perfect platform over which to launch her Americana roots flavored crooning. Her voice is all she needs to project tenderness on the experience of listening to the old records that started the rock and roll music we all know and love today. The perky guitars take one a life of their own by the end of this tune and their sharp twanginess make one wish this song was even longer.
A love song titled "When Love Goes Right," another co-written and co-recorded with Kirchen, will inspire any couple, that's been together for decades, to hold each other close on a the dance floor. Kirchen finds the perfect feeling and the perfect sound in his emotive lead guitar licks, brittle lines that seem to purr out what the song is all about. The pair's co-lead vocals is an especially fine icing on this endearing down tempo number.
"Lonely Be My Lover" get a lot of mileage out of Brian Henneman and John Horton electric guitar pairing. One guitar hums with a fine rhythmic fuzz as a second one swirls up in a purty melodic phrase. Over this tuft of roots cool, Cattaneo offers her swaying, forlorn vocal sprawl. She lays out a lot of emotive expression here, and she handles it with a rangy coating of motion filled rasp.
A duet with Boston's roots vocal ace Dennis Brennan, "Dry," finds Cattaneo making her voice move in a perfect tandem with greatness. Brennan's vocal is as dry as the song's theme, lending a texture of feeling by not overemphasizing his lines. Cattaneo is equally forlorn, restless, and tense. Together, the singers conjure something could either die from intense neglect or erupt like a powder keg. Kevin Barry's lap steel line echoes and mirrors perfectly the haunting landscape of sorrowful tension simmering just beneath the surface of the relationship that's gone as dry as a well in a long hot summer.
Cattaneo's cover of the Buddy and Julie Miller classic, "Does My Ring Burn Your Finger," lets Cattaneo showcase her daring rasp over Mark Erelli's bristling lead guitar line and Jim Henry's raw mandolin and gritty dobra. While Jesse Williams and Marco Giovino push through the soundscape with an assertive looping kick, Cattaneo's smoky, tense vocal application makes the listener picture her ring burning the man's finger. She just purrs with an uncanny vocal longing.
Cattaneo co-wrote "Ten Kinds Of Trouble" with local singer-songwriter Jillian Cardarelli. Focused on a crush she has on a man who reminds her of Elvis Presley, Cattaneo makes this one work with a jutting vocal clip. She puts it out there just over Jamie Walker's scratchy lead guitar, Jimmy Ryan's mandolin and fiddle, Michael Bean's dobra, and Renee Dupuis' keyboards. This is good old fashioned rock and roll with a bunch of rustic flavored acoustic instruments simultaneously coating it with other, similar genres. There is enough flavorful instrumentation going on to make one want to play it repeatedly.
Disc one closes out with a knock down, drag out cover of Bonnie and Kevin Hayes' "Back Door Slam," a mid-tempo stomping, thumping number. Cattaneo kicks with attitude here, belting this one with a raspy, sassy thrust. Guitarists Davy Knowles and Stu Kimball make it gritty and real as hell, and Kimball's chorus with Cattaneo keeps it in the listener's head for a long time. There is also a mule kick rhythm section in Dave Westner's bass and Kevin Shurtleff's drum beat and fills. This number pushes its way forward with numerous strengths, and it would certainly be a highlight of Cattaneo's live shows.
Disc two begins with an acoustic version of "Work Hard Love Harder," indicating the acoustic flavored singer-songwriter approach to the second half of this double album. Yet, Cattaneo proves that acoustic doesn't always have to mean mellow or soft. As driven as the first disc, these acoustic pieces move with a fearless verve and are often as edgy as the first batch. Acoustic "Work Hard Love Harder" features Cattaneo with The Boxcar Lilies, the acoustic folk trio that adopted her right after one of their original members flew the coup. Cattaneo, Stephanie Marshall, and Jenny Goodspeed serve up a tasty vocal treat over Jim Henry's guitar, mandolin, dobra, and bass.
"Ordinary Magic" finds Cattaneo singing with roots purity over Kevin Barry's guitars and bass. She gives just enough of her vocal phrasing, in small measures, to hit the listener's tender spot. There is a soft texture in her timbre and a smoothness in her delivery that contrasts quite well with the quiet flint of the instruments, highlighting the subtle beauty of each.
"Carried," co-written and sang with Jenee Halstead, moves with serious rock and roll energy. Thematically, it's singer-songwriter material at its finest. The point this song makes will find a universal message about the things that we cannot get beyond but which have to be lived with. Instrumental flourishes ring out with purity of tone and purpose in each forlorn, haunting note and makes a fine accompaniment with the voices. Cattaneo emotes with smoothness and subtlety, her voice traveling on course like a train made of honey.
"Bitter Moon" mixes electric and acoustic instruments well while Cattaneo sings with beauty and pure emotive strains. It's a treat for the ears as her voice changes dynamics, tempos, and even widens with greater feeling. To hear that Mark Erelli lap steel perk up beneath her voice is another bit of ear candy.
"Smoke" dazzles with its mind blowing metaphor. Comparing an unrequited love to "catching smoke" brings home this universal experience with a casual aplomb. To hear it so eloquently phrased and mournfully sung is stunning. Cattaneo's dire vocal and Kevin Barry's haunting lap steel guitar melody carry this somber piece with an emotional clarity that cannot be denied. Jennifer Kimball's sweet undertow during the chorus is another tug on the ear.
"Field Of Stone" gets a flinty resolve from Kevin Barry's electric guitar. Cattaneo applies her tender roots timbre to this airy, arcing narrative about unexpected change, being uprooted, and feeling displaced in one's own hometown. Emotional honesty pairs with desolate images as a sharp contrast between a forlorn lead vocal and a melody of ringing guitar notes make each beautifully distinct.
"Fade To Blue" is a remarkable uncanny duet between Cattaneo and singer-songwriter Nancy Beaudette. The two create a vocal lushness that captures and expresses a lot of feeling in their combined textures. Put their voices over Duke Levine's offerings of nuanced guitar lines and we have another winner.
Using her lead vocal as the main melody line on Mose Allison's "Everybody Cryin' Mercy," Cattaneo utilizes only bassist Jesse Williams and drummer Marco Giovino to accompany her, and it works, terrifically. Hip low end and cool fills carry the vocal line with a knobby, jazzy confidence. This singer dispenses the song's world wisdom as if she wrote it herself, using some jazz training to hold the melody line with confidence.
Cattaneo closes out her double disc masterwork with a cover of David Bowie's "Space Oddity." Performing it in a trio of vocalists, Boston's famed Amy Fairchild and the storied Todd Thibaud, she reaches beauteous heights with a little help from her friends. Lorne Entress provides some special sound effects as the vocalists carry the melody line keenly with their combined timbres and tones.
Only time will tell how many music awards and rave reviews Cattaneo will rack up with this double disc set. She has assembled a great array of original music and personally engraved standards that fit perfectly together. In a more perfect world, Cattaneo would sell as many copies of The Hammer & The Heart as Goodbye Yellow Brick Road," "Physical Graffiti," "Miles Of Aisles," and whatever double album that was released in an earlier time in music. Her local fans can only hope this kind of effort goes over well in the greater-Boston/New England music scene. We need more releases like this one.