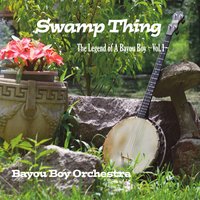 Swamp Thing — The Legend Of A Bayou Boy –Vol. 1 is an album of songs written by south of Boston musician-singer-songwriter Greedy Geezer. Greedy Geezer is the fellow who hosted a monthly Friday night jam of Americana musicians at Quincy's Granite Rail Tavern. This album, recorded with musicians from those Friday night extravaganzas, reflect the Geezer's interest in Americana roots music and early rock and roll. There's plenty of guitar, bass, keyboards, and drums to keep this CD rocking. There are also plenty of banjo, accordion, and washboard to flavor it up in earthy idioms and rustic vibes. And it's a whole heap of fun and a pile of energy.
Greedy Geezer and his ensemble jump right in with mule kicking energy on opening track "Swamp Thing." Geezer and backing vocalist Lillian Donnelly have refreshing roots twangs in their voices. Charlie Donnelly's banjo line gives it all a gritty rustic flavor. Satoru Nakagawa, of Tokyo Tramps fame, injects greasy slide guitar over the groove laid down by bassist Yukiko Fujii and drummer Uncle Al (Alan Hendry). All of these moving parts barrel forward with plenty of up tempo pluck. If that isn't enough, a piano gets all honky tonk as an accordion by Joe Frenette flavors it Cajun.
"Gonna Have A Time" makes the most of the harmony vocals when crooning its chorus, a simple chorus based on the old fashioned expression for a fun experience. Chirpy and warm in his timbre, amicable and rollicking in his delivery, Geezer's vocal is home spun fun. A layering of guitars, piano, accordion, and backing vocals make this one a charmer. It will make you want to do a jig in the big barn dance of the season. It also has a good old fashioned American lyrical theme about folks who know each other and are getting together to enjoy life for a a few hours.
The weepy, swaying "She Left Me On The Bayou" takes things slowly. Layered over its mosey beat are lilting vocals, rangy guitar lines that feel outdoorsy and rustic, and a gritty rhythm composed of banjo, accordion, and other good fixing's. This one could transport the listener back in time to a better, more special place in the backwoods of Louisiana. The listener might not want to leave that world, as it feels easy going and the notes wafting in from those aforementioned instruments are mighty soothing.
"Sorry Ma" is a sorrowful lament in its lyrical treatment but a hootenanny in its up tempo, old fashioned shuffle beat. Charlie Donnelly's pushy banjo line and Nakagawa's greasy slide guitar playing have starring roles here. One can almost picture the guitarist's fingers pressing out those greasy, sizzling lead notes and the banjo being claw picked to crank out that persistent grit. Harmony vocals move with surefooted gentility and are a blast to sing to.
A howl of a narrative, "Cajun Werewolf," finds Geezer unfurling his tail of Bayou horrors with charm and wit. Taking his sweet time, Geezer fills it up with plenty of warmth and plenty of subtle nuance in his vocal phrasing. He makes the listener feel his cautionary tale as he takes one through his message about a ferocious creature from which nobody can escape. A tuft of acoustic guitar strum keeps it folksy. A layering of accordion flavors it Cajun. A jagged electric guitar line makes it feel oldies and foreboding. This well constructed platform becomes a storyteller's best bet for putting across this fresh, interesting, and humorous twist on the traditional form called "the narrative song."
Hey, what country flavored roots album would be complete without something about whiskey? Serving drinks and slaking thirst is the job of the sweet owner of the Good Mary's Tavern, a town woman who has had her fill of thirsty customers. Firm banjo strumming and sweet accordion lines makes this one a buzzing community of instrumentation. Taking their time, the players flesh out this tale with plenty of pluck, serving up a thick, rustic sound that beautifully accompanies Geezer's good old boy vocal approach.
An arrangement of Irving Berlin's "God Bless America" lets Geezer quietly emote about the land that he loves. Sung in a good old boy manner, with traditional Americana styles on acoustic instruments supporting, gives it a whole new meaning. It actually feels like America because the voice and instruments are decidedly the kind of music born in the heartland of the USA.
"Bayou Wedding" features sweet female backing coos, rustic guitars and banjo, and an accordion wraps around it all like a warm embrace. Tightly woven, its texture makes one feel the song's sense of union. Geezer's mellow styled crooning brings it home, coming at the listener with a reflective theme and an amicable delivery.
Close out track "Watchman" is a mournful croon, concerned with a past centuries war watchman who fears for the future of his country. The vocal is at once beautiful and wary as a run of accordion, acoustic guitar, and a whole bunch of other fine instrumentation surround it with an authentic period piece of sound.
Greedy Geezer, producer Yukiko Fujii, and the others participating in this recording have outdone themselves. This recording is a fine document of the ensemble of players who used to meet up at the monthly Friday night Greedy Geezer's Garage Night at the Granite Rail Tavern in Quincy, Massachusetts. The Geezer crowd are looking for a new venue to play in one Friday a month, and this disc could, at the least, serve as a calling card to owners. At the most, it could motivate more roots musicians to get involved with the whole Greedy Geezer experience.
https://store.cdbaby.com/cd/bayouboyorchestra#.WZ62kKVpKx8.facebook