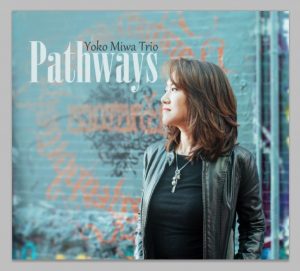 Yoko Miwa Trio's latest album Pathways finds the youthful Boston area jazz pianist, composer, arranger offering four of her original compositions as well as four thoughtfully considered arrangements of other artists' work. Miwa and her band play these pieces with more crackling energy and with more of a bopping charge than they played on previous discs. Instead of offering merely a treat for the ears and minds with sophisticated jazz, the trio play jazz that can make one snap his fingers, tap his toes, and bob his head, all at the same time.
The trio's first track is an arrangement of jazz bassist Marc Johnson's "Log O' Rhythm," a number the three have been playing in their live shows for several months now. Miwa starts with some tuneful chords, hitting her keys with enough smack to make a strong impression. Scott Goulding's peppy drum work injects the number with a perpetual motion beneath Miwa's bright, quick, intricate notes. Upright bass player Will Slater finds his place somewhere in between the melody and the percussion, providing a steady beat for both while showing some flexibility at adjusting to the other players when they shift tempos and dynamics. The three excel here at supporting each other while offering plenty of exciting individual flourishes.
Miwa's own composition "Lickety Split" races along an energetic uptempo piano line. Miwa taps out a melodic thrust that leaves one breathless at her speed and awed at her elegance. Each note seems to fall from the sky like a rain drop, a bead that takes on a life of its own within its shiny tone. Her rhythm section must be having the time of their musical lives accompanying her with their racing, throbbing low end notes and their persistently swift drum kit patterns. Slater offers some fancy twists and turns during a brief solo spot before Goulding drums up his own solo of tightly controlled patterns that make a fine mark with the tones and colors he knocks out of them.
The Miwa Trio tackle Joni Mitchell's "Court And Spark." A gem of an arrangement, Miwa and her rhythm section capture the subtle changes and the light melody of the original while keeping it within the sweeping energy of jazz. Miwa tinkles out a broader interpretation of the melody line that she balances with some crashing, chaotic chords. Mitchell was working with jazz musicians in her heyday so it only makes sense that a jazz trio would want to take her on. The Miwa trio expand on the jazzy moments in Mitchells music, turning those jazzy sweeps into actual jazz. Here, a torrent of piano notes pour out of the stereo speakers in way in which Mitchell herself likely never imagined. Bassist Will Slater places a series of knobby notes in between Miwa's free flowing melody and Goulding's loose but persistent run of drum notes.
Miwa's "The Goalkeeper," a briefer piece than most of the material on this album, swings around the tight interaction of the three. Miwa's speedy, agile piano notes race and skip around the beat. Slater keeps the beat throbbing and movable, putting it right where the other two require it when they suddenly shift gears. Goulding hits his skins lightly but within a feisty, intricate tempo. It's a treat for the ears when the two men exchange a series of light notes, mild touches of drums and bass just beneath a fine tinkling of Miwa's ivories. The trio move into a more hefty section of the piece, with the drummer hitting the skins with a finger snapping persistent and the drummer conjuring a motion filled line.
Another Marc Johnson piece, "After You," allows Slater to lay out a snappy run of quick low end notes. Goulding layers over that a line of persistent, sudden notes that snuggly mirror the bass. Miwa taps out a rhythmic pattern based on the rhythm section's anchor, pushing her sharp, sudden piano notes over their arc, a line that maintains a dizzying pace during its obstacle course foot race with the groove. The listener constantly reflects on the intense drama that continuously plays out among these three.
"Lantern Light," a Miwa composition," seems to come wafting into the listener's room with a breezy line of piano notes. Moving into a mid-tempo trot, the trio offer their sparkling ivories, played in interesting intervals, even tempered bass movements, and swift stick work. Eventually, Miwa asserts herself more, piano notes and chords raining down with crashing urgency. The Yoko Miwa Trio have a good handle on the way jazz combos can suddenly shift tempos, dynamics, tone, and feel. Without ever seeming studied, the three can put the listener in an entirely different place without any jarring head spins.
Miwa's "Was It Something I Said" feels as playful and feisty as a friendly argument, a teasing one-upmanship. Her snappy, thumping chord progression seems to invite a warm but clever response from her rhythm section. Strikingly fresh chords give way to single notes before returning to strong chord work. This keeps Miwa's works colorful, lively, and full of energy. She doesn't just play her melody line, she also punctuates it with her resoundingly solid chords. Dueling with drummer Goulding, the two take turns offering hefty dollops of notes that are just impossible to ignore.
The Yoko Miwa Trio close out with their arrangement of The Beatles' "Dear Prudence." Here, Miwa makes the most of her snappy, soft, delicate notes. She captures the mood of the original while elongating it, making that familiar, timeless, and pretty melody dart around her bass and guest drum support(Brad Barrett). The chords here are simply beautiful and for a brief moment I think that John had married the wrong Yoko. Miwa reminds her listeners why this particular song is so adored and treasured by so many while showing her own appreciation by working with its melodic structure to develop a whole new way of expressing it.
Yoko Miwa Trio have come up with the best album of their career. Pathways is loaded with incredibly good musical passages, melodies, changes, and many other smooth, happening moments. Most importantly, they've returned jazz to its cooler, hipper elements created in the 1940s and 1950s, when it was moving away from the show tunes influence to more of a hip nightclub vibe. Considering Miwa is still quite young, we can only look forward to ever more presentations of her ever growing, ever widening sphere of musical offerings.