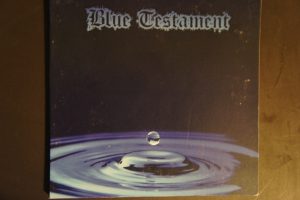 Some years ago, greater-Boston vocalist and harmonica player Brian Templeton got religion. The gentle giant, already a pleasant fellow to begin with, accepted the salvation that many musicians of our generation have accepted. Templeton expresses his faith and spirituality on this album Blue Testament. Whether or not fans of Templeton's oldies rock and roll, vintage country, or blues feel the faith as deeply has he does, they should enjoy this work of powerful bluesy, rockin, swinging music. Not too many people can make gospel rock like Templeton can. It doesn't hurt that Templeton has drummer Lorne Entress, keyboardist Dave Lamina, bassist Ed Spargo, and guitarist Lyle Brewer along for the ride.
Templeton opens with "Jesus Road," a blues-rock song about the good news of an amazing man who can give eyesight to the blind among many other miracles. Templeton's huge, raw vocal is infused with passion and spirituality as he belts this way through this hefty anthem. His harmonica blows a mighty force of notes, grinding them out like nobody's business. A lead guitar phrase whistles prettily through the sonic landscape and becomes a perfect foil to Templeton's harp strength.
"On My Knees" finds Templeton singing in a gravelly timbre, deep, rich, soulful over a flinty organ melody. He just lets his unflappable, sprawling croon spread over the slappy organ notes and persistent backbeat. With every vocal sustain, Templeton reminds us why he's become a staple of the area music scene. His vocal power is a like a coiled snake ready to jump out with a mighty belt, an expression that cannot be denied.
Built upon a beautiful chunk of marching band horns, "Gonna Leave This World" is based on jump-swing from a much earlier decade in blues. Templeton's rich croon spreads over this old time vibe and its sweep of horns, barrelhouse piano, and thumpy groove. This song about going to heaven reminds of the traditional New Orleans funeral processions in which the mourners sang and danced behind a marching ragtime band. As the music becomes busy with vibrant interaction, Templeton belts in a huskier timbre with more forceful expression, allowing the joy of transcending to mix perfectly with vocal belting.
Templeton is proficient at blending gospel influences with rock and blues. "In God's Home" is a breezy, rockin' blues cruiser. Firmly in a mid-tempo mode, Templeton lets the joy of being in God's home shine through his soulful belting style. His considerate vocal phrasing lets him bring something special, warm, and vibrant to each note he sings. Rocking lead guitar, bass, drums, and keyboards flavor this one with a blues, honky tonk vibe. Backing vocalist here give the sonic landscape a rich choir resonance.
"It Don't Cost Very Much" is a down tempo, slow boiler. Templeton lets the soulfulness and the joy pour right out of himself with this easefully paced number. Rich, smooth vocal runs and emotive sustains empower this one with a spirituality that could find a place in church or in a Stax recording. Templeton makes it sound like his voice is smiling because his message is so happy and his vocal puts that across with a resounding spirituality.
"Jesus Is The Way To Go" is perfect gospel rock, reminiscent of the sound Elvis Presley was going for during his late 1960s, early 1970s recordings. Amidst vibrant lead guitar, rich organ swirls, and a groove that makes one feel like he's behind the wheel of an 18 wheeler, Templeton builds this one up vocally and spiritually. He adds more power to his verse before arriving at a simple chorus with an amicable vibe. This creates a sense of traveling to a serene destination and a traveling lead guitar phrase guides us in.
"Angel Band" is a country and western styled ballad, with Templeton's soulful croon loaded with blues feeling and spiritual oomph. He wraps all those elements around a vintage country. Its vibe emanates from the pretty, brittle guitar twang laced through this number which acts as a perfect foil to Templeton's velvety vocal restraint.
A steady groove beneath mild organ and light, mellow lead guitar shine a light on "Walk The Way." Templeton, persistently rich, croons this mid-tempo ballad with a gentle domination. His easeful vocal builds up into a forceful belt on the chorus all the while keeping the instrumentation in service to his voice. His subtle shifts in emphasis make the sound feel more engaging and adds more depth to his spiritual message.
With a true Chuck Berry groove, "Forsaken" is based on oldies rock and roll. Templeton uses the rebellious feeling of early rock music to create a feeling of throwing caution to the end before one ends up outside of God's grace. Whoever Templeton has playing piano and horns here, they do a marvelous job at wrapping this whole message thing up in vibrant, hip shaking, foot stomping boogie. The players just go to town beneath Templeton's raspy yorp.
"Through Him With Him In Him" is another slow boiler blues. With musical and spiritual tension building just beneath the surface, Templeton captures the ear with a mounting vocal belt. Making his listener feel the power and the glory of his new found faith, he keeps it interesting for the fans of his bluesy repertoire. A whole heap of vocal belts transforms this tune into something mighty powerful.
Close out number "This May Be The Last Time" announces itself with a lightning storm sound effect. It doesn't take Templeton long before he's blowing some gravelly soul out his harmonica, flinty, feisty harp notes becoming a foreboding swagger. Templeton's emotive croon heightens the tension while piano rolls add another layer of busyness that keeps this slow stomper in full urgent warning mode. Female backing vocalists bring in a spiritual dimension, leading the listener to the spiritual crisis the singer refers to in his narrative finale. A lot of moving parts keep the listener fully engaged.
This CD offers smoking hot blues, soulful croons, and feisty rocking anthems. Again, one does not have to be peering as deeply into the almighty glory as Templeton does to fall in love with this spectacular Brian Templeton album.