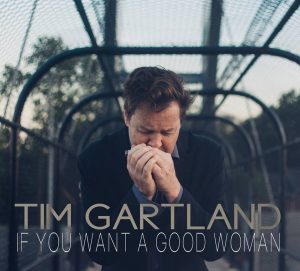 Tim Gartland had been on the greater-Boston blues and roots scene for many years before relocating to Nashville. Maintaining a strong connection to New England, Gartland also maintains a strong fan base here by releasing fine CDs like this year's If You Want A Good Woman to remember him by while he organizes his next stop up here. If You Want A Good Woman is loaded with Gartland's fine vocals and exceptional harmonica work. He is also a strong songwriter who has written some of these tunes with local keyboardist Tom West who also makes a solid showing on this disc.
Opening track "What The Blues Look Like" is a swaying, sprawling piece of blues. Gartland's vocal here is self-restrained and considerately paced. He spreads his handsome drawl over a simmering organ line before he whips out his harmonica to play a sweet counterpoint to those soulful keys. Once the lead guitar kicks in with grueling, greasy, slippery notes the whole thing becomes a breezy pleaser with plenty of tasty moving parts.
"Hours Worth" finds Gartland in a more honky tonk mode. His lilting vocal rolls forth with a firm authority over a shuffling groove and old time piano melody. He leads the song well but the support he gets from that piano and a soulful backing vocalist is priceless.
Honking on a more bluesy harp line, Gartland takes us into "I Had It All" with a droll coolness. His rich vocal is full of character, hop scotching through his witty lyrics with his indisputable style. His harp line is sharp, moving in intervals of dark, smoky notes. His notes hold their own against a gripping lead guitar line, creating a dramatic tension in the tune before this singer graces his way back into the show with slow, bluesy aplomb.
Title track "If You Want A Good Woman" is as appealing as when Gartland sang it at North River Blues Festival in Marshfield, Massachusetts last summer. His breezy, lifting vocal sustains, gospel rich backing singer, and a floating organ line all shine like the sun in the spring time, making one feel like taking a walk with a bounce in one's step. It's just a feel good song and boy does that organ sound make one feel like taking a magic carpet ride.
Gartland conjures an image of a downtrodden soul on "I Come When You Call." His forlorn vocal, sharp and rich, expresses a lot of sorrow. His effective voice control is mournfully beautiful over tasteful stick work, tender electric guitar, and emotionally distant piano and organ. Gartland makes us feel how his one oasis in a world of blue is like his ray of sunshine poking through the clouds on an otherwise overcast day.
Gartland's instrumental piece "Eight Ball" swaggers in hip and proud with a zig zagging harmonica line that pulls one in with its slip sliding motions. That harp line and the electric guitar melody that he mixes it up with both tap dance over a sly snap in the groove.
"If That's What You Call Love" is another fine mood piece. Gartland uses a mid-tempo pace to inject all kinds of vocal inflections, sustains, pauses into his rolling tune. His harmonica practically whistles out the melody that is in his heart, a line that increases its pretty interval of notes to widen the ear grabbing colors. Weaving a fine texture with a soulful backing singer, this singer-songwriter pumps in even more of his refined richness.
The quirky titled "Introduce Me To Your Hat" finds Gartland stomping into an uptempo jump, swing vibe number. Gartland's quaint chorus pulls one in with it shiny colors, vocal textures, and freewheeling groove. This one could make it on Blues radio and even on Adult Contemporary radio. Witty, catchy, and fun, this one is likeable as heck.
"Too Many Groceries" speeds up the shuffle pace a bit to offer a sly, slick delivery in all of the upper registers. A hint of mischievousness between the lead vocal and backing vocal eventually give way to a frisky piano line, an effect that keeps the true mystery of this piece tastefully concealed. Did I mention that a slick lead guitar line pokes its head to press out a slipping, sneaking phrase. With a feeling that is formed by combining a speakeasy vibe, Louisiana blues, and Andrew Sisters harmony, "Too Many Groceries" could be a perfect movie soundtrack song. It makes one picture the action.
"Where's The Cure For You" is built upon cool drum fills, tasteful individual skin smacks that bop this song up nicely. Gartland croons slowly, coolly, pacing just right with the tempo and vibe created by the considerate drum work below. Dark, rich vocals are restrained. Zippy harmonica lines are more freewheeling. The contrast conjures the song's feeling of inner struggle as Gartland talks about religion, black magic, and voodoo like a man with no hope who reaches for whatever can medicate him.
Hip swagger and kitschy lyrics make "Willie That's Who" a fun number to follow along to. Character rich lyrics, bluesy piano chords, hearty vocals, and a forceful harmonica line bring this Willie Dixon tribute to colorful life. Gartland references Dixon's greatest lyrics within his own clever wording and his self-restrained croon makes this track feel even fuller.
Closing track "Go West" rocks the listener right through the door and into a grand vehicle for a cross country trip. This instrumental allows Gartland to go toe to toe with barrelhouse piano, zippy, confined guitar lines, and a rock and roll backbeat. Gartland chimes in amidst a batch of talented players with confidence and finds his respectful place in the sonic landscape while respecting the musical spaces of his backing musicians. It all comes together like a jigsaw puzzle of a really cool picture. The dudes helping Gartland lay down his sound on If You Want A Good Woman are vocalist Wendy Moten, slide guitarist Tom Britt, drummer Lynn Williams, bassist Steve Mackey, and keyboardist Kevin McKendree.
Gartland may strike radio gold with a couple of gems from this nicely layered and well constructed album. If You Want A Good Woman lets Gartland reflect the growth and maturity of a musician who has been around for a long while and has a lot of learning under his belt.