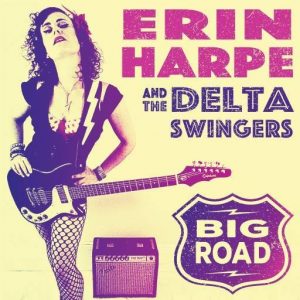 Erin Harpe And The Delta Swingers' new CD Big Road offers a loving heap of old style blues to audiences who can appreciate both the traditional sound and the energy of modern twists. Recorded, mostly, at Verdant Studio in southern Vermont, Big Road is exactly what it sounds like, a route with two or more travel lanes.
Harpe and her boys open the disc with Mississippi Fred McDowell's "Kokomo." Harpe's electric slide guitar bristles with energy as it practically sings the melodic line. Harpe's greasy slide notes jump around in celebratory joy as her slightly rasped voice coats the song with another layer of cool.
Harpe pulls us into her original "Lonely Leavin' Town, with chirpy, whistling lead guitar. Her mellow phrasing is supported by Matt "Charles" Prozialeck" light harmonica drizzle. Together, they have a sweet melody and counterpoint twisting prettily around each other to make for one fine bluesy sound. Harpe's lead and backing vocals, meanwhile, turn up the charm notch even further, sweet chorus meets sultry melodic phrase.
EH&THDS give Tommy Johnson's "Big Road," this album's title track, the Boston blues treatment. Crisscrossing lines of mellow lead guitar and sweet, zigzagging harmonica create a blissful texture. It's like the two players are coaxing their phrases out of thin air with their talents.
Harpe and Prozialeck go into some acoustic front porch vintage blues on Mississippi John Hurt's "Frankie." Dovetailing the harp's sweet, intermittent whistle with the acoustic guitar's tender, rhythmic picking, the two create the perfect backdrop for this story song. Harpe's more svelte rasp wraps itself around the melody and finesses the lyrics with a old fashioned torch singer delivery. She makes the song's tragic ending both mournful and commonplace.
The band take on Slim Harpo's "Shake Your Hips" by riding the song's original edge. Drummer Kendall Divoll and bassist Jim Countryman pump out an infectious, deep rooted groove. Twitchy harmonica and nervous guitar lines fill this cover with a truckload of energy. Harpe's sultry timbre gets lush and throaty, adding another layer of swagger, cool, and allure to this oldies gem. The band jams on the middle section of the song, strutting their fine ensemble talents before going back to the initial, well-paced groove.
The band's fetish for Mississippi John Hurt surfaces again with their take on "Casey Jones." Played in a front porch acoustic blues style, this version lets Harpe's sultry range breathe in the sparse accompaniment. She must have been gleeful and prancing when she recorded this number. One can practically picture her on top of the world as she reaches upward into her range to hit the sweet, juicy high notes.
Harpe's original "Voodoo Blues" is loaded with light, perky notes. Harpe's electric guitar picking unleashes tasty, brittle nuggets as Prozialeck blows thin, metallic notes that hearken back to 1940s Chicago. Harpe's quaint vocal application finds a good home amongst the punchy fun the instruments are offering up all around her.
Harpe's third original "Stop & Listen" is a speedy, shuffling treat. Harpe's brisk vocal pace forces her to emit all of her vocal talents in quick, quirky bits. That makes for plenty of fun and plenty of Harpe strutting her stuff. Her speedy guitar work, Prozialeck's racing, slippery harmonica notes, and a plucky bass instrument sound fantastic riding along in tight discipline with the locomotive chug coming from the drum kit. Everyone in the room will be dancing a jig when the band bring this one to their live shows.
The disc takes a slight detour from driving, hard charging blues into more ballad blues material when Ms. Harpe tackles Randy Newman's "Guilty." Here, she unfurls her fine vocal chops with a line that reaches into heaven with several sweet sustains before coming back down into a considerately delivered voice.
The band close out with a blues meets psychedelic funk titled "Gimme That (Something Special)," a modern gem from Harpe and Countryman's Afro pop juju band Lovewhip. This brisk, danceable number will leave their blues fans with something to consider when Lovewhip is in the listings on nights when their Delta Swingers isn't. Guitar and harmonica still sound bluesy while the other swinging parts will make many want to move their feet. While dancing, their minds will be blown by the spiraling, otherworld guitar blast.
Erin Harpe & The Delta Swingers have come up with another winsome blues album. This blues band has a way of making their vintage blues influences feel accessible to younger fans while their chunk of traditional idioms will find its way into the heart of more discriminating blues fans.