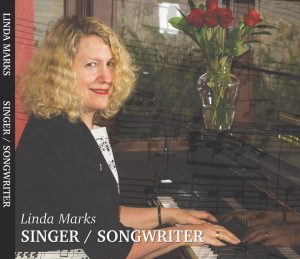 Linda Marks' second release this year, Singer/Songwriter, shows more of her pop ballad side than her more jazz oriented Say Yes To Love, released last September. Like the previous album, Marks displays vocals that soar, rising up to a high register, waving in her breezy numbers like a flag of musical beauty. She also reaches the listener's soft spot each time with her insightful lyrics.
Opening track instrumental "Eulogy For The Living" finds Marks tapping out a lilting, fetching piano melody while cooing her way into the song with a loveliness all her own. One can feel her voice pulling him into her world of sound and one can get pulled in even further with the briskness she injects into her chord progression.
"Everybody's Got A Song To Sing" kicks off the vocal numbers with Mark's high vocal range gracing the track. Her voice, smooth as a silk glove, glides over a bittersweet but deeply appealing melody. Moving alongside Mark's piano line is a pretty, mobile flute line from Boston's veteran flute and horn player Dave Birkin.
"The Narrow Road" is a twisty path of melody, a melody that carries one along with Marks' lyrical theme, a mighty little locomotive, each note feeling like a brave little step forward. Birkin's descending flute line adds another layer of charm. Marks' vocal here, and at other points, is simultaneously informed by jazz and opera. Yet, she only uses just enough of those genres and their techniques to get across the worth of her meaning of life lyrical reflections.
"Life's Mountaineers" focuses on the people in life who can meet seemingly insurmountable odds and overcome them. This song inspires with its message but also with the assertive but lovely vocal Marks unfurls. She just sends those vocal notes spiraling upwards, sweetly contrasted with a more direct climb in the piano melody.
Marks does some pleasant things with sustains on "Love And Time," a floating number that she vocally and melodically moves around in waltz like motions. Birkin's flute melody and Valarie Thompson's cello work double up on the breezy cloud of melody so Marks has a cushion to croon over. She makes the most of the space between instruments and her vocal, gliding over the rippling pleasantries.
A more romantic flare is achieved with Birkin's sexy saxophone line on "How Can I Reach You." A jazz combo plays underneath Marks vocal, with the sax leading it with sultry evening vibe. Marks could be cooing to her beloved as she makes her voice sound warm and personable here. Couples might like to have this one playing on their stereo while dining, slow dancing, and making out.
"The Lion" spreads itself wide, an arcing song that is packed with soothing vocal and piano notes. In this sparser accompaniment, Marks lets her vocal presence grow like a flower, something that quietly builds up even prettier over time.
The jazzy "Force Of Nature" features jazz bar piano flourishes and floating, mellifluous saxophone. Over that upscale bar vibe Marks emotes with small puffs of vocals, some quick and brief, some sustained. The rhythmic appeal she creates with her voice matches the liveliness of the combo beneath her, turning this into a fun, funky little excursion.
"You'll Never Be Alone Again" travels along a sweet, easeful flute melody that wraps itself warmly around the proceedings. It's a treat for the ears to listen to Marks crooning alongside that flute and over her fancy piano tinkling.
"Love Is The Answer" finds Marks traipsing beautifully across the landscape of this world weary theme. Expounding on the theme of love as medicine, Marks fills the message up with a loving application of her talents. She finds the sweet, ephemeral truth of love in her lyrics. Her voice needs to match that sweet moment, and it does. She makes the listener feel her bountiful joy with just a few upward twists in her vocal melody.
"Loose Ends" has a pleasant aftertaste of pop. Marks sings in her unique higher range and taps her notes with considerate application, creating an emotive lure that perfectly captures the feeling one has when a relationship suddenly makes perfect sense. Adding to that emotive thickness is a cello buffeting everything with deep gentle notes.
"Coming Full Circle" has a jazzy vibrancy. Marks' considerate vocal, usually quiet and mellow, swiftly performs a grand jete over her accompaniment. Like a musical gazelle, she suddenly asserts her voice over all. A saxophone line beneath her twists and turns in pleasant circular motions with Marks' piano chording thickly coloring the piece. The musical elements here come full circle as much as her story song does in its plot line. Perfect.
Marks sings her heart out with closer "When Dreams Suffer." Her voice is filled with emotion as she consoles the struggling. She soars ever higher with her plaintive yet reassuring vocal. There is much heft coming from her voice and keys in this piece. Again, Marks makes it as much an emotional high point as a musical one.
Ms. Marks has done it again. She's created a full length CD loaded with many special highlights. Her vocals, piano work, support players, and composition skills are in full swing and fully realized here. She will likely gain greater and greater recognition and a greater number of gigs as she continues to make her merry way into the recording studio.