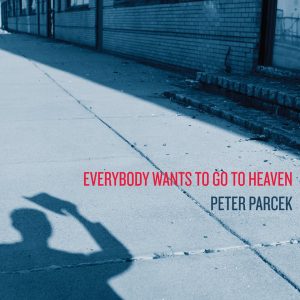 Peter Parcek's latest CD Everybody Wants To Go To Heaven offers, among fine musicianship, many tasty nuggets of tone that create exciting sonic landscapes. Parcek immerses his listener into his own world of sound. Whether he's playing slidy material, contrasting guitar parts, or interesting chord progressions, Parcek maintains a freshness, originality, and a high level of excitement in every meter.
Parcek and his backing musicians stomp their way into the opening track, "World Keep On Turning," an arrangement of Peter Green's number from Fleetwood Mac's 1970 album. A down tempo sprawl, Parcek infuses it with true soulfulness, his smooth, seasoned vocal letting the feel of the song simmer. His electric guitar work here finds him creating an alluring drone within a super orbital melodic run. Parcek's layering of electric guitar lines puts even more emotional meat on the bones of this lyrical deep love dwell.
Parcek takes us into a deeper blues mood with his rendition of Blind Lemon Jefferson's "See That My Grave Is Kept Clean." Listening to Parcek's tender vocal apply itself to images of two white horses, a coffin sound, and church bells pulls one into a world of dignified sorrow. This theme of wanting to go out with dignity come to vivid life alongside a mounting electric guitar gruel, a biting sound that grows into a melodic growl. Parcek's more subtle, tender guitar parts also say a lot with their sensitive rendering of the song's overwhelming plea.
An instrumental tribute to the Memphis blues guitarist who inspired heavier music with his early power chords, "Pat Hare" has a spiffy melodic line tap dancing all over a hipster backbeat groove. Parcek's twitching lead guitar goes toe to toe with harmonica swirls from Mickey Raphael. Flinty bits of notes skip around with an old fashioned jauntiness that makes this moving tribute a fun flight of fancy.
Parcek's "Ashes To Ashes" is a swaggering bit of guitar muscle. The chord progression swings as wide and hard as workmen pounding a new railroad into existence. Parcek's melodic lines zig zags around the groove with an untamable live wire energy. A second guitar line played by Luther Dickinson follows the first with a verve that practically cries out its melodic flow. This one might also make the listener feel like moving his feet. It's a thick, juicy beat that carries a lot of the song's weight while doing sweet things with the drum kit's variety of sounds.
Parcek's "Every Drop Of Rain," after an initial swing of guitar phrase, feels like his mellifluous notes are falling all around one like rain drops. His soft blues approach works well, enveloping his listener in his rainy day blues expression. His latter melodic line tenderly expresses even more about the downtrodden driver as he makes his way through a torrential ride.
"Shiver" is another of Parcek's engaging instrumentals. A jumpy beat makes the tune skip along its own merry way. There is a touch of surf music joy in the groove and in a wavy guitar line. Yet, this song, with its evolving guitar phrase, spirals ever upward with an edgy, twisty firmness that makes it feel like an anthem call for everyone to have a good time. A party vibe tune for sure, it can make one picture a lively, festive scene of revelers.
"Things Fall Apart" is a more rocking blues guitar song. It has a lean, mean grinding guitar tone that means business in every meter. An action packed song, one can picture the guitar line moving around like a snake that maneuvers, coils, and springs.
A cover of Don Nix's "Everybody Wants To Go To Heave" is Parcek's title track. Parcek makes the song his own, laying out a sweet, mellow vocal over an easeful lead guitar arc. He makes us feel the tension between wanting to aspire to heaven without wanting to cross the threshold from this earthly life. Luther Dickinson plays guitar on this one too, his lines adding their own layer of ambivalence and tension, mirroring the sonic complexity of what is going on with Parcek's line.
The blues shuffling, loaded gun feel of Parcek's "Mississippi Suitcase" erupts into joyful expressions of guitar madness. The zany guitar stunts play out over a groove that rolls forward and pulls everything atop along with it. An undertow of bass keeps one out in the deep end while shards of guitar circle above, reaching dizzying heights of accomplishment. One can only listen and wonder how Parcek gets so much tone and so much momentum out of his axe.
Parcek closes out this new masterwork with "Aunt Caroline Dyer Blues," a cover of Jennie Mae Clayton 1920s classic. Complete with moody violin, acoustic slide, and a bulbous bass beat that conjures memories of the old jug blues bands, this tune is sweeter than fresh picked berries. Parcek's rougher vocal timbre coats this with its own old fashioned soul. A bouncy groove and a slide guitar dancing over the rhythm make this feel full, wholesome, and full of tasty individual nuggets of notes. If only the old blues musicians had the kind of modern equipment of Dagotown recording studio and Ice Station Zebra recording studio where this kind of music is best recorded.
Parcek certainly gets by with a little help from his friends. Drummer Marco Giovino produced this for Parcek while also serving as the disc's drummer. Muscle Shoals keyboardist Spooner Oldham puts in an appearance. Dennis Crouch, Dominic John Davis, Marc Hickox, Joe Klompus, Russ Pahl, Andy Santospago, Deanie Richardson, Jeremy Van Cleave, John Jackson, and The McCrary Sisters round out the sound. Parcek has given his loyal and future followers something of great substance to sink their ears into. He not only offers seriously good guitar, vocals, lyrics, and arrangements, he creates entire worlds with his tone, worlds that his listeners can fall into and walk around in and find some new details in with each listen. Bravo.
https://store.cdbaby.com/cd/peterparcek
Share on Facebook

Follow me on Social Media!