Annie Brobst is on a roll. She's been nominated for and has won several music awards in the past few years. Her Annie Brobst Band plays several name venues in greater-Boston and throughout New England. How did Brobst get to where she is now? It took her several carefully considered steps to reach a point of being recognized as a major regional artist.
Brobst came onto the Boston music scene around 2011, after moving to the North Shore to teach Spanish at a middle school in Salem, Massachusetts. She also coached soccer and soft ball to high school students. "I was karaokeing one night in Waltham, and someone there wanted to start a band with me," Brobst said. "So, we put together a little cover band, and we did pop music. We started singing Lady Gaga and Jason Darolo and some really ridiculous things."
Brobst began studying YouTube videos where she posted her own live music videos. A country band found her videos, recruited her, and she soon found herself opening for some big names. "From there, I got the itch to do my own thing," she said. "I was writing a little bit at that point."
The former Ohio resident soon formed the Annie Brobst Band. With some informal booking from Big Crush Records, Brobst started to get her music around. Playing out in four bands on a bill gigs got her name around even further. Her band entered the Last Band Standing at the Hard Rock Café in Boston. "That was how we got introduced to John (Fleming) and Big Crush and they both helped us with a few other shows. We did Last Band Standing at The Hard Rock so we got in the eye of Big Crush and New England Music Awards, at least."
Brobst is now her own booking agent working with a handful of bookers in New England. "For the most part, it all goes through me," she said. Brobst has recently gotten herself into northern New England. Working with a local booker in New Hampshire, she's landed gigs at the Derryfield in Manchester and Woodstock Station in Woodstock.. She and her band mates enjoy the Woodstock venue.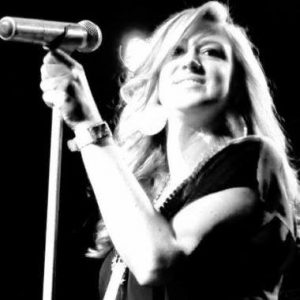 "Those are really fun," she said. "It's like two nights on the weekend. They put you up for the weekend. They give you meals. It's so fun. It's a brewery and a restaurant. The rooms are so bizarre. There's little tiny rooms everywhere. It's kind of a maze. We have three of those for 2018, where we'll be up there for Friday and Saturday night. It's a good time."
Brobst is also currently competing in an online band competition brought to New England by New Hampshire country radio WOKQ. Run by national organization Taste Of Country, it's called Hometown Riser. Brobst is up against a few other local artists.
"It can propel you onto the bigger scene," she said. "We know many artists who are on the radio right now, who did that, and are successful." Brobst said her fans can support her through www.ABBvote.com.
Brobst believes her recent good fortune began when she and her band mates had started to compete in battle of the bands contests. While not a huge fan of such competitions, Brobst feels they do have their place. "If you're just starting out, you make a lot of contacts," she said. "You get to know the other bands. You get to know the judges. You get to know the other people in the room who are interested in what you are doing. We did Last Band Standing, and we did another one out of Rhode Island. For us, that was sort of the turning point."
"I don't think," Brobst continued, "awards are the end all be all, but for people who don't know you, that catches attention. That makes them say 'Well, who is this? Somebody is clearly recognizing them, and appreciating what they do, and vouching for them. So, who is this person?' It at least gets people who don't know you to look."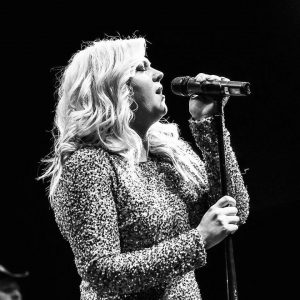 Brobst's first recording, her new Ghost EP, will be grown in to a full album, to be released in May. Her first full length, she said, will be a concept album. "I really am excited because it's a whole new way of writing for me," she said. "I'm still learning, and I still don't think this is going to be the best that I could ever do, but it's the best I've ever done so far. I'm really excited to get some of these songs out there."
Her song "Ghost" is about her move from Columbus, Ohio to Boston, Massachusetts in 2007. The tune's second verse alludes to the move, the next verse refers to the man she came out here to be with. Her bridge is about then being on her own and being able to do everything for herself. "I knew him in college and then when I moved out here, we stayed together for a year and then decided it didn't work," she said. "I landed my teaching job right after that."
At first, Brobst had tried to keep her teaching career and her music career very separate. They started to overlap when she was playing numerous shows in her new hometown area. "I was kind of a 'Yes Girl,' and that meant Wednesday nights, Thursday nights, Monday nights, and weekend shows. I was burning the candles at both ends. The kids did start to know more about what I do. There were a few times where they would do a talent show and ask me to be part of it."
Brobst's gage for how country music has grown in popularity here in New England is her students. When she first moved out here, her students hated country. They knew nothing about it. When she was leaving her teaching career eight years later, her current students knew every song she covered. "At some point country grew to be the hot genre, so much so that 11 and 12 years old wanted to listen to it."
Brobst has included on her new EP a tune titled "Write Me A Song" about the hustle and bustle of the Nashville scene. She was traveling back and forth to the music city and noticing the venues had a lot of lackluster performances from country musicians burnt out from playing too many shows per week. "There's really great talent, great musicians but they just seemed like it was there job. They did it for four hours every day. So, 'Write Me A Song' was inspired by that. It supposed to give a kind of a kick in the ass to musicians."
While Growing up in Ohio, Brobst was listening to Britney Spears, Christina Aguilera, Mariah Carey, and Whitney Houston. She would sit in front of her stereo with her liner note lyrics and sing along. Brobst eventually was inspired by the story telling quality of the songs. "It was nice to be able to fit into some sort of genre where I can just tell my stories and make the songs really personal to me," she said. "You're not going to hear about a carefree song that's about nothing, it's just a happy song. You're not going to get that from my album. It's not there on my EP, either. I think you have to set yourself apart. At this stage of the game, being a smaller artist, on the grand scheme, my stories are going to be what sets me apart, makes me unique."
Helping Brobst flesh out her lyrical visions are her treasured band mates; drummer David Sardella, bass player Matt Ezyk, guitarist Roger Hagopian, guitarist Ryan Dupont, and multi-instrumentalist Steve Latanision who plays pedal steel, fiddle, and banjo.
"My drummer now is Dave Sardella," she said. "He's friends with Ryan who's my electric guitarist. He played in wedding bands with Ryan. My current bassist is Matt Ezyk, and he actually just joined us a few months ago. I sometimes feel it's a revolving door, but when you get it right, it feels good. So Matt, I'm so happy to have him. Roger is my acoustic guitarist. Ryan is my electric guitarist, plays acoustic shows with me, and also my boyfriend right now. And we just started co-writing together. It's funny. Before we started dating, we co-wrote a little bit. Then, we started dating and there was just a little bit of a barrier there, for me. It was like now it's a different level of vulnerability and I wasn't ready to quite write with him. Then we broke that down and started writing together again. So, those songs are going to be on the next album."
"And also Steve, in our band. Steve Latanision. He's our utility guy. He does banjo, fiddle, pedal steel. He played in our set at New England Music Awards. He's awesome. He plays mandolin too. You'll hear him on the album. I actually met him because he was on my EP. He was hired by the studio to come in as a session musician. Then I was like 'Well, he should be in our band because he plays all these awesome instruments that we don't have that make us more rockin'."
The next step in Brobst's career is hard for her to nail down, as there are many paths she can travel. Yet, she'd like to move onto touring around the United States. "I think we've done really well in the New England region," she said. "We still have growth to do here. But, I think we need to get out into the country a little more. So, we're going to try to hit some other states and just get our name out to other people. It will be nice to tag team that with the album release and have something new and our best work so far just to hand people. I would love to get on a record label at some point. I know some people think that that might be going out style or becoming obsolete, but I think that can open the doors to more of these tours and traveling. That would be a nice dream getting onto a bunch of bigger tours."
http://www.anniebrobstmusic.com/
http://wokq.com/vote-now-to-choose-who-will-be-wokqs-hometown-riser-and-possibly-countrys-next-big-star/