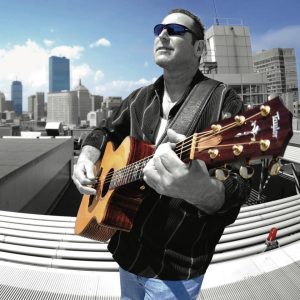 Mike Gacek has been on a roll since he released his The Music To The Words I Write album earlier this year. The Lowell, Massachusetts-based singer-songwriter received favorable responses to his CD from both his music fans and the music press. He's currently putting a band together so he can play out in support of the recording. He's been playing out as a solo acoustic artist in support of the new disc while continuing his solo acoustic covers job.
"That's how I pay the bills," Gacek said.
Gacek plays out in several clubs around greater-Lowell, Massachusetts. He also plays out all over New England at corporate events, private parties, and weddings.
His new CD, The Music To The Words I Write, was born into existence from the pain Gacek had suffered through during a divorce three years earlier. "It brings back memories, some good, some bad," Gacek said. "I had to write that album to heal from what I was going through."
Hacek's album feature his tune "The Rest Of My Life" which is about how he would like to feel when he finally finds the right person to share the rest of his life with. It, at first, sounds like he's singing to a current flame. Yet, if one listens carefully, it's not about a relationship he is in but the kind of relationship he seeks. "It's about finding the right person that you're going to spend the rest of your life with," Gacek said. "This is what I'm looking for in my woman. I don't want much. I just want gorgeous, rich, and famous." He chuckled.
Gacek's song "I'm Dying (Just To Be With You)" may sound like it's about someone he is dating. It's actually about dying to meet someone he'd like to be with. "It's about being with somebody that you really love, and it makes you feel so good that you're heart palpitates and you shake. You feel like you're dying, but it's in a good way. It's because you're in love."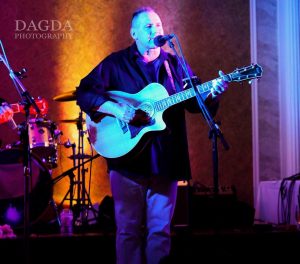 His song "Born With A Broken Heart" is also about his life long quest to find the right person. Bursts of electric guitar indicate the stormy inner turmoil this singer-songwriter must be experiencing from time to time. "It's about the fact that all of my relationships end," he said. "It always seems like I find something wrong with the person or they find something wrong with me. It feels like I have a broken heart, that I can't love, I can't love a deep love. That's where the thing kind of comes from."
Gacek's song "I Love Boston" is about his love for the Boston sports teams. If any TV producers are reading this, "I Love Boston" could be the right theme for a show. It references all of the major teams, some Boston history, and it has a driving beat and edgy guitar that keeps one listening. "I love Boston sports, so I decided to write my own little anthem, a Boston rock anthem," he said.
His song "My Whole World" is about his daughter. He begins with the lyrics "Eight pounds, four ounces" that she weighed on the day when he first met her. Although she is only 11 years old now, Gacek, in his lyrics, goes ahead to the day when she will get married and he's giving her away, and she's still in his hands, and she's still his whole world. When asked if she's married now, Gacek clarified: "No. She's only 11. She better not be. The story's not done yet, not her story anyway, Thank God. I'm a little older than my daughter, obviously. I started late. If for someone reason, I'm not around when she gets married, I wanted this song to be there for the father-daughter dance so that I could still be there in spirit."
His previous album, Different Like Everyone Else, featured his amusing song "Inna Gadda To Stairway To Freebird Pie," which he still gets a huge response from. "Frank FM, for two years it was the most requested song on their local radio station," he said. "Everyone always yells out requests for those old songs, like 'Freebird.' I just made it up about the four longest songs I know."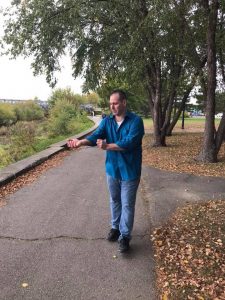 For several years now, Gacek has been performing in the duo Take Two with his long time musical companion, Mike Poulin. Also known as Mike And Mike, Take Two survives, having many gigs on their schedule. On Friday nights, his Take Two duo play private parties and corporate gigs.
"I've been playing with Mike Poulin for over 30 years," Gacek said. "Mike Poulin is from the original Mike And Mike."
Gacek was in the Wilder Road band back in the late 1990s to early 2000s era. Many of those fans of Wilder Road still come out to see Gacek play in Take Two and in his solo act. Gacek has found that he's grown and evolved as an artist since Wilder Road. "I think just through experience," he said. "Just through life, playing out, learning new songs that I do with my cover stuff kind of gives me ideas to incorporate into my own stuff. You build off your life experiences and all the critiques."
Gacek sends his own original material to a California company called Taxi which will refer it to a music supervisor for a film or TV crew. "If they don't necessarily forward it," Gacek said, "what they do is give you a critique on it. They tell you this is what we think, this is what we think that you could do better with it. I take that all into consideration, all the time. These people are in the industry, and they know what works and what doesn't work. So, I try to build on that, and I try to make the best song I can."
Lowell area music fans familiar with this singer-songwriter have been aware for many years that Gacek adds a comedy aspect to all of his gigs. He performs a well thought out parody of a popular tune. It always goes off well for him and his audiences. It began when Gacek walked into a Seven 11 one morning and stumbled into Mike Morin of the Morin In The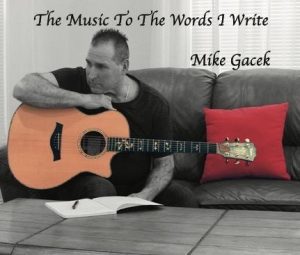 Morning show at WCGY. Morin was broadcasting from 7-11 for a Twinkie promotion after Twinkie employees had just come off a strike. A store employee suggested Morin get Gacek to play his guitar. Morin then asked Gacek if he could take some songs and turn them into Twinkie themed songs and play them live on the air.
"I went and got my guitar, came down, we worked on it for ten minutes, then we went live on the air," Gacek said. "We turned regular songs into Twinkie songs, and they liked it. So, I became one of the fixtures on their shows when they would go to live remotes. I went to a pizza place when they had a pizza eating contest in the morning. At the studio, they had one they called The Urinary Tract Olympics. You had to drink a quart of water every 15 minutes until the past person had to go to the bathroom. They won the tickets to a contest which was kind of hilarious."
Gacek can be found in many greater-Lowell area pubs and restaurants. For more information, please visit:
Share on Facebook

Follow me on Social Media!