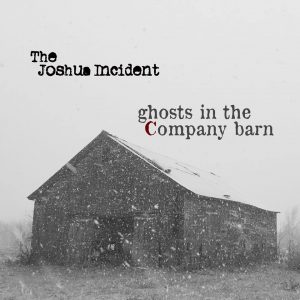 The Joshua Incident's latest album Ghosts In The Company Barn is even mellower, quieter than their previous release, Red. Yet, this Portsmouth, New Hampshire band has reached even higher artistic levels, writing and recording songs that reach the true sublime quality of genuine American folk music. Within these gentle woven musical statements and warmly crooned songs, are nuggets of truth about the human condition, especially truths about the dynamics between men and women.
Opening cut "In Your Beautiful Hour" reaches lofty heights of expression, making the listener appreciate the depth of adorability of the person this song was written for. A soft, plaintive vocal from band leader and songwriter Todd Thurlow plays out over tender expressions from a carefully picked acoustic guitar and bowing sensitive fiddle(album guest Jordan Tirrell-Wysocki). The singer's voice caresses the lyrics while coating the instruments with a supple handsomeness.
"Flying Into Glass" gets a coaxing quality from Dan Beller-McKenna's pretty pedal steel guitar, an instrument that seems to sing the melody in the backdrop. A steady acoustic guitar strum below completes the mood, keeping this one on just the tender side of bittersweet. This one manages to be, at once, as bright as the sun shimmering on the surface of the ripples and as mournful as anyone who can't escape their fate.
"Highways And Back Roads" travels a long, sad, lonely road. A fine weave of acoustic guitar, fiddle, and pedal steel, the instrumental texture creates a forlorn backdrop that compels the listener to follow along. You just can't resist learning what this mood is all about as Thurlow emotes vocally about the aloneness of travel, especially as it reminds one of someone who got on the road to leave him.
"Exit 4" is a compassionate song, offering help to someone lost in a period of despair and hurt. Thurlow's plaintive voice fits this song even more perfectly than the others on this disc. He milks the despairing lyrics for all their worth, offering the listener true depth of feeling and the situation it stems from. Forlorn tones coming from his acoustic guitar and all of the other down tempo, moseying instruments here complete the scene and the mood. The listener is at a catharsis at the end when, almost magically, the pedal steel cries out the final sad notes.
"Barker Place" lurches forward with a snapping acoustic guitar thrust and a rippling rush from the pedal steel. Coated with a merciful fiddle line, this piece strikes a careful balance between loss and acceptance, with loss having a slightly stronger tug. Gritty, flinty instrumentation make one feel the burning intensity of loss and the dire circumstances around it. This could also be a fun song at a barn dance.
"Every Perfect Thing" breezes in with pretty rustic coloring, a touch of pedal steel moving in the backdrop, a slight pick of acoustic guitar up front. Romantic passion, even in this down tempo musing, abounds in the lyrical descriptions of how much the songwriter cannot wait to couple up with his beloved unrequited love. Unrequited love hasn't sounded this good since a certain Grand Funk Railroad song in the early 1970s or maybe an early 1980s Tom Petty rocker.. The Joshua Incident keep the strength of the spark glowing with meaningful melodic touches, notes that echo in the heart long after the note is picked. Listen carefully to John "Hal" Halstead's acoustic bass and it feels like a special presence ushering the tune along.
"Brass, Brown, and Blonde" travels a rustic path with a slight country flavor. Its pedal steel melody takes its influence from Nashville, a sweetness inside the twang. Hearing that melody move around like it's greased up and in a frying pan is a treat for the ears. A rippling strum of acoustic guitar notes too sounds like it was created south of the Mason Dixon line, a sound that hearkens back to an earlier time in American music. Thurlow's warm croon indicates his enthusiasm for the lady the song is about. His vocal moves out in wide, sweeping arcs, giving this song plenty of motion, a feeling that he's taking the listener somewhere.
"Keep You From The Cold" blends a lonesome fiddle melody with understated acoustic guitar picking and a rangy pedal steel. Amidst that moody atmosphere, Thurlow sings in his pleasantly sublime manner. His voice hovers over the soundscape, creating a second layer of emotion, giving the song even more grit.
The Joshua Incident closed out with a reprise of "In Your Beautiful Hour," a summing up all of the fine acoustic instrument work and the subtle vocal appearances, like departing member Ann Norton's harmonies, that make this album likable and winsome. This Ghosts In The Company Barn disc will likely get a good amount of air play on local folk radio shows and The Joshua Incident will gain even greater visibility and name recognition with new member Lindsay O'Neill on board. They've reached a higher level of artistic expression while maintaining themselves as listenable to just about any music fan.

Follow me on Social Media!