Greedy Geezer's Garage Night had become an institution in the south of Boston music scene. Although the Granite Rail Tavern that formerly hosted Garage Night has been lost to new city planning in Quincy, host Greedy Geezer, a.k.a. Steven Donnelly, has, for the time being, relocated his monthly gig to Granite Street Café, also in Quincy.
Geezer's daughter, Lonesome Lil Donnelly, filled us in on all things related to Greedy Geezer, Garage Night, and their recent CD Release Swamp Thing Volume 1. Swamp Thing, which will eventually have a companion release, came together after ten plus years of working with the Garage Night participants in which the songs were played many times over in different combos.
"It was an homage to all the years we've been doing Garage Night," Lonesome Lil said. "We've been playing these songs for a long time. My dad just wanted to get them down on something that we could have, sort of like a family heirloom and also to share with our friends and to people that we meet as well; to mark all the time we spend playing that music."
The second volume will eventually be released after a few more tweaks, mastering, as time and money permits. "It's in the works and it's almost there," she said.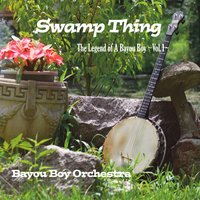 Lonesome Lil said her dad had a vision for the kind of music he wanted to play. It is hard for anyone involved to pinpoint where the CD material had begun to percolate. There were many family sing-alongs ten years ago, when Lonesome Lil and her brother Charlie were teenagers, then Greedy Geezer started his Garage Night events.
"It kind of evolved from there," Lonesome Lil said. "We had our friends that we knew from Garage Night and people that my dad knew that played music. Everybody lent their own twists on his ideas. It all kind of came together from there."
Lil's father , Greedy Geezer, wrote all of the original songs on that CD. His tune "Good Mary's Tavern" was inspired by his wife's name Mary. The rest of the tune was inspired by the Granite Rail in Quincy. "My dad wanted to give a shout out to all the people who worked there and the girls who worked behind the bar there as well. It was kind of like a public service announcement in a song with the way that people should treat the people working behind the bar."
Most of the participants playing instruments on Greedy Geezer's Swamp Thing were from the Garage Night gigs. One of the major blues acts in Boston, Tokyo Tramps, became a regular feature at Garage Night.
"They've become really good friends of ours," Lonesome Lil said. "They play heavily on the CD and we always play with them now and always try and go see them when they play. That's been one of our best music contacts we've gotten through Garage Night."
Finding a potential new home for Garage Night became a mission in and of itself. "We did a gig, our Christmas party at the end of December, at the Granite Street Café in Quincy," Lil said. "We actually have our next show coming up there on March 2nd. That seems like it might be the new home of Garage Night, Granite Street Café on Granite Street in Quincy."
The subtitle of the Swamp Thing Volume one CD is The Legend Of A Bayou Boy Volume 1, and the artist name on the CD is The Bayou Boy Orchestra. Bayou Boy Orchestra is what Greedy Geezer and his friends and family at their gathering of musicians at the Garage Night call themselves. All of whom would jam together at the end of the night.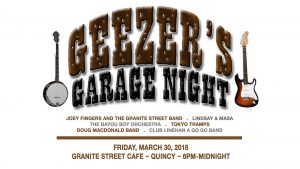 "When we first started doing Garage Night at the Granite Rail, (the venue) had a limit that only three musicians were supposed to be playing at a time, based on what their license was at the time," Lonesome Lil said. "So, it started off with just me, my dad, and Charlie. What ended up happening was at the end of the night, we'd squeeze other people in there, and it ended up growing from there. Anybody who wanted to jam at the end of the night could come and play the songs with us. That's kind of how it developed into what it is now where we have a larger crew that we always play with."
Lonesome Lil and her family have always been interested in the roots Americana music with a leaning toward Cajun flavorings. "My dad's always been into that kind of music. We always heard it growing up around the house," she said. "It's a really authentic, raw feel. There's a lot of history, heritage there. That's what makes it accessible to a lot of different people. It's something that's a little bit different, a little bit quirky. At the same time, everybody has heard that kind of music before and has their own relationship to it in some way."
Before their Garage Night experience, Lonesome Lil, her brother, and her dad, Greedy Geezer, had been a music family. She and her brother took music lessons as children and playing in their school bands in elementary school. "My dad has basically been playing guitar his whole life, doing bands here and there," she said. "He took a break when we were growing up and once we were old enough to play with him, it game him an excuse to get back into doing it more, which I know he had missed it a lot. It was a good opportunity for all of us."
Lonesome Lil and her father and brother and their Garage Night music friends are looking to the future of Greedy Geezer's Garage Night and the next CD in their Swamp Thing series. "Hopefully, we have our new venue now at the Granite Street Café, which is an awesome place," she said. "We have our next gig coming up on March 2nd. We're trying to establish that as our new headquarters and hopefully get regular gigs going again for Geezer's Garage Night. As far as the recording goes…..if we can some more regular shows, we'll be able to put more energy into that and hopefully my dad can start writing new stuff and we'll keep coming up with some new material."
Lonesome Lil said her dad wants his Greedy Geezer's Garage Night to become, once again, a regular music show in Quincy. "We'll see what happens and we're looking forward to being able to hang out with everyone and play music on a regular basis."
Greedy Geezer's Garage Night will next take place on March 2nd, at 6:00 p.m. to 12:00 a.m. at Granite Street Café, 378 Granite Street in Quincy, Massachusetts.
Editor's Note" Greedy Geezer's Garage Night at Granite Street Café in Quincy, Massachusetts was rescheduled due to weather. Catch Greedy Geezer's Garage Night at Granite Street Café on March 30, 6:00 p.m. to midnight…..B.C.
https://www.facebook.com/events/1563299803790127/
https://www.facebook.com/Granitestreetcafe/
https://store.cdbaby.com/cd/bayouboyorchestra

Follow me on Social Media!