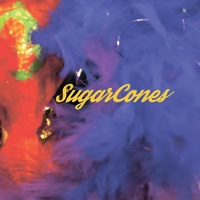 A Rhode Island pop rock band fronted by the ubiquitous Malyssa Bellarosa, Sugarcones slap out eight fun tracks and a couple of radio edits on their eponymous debut CD. Leading on guitar as well as vocals, Bellarosa remains an enigmatic centerpiece in these songs that rock out with a unique sound and a tight crispness. Recorded and mastered at Galilee Studios by George Dussault, these tracks stand out for their edgy push, sharp electric guitar work, and a cello that divides its time between the upper and lower registers.
Opening cut "Pretend" is loaded with feisty vocals, driving guitar and drums, and a sonic purity that lets the voice and instruments breathe within their tight arrangements. Bellarosa belts with a urgency just this side of violence. Her coos during the instrumental portions are both alluring and haunting. She also manages to whip out a riffy guitar line that feels like it's about to catch fire. Drummer Jay Jefferson, who is no longer in the band, keeps the breakneck pace with style, smacking those skins like nobody's business.
"Good Time" prances in on an intriguing backbeat as Bellarosa emotes with sass and attitude. She finesses this mid-tempo rocker with self-restraint, never overwhelming the piece. This leaves room for Sugarcones cellist Matt Crawford to bow a smoldering, wiry line that colors the song with his extra layer of creativity and edge.
Setting a mood and creating passion are key ingredients of this band's songs. Eerie guitar and cello notes ooze out of nowhere on "Rainbows" while Bellarosa sings in a haunting whispery manner. One feels this tune ushering him into a dark underworld. When the song kicks into high gear, vocals get surreal as they switch from one timbre and tone to another. The guitar phrase is running for dear life, an endless energy. This one just has endless corridors of sound that keep the listener wondering what kind of dire fate awaits him.
"Wasted" features rippling guitar notes, feisty notes that politely nudged the song along with a persistent swagger. Bellarosa's vocal line rides over that guitar phrase with a perfect crispness, her guitar's edge and her vocal's smoothness contrasting and highlighting each other brightly. The band's usual flow of energy here is smoothed out, more streaming and airy than screaming and eerie. This might make the song more favorable to local radio station personnel. Like the rest of the material on this disc, this tune has its own personality and could become a catchy favorite.
Sugarcones return to their darker, edgier sound with "To The Bar." Bellarosa croons with plaintive desire for her favorite drinks as her electric guitar does a slow, mad dance with Crawford's dark cello line. The combined timbres conjure the disturbing images so vividly depicted in the tune's lyrical drive. Drummer Jay Jefferson keeps his drum work percussive, like he's playing bongo and conga patterns on his drum set which works well with the beat he's laying down. It all comes together with a primitive allure, like a wild Dionysian frenzy of drink and passion.
"Don't Tell Me" shows a fierce independent streak in Bellarosa's lyrical description and rejection of a former suitor. Her feisty vocal assertions complete the scene as bass player Jeff Sullivan sings a perfect, darker harmony with her. This is dark pop at its finest. It's propulsive. It's percussive. It's a true rock and roll anthem.
"Plastic Things" gets its pep from producer George Dussault's 1960s style keyboard chords. Following his groove, Sugarcones pump out a bouncy rhythm that lets Bellarosa make her point with pop glamour girl appeal. Her jumpy guitar line and the band's twitchy response make one picture the go go girl dancing inside her suspended cage while corduroy and caftan clad partiers bob their heads and move their feet to something reminiscent of Strawberry Alarm Clock marries The Go Gos.
After a couple of radio edits, "Plastic Things" and "To The Bar," Sugarcones complete their album with "Outro," a cooing recollection of the album's attitude and a distorted guitar solo, something for the band's listeners to remember them by.
Sugarcones offer a fine document of their original songs, variety of influences, and a penchant for fun with this eponymous debut CD. If they can keep coming up with fun, impressive numbers like these, Rhode Island's music scene will soon have another bragging right.
www.malyssabellarosa.com/sugarconesband

Follow me on Social Media!