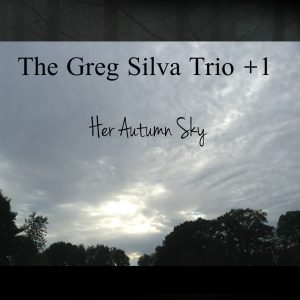 The Greg Silva Trio + 1 offers a particularly fine jazz album on their new Her Autumn Sky. Silva's upright bass continues to drive things along with smooth sensation and understated grace. His tender, plaintive vocal moves through a few numbers with its own je ne sais quoi. Drummer Randy Cloutier gives everything his own motivational push and pianist Dave Ramsay tinkles out many shiny notes from his ivories. The plus one on this recording is tenor, soprano saxophonist and flutist Joe C. Esposito. Esposito has been big on the jazz scene for years and his contributions to this album are huge. Together, the Silva group gets better than ever.
Opening track "Steppin' Into What's New" starts out with Esposito's gliding, mellifluous sax line. It's the perfect light accompaniment to Ramsay's elegant rivulets of piano notes. Cloutier keeps things cool with his understated cymbal work. Silva keeps his low end notes in motion and understated at once. This tune breezes around in pleasant motions which keeps the listener glued to follow its path.
"Hope" is comprised of a fountain of piano notes, shiny bits of sound that build up joyfully then make room for the sax. Esposito injects this one with a sense of urgency, his notes spiraling upward to reach safety in the nick of time. Silva's bulbous bass notes push things forward with a friendly punch. This one just travels well through the listener's stream of consciousness.
Title track "Her Autumn Sky" feels like the fall season. A sax melody wafts around like the season's first cool breeze while the rhythm section moves in a slower groove. A piano line has a forlorn feeling within its elegance, a sense that things have moved on from brighter days. Silva's bass notes sound carefully finessed as he coaxes out an almost melodic string of notes. Also: a chemistry between these players adds something hip to this piece. One can picture four cool cats hanging out, having a low key conversation.
"Ghosting" rides in on a puff of saxophone which is soon buffeted by a jogging run of piano elegance and a rhythm section hoof. Here, the saxophone articulates a tremendous amount of emotion while playing out in technical mastery. Its notes move around with a grace that makes it seem easy for Esposito to manipulate all of those swift nuggets of sound.
"Everyone Should Have Someone To Love" makes the most of Esposito's flute skills. His melodic line lulls one into a chill zone with its pretty flow. Ramsay follows right up with an elegant tapping of his ivories. This one is all class, a thing of beauty. Bass movements nudge the beauty along without overwhelming it as some fancy stick work from Cloutier fits this shiny piece like a glove.
"Visions" bops its way into the listener's consciousness with its mid-tempo joy ride. A sax line slides around the beat. A piano line includes some well placed chords. The rhythm section pep things up with tastefully thick bass notes and drums fills that layer over all with neatly timed sticks.
"All That You Are" finds Silva utilizing his fine jazz vocal to finesse his lyrical content. His voice captures the romantic longing of his piece, as does Esposito's charming, late night saxophone calling. His line could work his way into a partners heart like a box of chocolates.
"Five Spice" feels like an older school jazz number, with maybe a touch of bop. The bass, drums, and piano lock into a solid slap of groove, colorful but tight and pushy within their bulbous sound. Over all of that, Esposito blows a thin, greasy line that moves around like a piece bacon in a greasy frying pan. The frenzied pace of that horn line feels urgent, meaningful, and very involving. It eventually rests to let the rhythm section push their way forward with an arcing groove.
"Under The Starlight," a vocal track, moves at a jogging pace that makes it feel like it's taking the listener somewhere. Silva's smooth, light voice wraps well around the musical accompaniment.. The sax fills in during his rests, making each feel more dramatic. Being a romantic piece, this tune makes one picture the couple under the starlight.
"With Her Touch" finds the combo softly playing their sophisticated music. A dancing flute melody over a light rhythm section allows these player a chance to showcase their more nuanced approaches. Silva's bass notes run along their trail like a friendly nudge to the rest of the band. The flute reminds of a friendly conversation with a very pleasant personality.
"Her Mood In Blue" showcases some fancy stick work on the cymbals as well as a mellifluous and buoyant sax line that feels suspended in air as it emotes with its intricate melody. A waterfall of piano notes creates a sense that some dramatic purpose has cascaded down into peaceful resolution.
Closing track "Forgo A Go Go" is jazz at its hippest. A swinging sax line over slappy, low piano chords makes one think there's a party going on. Boy, can that Esposito make his line go out far and wide in expression before pulling back in tighter around the groove. His sax burns hottest when he's playing his fastest, like a red hot light that keeps getting redder and brighter as he goes along. Segue into a sprinkle of piano tinkering and we have a fun transition to another sublime keyboard performance. A drum solo offers an energetic bop before Mr. Esposito and Mr. Ramsay regain the spotlight with their fine duet of instruments.
The Greg Silva Trio + 1 present a fine display of talent in these tracks. More importantly, these tracks reflect Silva's growing power as a jazz composer. Each track works at the higher level of the art, offering distinct personalities, emotions, and a variety of dramatic sequences. These are jazz pieces that tell a story while delighting the ear with their embraceable sounds.

Follow me on Social Media!