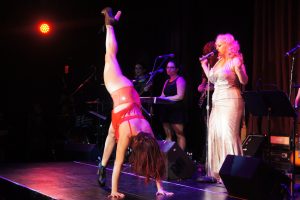 Niki Luparelli has pulled off another of her burlesque style tributes to David Bowie. With an eight piece all female backing band behind her, Luparelli steered us through several Bowie gems as a company of scantily clad dancers became more scantily as the band rocked out the tunes by The Thin White Duke. Last Saturday night and last Friday night's presentations at Oberon Theatre in Cambridge, Massachusetts was title the 7th Annual David Boobie Show, also known as Black Friday Bowie.
Luparelli and company opened their show playing the great, iconic Bowie number "Space Oddity." Luparelli entering the stage in a slivery gown, her vocal timbre caressed the vocal melody and otherworldly lyrics, massaging new meaning out of the timeless lyrics. Only a band and singer of true talent can make a song like this come to three dimensional life, and they all pulled it off, especially drummer Shaina Mikee Keiths with her forceful pounding on the skins.
"Rebel Rebel," with its rugged rhythmic drive and Luparelli's raw, sensual voice got the room hopping. Segue into "Modern Love" and its foot motivating back beat, with backing singers Susan Catinski-Kaplinski and Natalie Jackson adding to the song's charm. Next, Luparelli and the girls kicked into "Jean Genie," a number marked by its thumpy groove and its mean, raucous guitar phrase played by Michelle Ronson.
One of the biggest musical treats came when Luparelli and her band of merry women went into Bowie's eccentric piece "Star Man." Gentle opening coos and light notes eventually built up into a drama of wrangling chords and extraterrestrial drama.
One of the evening's most hilarious numbers came during "Changes," featuring a depressed, youthful dancers struggling with menstruation and the proper use of tampons. The changes in the song were adeptly handled, making the song feel like it is filled with motion, allowing a perfectly smooth textures of sound for the comedic dancer to strut to.
An eerie moment came when the band was laying down "Ashes To Ashes." Complete with pretty, piping organ notes from keyboardist Davina A. Yannetti Jr. and a slow, involving groove, this number found Luparelli's breathy voice breathing life into the tune. Here, a dancer dressed as a strange undertaker with black patches over her eyes strutted and stalked around the audience handing out funeral roses. It was hard to understand the dark message but it was easy to appreciate the ghoulishly fun art to the scene and sound.
With its disco beat and cascading guitar and keyboard lines, Bowie's "Fame" made that part of the evening feel epic. It was presented in all of its danceable glory and in all of its freewheeling dazzle. A dancer with very red, shiny hair clad in red fishnet moved about the audience and onto the stage with a flair for diva like attention getting, matching the song's lyrics perfectly while pulling the sexual vibe out of this well delivered number, the dancer as stunning as the song.
Another fun, funky workout was the Bowie and Queen creation "Under Pressure," which got a boost from Yannetti Jr. as the co-lead vocalist, filling in for the inimical Freddie Mercury. Luparelli's best vocal performance of the evening was "Young Americans." She handled with soulful aplomb the song's sprawling vocal melody, keeping her sweeping voice in the perfect emotive and musical expression of the band. Saxophonist Jenn Murphy blew a fine sax line, creating much of the swirl that this piece is built upon just as she added plenty of warmth to all the numbers, even when the sax was more of support instrument. Guitar and keys also felt slinky and found the sexual side of Bowie in the music.
Spry keyboard parts and a bouncy vocal melody made "Let's Dance" another lively highlight. The groove, courtesy of bass player Sophie Potryk us and drummer Keiths, made a perfect foil for its ensuing dance routine. "Ziggy Stardust" also put this band to the test and they passed. Its strutting guitar and vocal inspired the dance number for a lady who revealed more of her natural self as the raw, emotive guitar drove it all home.
Speaking of rockin' guitars, "Suffragette City" set the scene for a 1960s style striptease, a dancer imitating the go go dancers who shook it inside of cages hung from ceilings at the more swinging rock events.
Luparelli has been marrying great classic rock to freewheeling burlesque routines for several years now. She changes things up each year, no matter the production, so her performance art never goes stale or loses steam. And, speaking of steam, every dancer part plenty of steaminess to her presentation, proving that sexiness and rock and roll have been happily married for decades.
https://www.facebook.com/events/872779092927064/?active_tab=about

Follow me on Social Media!