At age 87, singer Shor-ty (pronounced Shor-Tay) Billups has been around the block several times in the same vintage machine. Hitting the national scene out of New York City after college and two tours of duty in the United States Army during the Korean War, Billups has, over the years, worked with major national names in blues and R&B, and he's seen his share of ups and downs in the music business.
Billups, when asked what he's currently working on, said "Right now, I'm working on my health. I'm getting myself back together. I fell a few months ago and broke my wrists and messed up my right shoulder. My wrist is coming along fine but my shoulder, man, has problems."
Yet, these issues have not stopped his performing schedule. Last week, Billups performed at the Mohegan Sun in Connecticut. A month earlier, Billups performed a show with Ayla Brown, a former American Idol contestant and Massachusetts native.
"I get out front," Billups said.
It's only reasonable for him to be prominent on stage. Years ago, during the heyday of Motown and Stax, Billups worked with Rufus Thomas, Little Richard, Clarence Carter, Ruth Brown, Roy Hamilton, and Wilson Pickett, having supplied the drums for the venerable classic "Mustang Sally." Beginning his music career as a drummer as well as a vocalist, Billups was also a piano player at one point. His multiple talents made him a valued hire for many of the greats who would take him out on the road. One of his favorite artists to work with was Jackie Wilson.
"He was beautiful, man. It was a joy to work with him, man," Billups said. Billups entered the big league tours by starting out with Ruth Brown, who hired him because she had known him in Virginia during their youth.
"We were kids then. When that was up, then somebody else called me, and I went with somebody else. It was like a chain. Once it got started, it get on going."
At the time, Billups knew he was playing with popular artists but he never realized, at the time, or thought about back then, how the music he was playing on would become as huge, landmark, and historic as it has.
"I had no idea. It was just a gig from the time it started until it ended," he said. "Then sometimes I'd go for three or weeks and not hear nothing. Then, someone would call me out of the blue and ask me if I was working and if I'd do a gig. That's the way it went."
Billups recalled that some of the songs he was supporting on tour were just starting to move up the charts. An artist might debut at number 28 with a bullet. "That means it's going up, and when I say 'going up,' it's going from 28 to number one. That's the way that happened."
Many in the Boston music scene know of Billups history in the Beantown area. He released his CD Young Woman Ana Old Man only two years ago. Yet, his history as a songwriter is a long and tortured history. Back in the day, Billups was taught how to write songs by those who had come before them. Many songs have got his songwriting credits on the disc's label. He often shared the credits with his brother Eddie, Billups wrote, recorded, and released a hit record in the 1960s, "Boss Chick," which gave him an opportunity to be seen and heard by larger labels and management companies.
"I got a shot at being with the big guys who had big records out. I had my recording sessions. King Curtis was on it. At the time, King Curtis was, to me, just King Curtis. The only ones that were really popular to me at that time was Don Gardner and B.B. Ford. They were on my session. Eric Gale was on my session. Everybody was just everybody. King was King. Eric was Eric. We were more like kin folks than anything else."
Billups' single "Boss Chick" landed at number three on the charts. Then, his record company went broke after its vice president made some dire miscalculations. That hurt Billups career more than the racial strife in the United States ever could. In fact, Billups belonged to an insular music world that supported the black artists of the day.
"We did the best we could with what he had," Billups said. "We played the chitlin circuit. We played the Tobacco Barns in the Carolinas because that's where the fronting was. There were no festivals. Nothing like that. They were just gigs. You had a record, you go out on the road, and you chased your record. The record company would send you out."
Billups is still waiting on a great deal of royalty money from BMI and some from ASCAP for copies of his 45 that had sold well. Billups said those who made money from his song will have to, at some point, ante up. Aside from "Boss Chick," he is also owed royalties for another song which he co-wrote with his brother, "Soldier's Prayer."
"I have the publishing rights. I got the whole thing," Billups said. "I ain't got no money. It wouldn't be so bad them selling the 45. But, if I at least got a gig out of it, yeah know." During a recent performance in England, audience members were bringing his 45s up to him for him to autograph.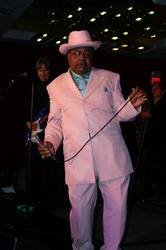 "I know damn well I didn't sell them," he said. "They asked me to autograph the 45s. I asked 'Where did you buy it from, you didn't buy it from me.' They couldn't tell me where they bought it from." Billups added that United Artists and the other labels who owe him money are mostly defunct now, with Atlantic Records being the exception.
Billups maintains a philosophical attitude toward his trials and tribulations, joys and highlights. "Music has been good for and to me," he said, "and it's been hell for me and to me, but I'm still dealing with it. It seems the older I get, the more I learn from it. I find out stuff today I should've known fifty years ago."
Boston has been Billups' home base for the last several years. He never takes much time off from music. Whenever anybody inquires as to how an 87 year old man can maintain a ceaseless performing schedule, he gives his best answer.
"I got a good man on my side," Billups said. "I've got the lord on my side. He looks out for me everyday, and I thank him every day. There's got to be some Jesus there somewhere, sometimes. If it ain't, you're gonna catch some hell."
http://www.shortygottheblues.com

Follow me on Social Media!