Yamica Peterson is an interesting woman. Born into a musical family in Portsmouth, New Hampshire, Peterson learned a lot about music during her youth. When it was time for her to hit the lively live music scene in and around her home town, she was already well schooled in vocals, harmonies, melodies, and especially groove.
Peterson learned some of her knowledge from school chorus class and her church choir. Yet, she learned about the performance came from her family. Peterson's parents came from an extremely long line of musicians. Everyone who was close to played music and sang, whenever and wherever.
"I like to say I grew up in four part harmony," Peterson said. "My mom and my two sisters, we always sing together. Find a part and go for it."
Peterson, as a child, could do anything with music at church and school. But, her mother protected her from the secular music world. She only remembers seeing her dad getting ready to go out to his gigs.
"I didn't know what that was about until I got older and was able to provide for myself and make my own decisions," she said.
Peterson is also a songwriter with her own original material. The techniques she learned from observation and by doing. Going back to her child, she always had a knack for writing music. She would tinker with a keyboard and come up with melodies. She plays by ear and sounds it out until she found sounds that worked for her.
"I was always writing poetry when I was young," she said. "You put the two together and bang, a song comes out. It just kind of happens."
A few years back, Peterson made an album titled The Mica-Sev Project: Volume One with the incomparable Don Severence assisting. Just over five years ago Peterson met Don Severence when her dad's band Rhythm Method was a playing a wedding that Severence happened to be attending A few yeas later, she connected with him more solidly when he was coming off a gig at Portsmouth's Oar House Restaurant and stopped at the walking city's Dolphin Striker where Peterson was performing. He told her he had wished he could have played with the wedding band.
"Our union was born that night because I said I have some material I could have some help on," she recounted. "I sent him a clip of a song I was working on. He rearranged it and put his touch to it and sent it back. I was head over heels from then on. He's phenomenal and we work very, very well together," she said. "I don't think we would have been together this long if our personalities hadn't been such a match. He's like family to me, and I couldn't be happier that I get to work with him."
Peterson's album features three of her songs and three of Don Severence's. Hers are titled "If You Only Knew," "Baby Love," and "Enough." "I think 'If You Only Knew' was probably the first sample I sent him," recalled.
"He sent it back with that smooth jazz neo soul edge that I was looking for but didn't have the skill set to articulate that. It ended up being magic. It's very far away from how I perform it live with my band. I was really happy and excited to bring it low key, bring it down to that smooth jazz world that he's so good at."
Aside from Don Severence, Peterson once sang background vocals for Dave Gerard on his Zoomy Trail album. She's also worked with Dave Howland whom she met at Apple Harvest. "He had dropped his card and got in touch through e-mail and asked us if we would help with his project and it ended being so much fun." Peterson also picks up work from artists who record at Chris McGruder's Thundering Sky Recording Studio in Elliot, Maine. Peterson-Cain will be working on at album there late spring.
"Hopefully by summer," she said, "the hope is to have my release party. But, you know, money talks. Money, sadly, will be the deciding factor when that gets completed."
Peterson finds musical success no matter where she travels to, even when she's more than half way across the country in a new state. Some years ago, she traveled to Arizona to accompany her mother who needed surgery at a facility in The Grand Canyon State. The singer packed up her family and helped her mother get through her procedure and was happy to take a hiatus from the music scene until she met a band called The Amosphere lead by bassist, owner, front man Amochip Dabney, a Grammy nominated artist.
"He reminded me so much of my dad," she said. "I was getting a drink, and my husband approached the band and asked if they would let me get up and sing a song." Peterson and the band performed "Little By Little" by Susan Tedeski and tore the roof off the club.
"I was invited to continue and come back," she said. "As that was going on, I met a few other musicians to play with, going to open mics, and going out to see live performers. I ended up playing for a band called Split Decision and I was fronting that one for a while. Then, my mom got better, and we got home sick, so we came home."
Returning to the Portsmouth area, Peterson hit the ground running. She now has three different bands, Mica's Groove Train, Family Affair, and The Mica-Sev Project. Mica's Groove Train began with the late Chad Owen, bass player of Rhythm Method. After playing together for years in Rhythm Method, the two decided to do their own thing.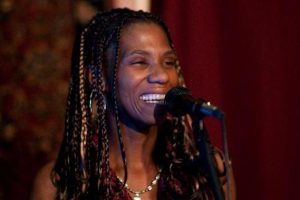 "We would constantly get together and have writing sessions, a swapping around of ideas," Peterson said. "We realized we had quite a different sound and quite a different thing going on than Rhythm Method. We branched off while we both continued to play with Rhythm Method. It ended up being called Mica's Grove Train, mostly because Chad insisted I put my name in it. I just wanted the word 'groove' in there. We came to an agreement we would call it Mica's Groove Train. The reason I didn't want my name in there, is because, I don't know about most people, but when you say your own name constantly, it begins to sound weird. I thought it would be odd for me to constantly say that, but it stuck, and it became not so weird after a while."
Peterson's second band, Family Affair, consists of her and her father, Pete Peterson, a duo they began in 2004.. That combo allows her the magical chemistry of working with someone she knows well. Father and daughter always know where each is going musically, allowing for tremendous harmonies.
"He's at that place where he's not really there standing on stage, he's on that musical plain, that only I know about," she said. "We've been able to put out some really awesome material, and we've garnered a really loyal fan base in the process."
Her Mica-Sev Project features both herself and Don Severance, a combo that lets them play material that they cannot play solo. "He always tells me I'm the only one he can work with now," she said. "I find that funny."
Peterson has been a rotating feature at Parker Wheeler's Sunday Night Blues Party at The Grog in Newburyport, Massachusetts. Wheeler, the singer said, has been a fixture in Peterson's family history for many years. Wheeler had played with Peterson-Cain's uncle Sweet Roy Joes and her aunt Sharon "Brown Sugar" Jones.
"Back in the day when I wasn't even allowed to think about going to a club, he's been playing with members of my family since before I was around," Peterson said. She showed up one night at the Sunday night Grog event and became a close friend of Wheeler's due to the long standing ties.
"He's someone that became very, very special to me," she said. "I got to go down and do a guest set, and he kept asking me to come back."
Among her idols and influences are India Arie for her stories of heartbreak, disappointment, and failures. When Peterson has a similar disappointment, it becomes personal.
"I've spent a lot of time being soothed by her music and her stories. The same with Jill Scott. Their subject matter is what I take to, not to mention the skill level and vocal ability. Something I aspire to be some day."
One of the things Peterson is grateful for is that she has never had to face the racial discrimination that hit her elders on a regular basis. Her aunt Sharon Jones was once allowed to play in a performance center that assigned her to a room where no one could hear her music too well. Jones, according to the family history, had to fight to get into the main room.
"I'm so happy that I don't have to deal with that," she said. "They paved the way so I don't have to be treated that way. I don't have to worry about those types of things as a result of their backs bearing those crosses. It's made it truly way more smooth for me to transition into the industry than it was for them."
When asked if she's ever been discriminated against, she said "Not to my face, at least. Not that I noticed. People have been very kind. I owe it all to my dad and my aunt and my uncles that came before me. I'm a fortunate musician, and I will admit it. I get to name drop. I don't know a lot of people who get to do that. For me, it works. I know that not everyone has that luxury. I'm kind of spoiled, but I like to say blessed. I definitely have a leg up. It's just one of the those circumstances where you're born you who are. Sometimes it can work to your advantage, and I've been afforded the luxury many times over."
Her goal, once her next CD is released, is to market herself to larger listening rooms. She will focus on getting rooms like Tupelo Music Hall in Derry New Hampshire, Portsmouth's Music Hall, and Jonathan's in Ogunquit, Maine where people will go specifically to hear her music. That has an appeal for her that playing in bars with a TV set tuned into a sporting event does not offer.
"I want to be more than just happened upon," she said.
https://www.facebook.com/TheMicaSevProject/
https://www.facebook.com/familyaffairnh/?eid=ARAEv4D9RyySIDC4yqOtJFdcoWUJkNmUfzLY0AHrORgc8KdEN-R7GQmofAXGcteKrbXgbCZi49sGNAU5
https://www.facebook.com/micasgroovetrain/

Follow me on Social Media!