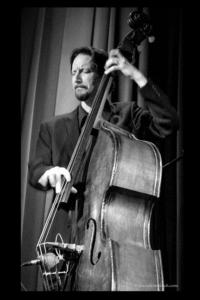 Jesse Williams is a very busy man. The Boston based bassist works day and night playing all styles of music. A ubiquitous presence in the New England music scene, fans are likely to run into him at least a few times a year, even when they are not expecting to as he could be subbing for another player. The driving force behind this bass player is the education he gets from working with others. Every day is a learning experience for Williams and he wouldn't have it any other way.
In the past, Williams' main touring acts were Al Kooper whom he played with for 12 years and Duke Robillard whom Williams put in six years with. Additionally, he played with Johnny A. Duke Robillard's Band, though, was the one that locals most associate him with. Leaving Robillard's outfit was not an easy move for the bassist.
"That was a tough decision, man," he said. "I have three kids. At the time they well all sort of middle school age, and I was just never home, between touring with him and playing local gigs and teaching music. It was time to let that go, and be home a little bit." Williams found he was almost as busy playing out in New England and touring with Al Kooper.
"I got a call from Al Kooper, literally a month later," Williams began. "He said, 'Hey, I'm going to Japan in a week. Can you do it?' I came down and auditioned with him and played his whole show cold at the rehearsal. He said 'You're hired.' I went to Japan and that started my tenure with him." Williams gained a wealth of knowledge from working on the road with the storied performer.
"Al Kooper is just an encyclopedia of music knowledge, both in terms of recorded music and also in terms of the industry," Williams exclaimed. "He's been in the recording industry since 1958, I believe. He was a songwriter. He was in the Brill Building. He was an A&R guy for Capitol Records. He was a major producer for everyone from Lynyrd Skynyrd to Bob Dylan to B.B. King. He loves to hang out until four in the morning and just listen to music and just talk music. Pretty much every hang with Al still is an education."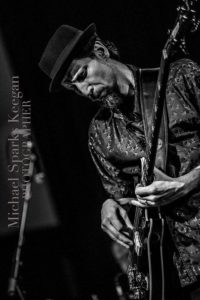 Williams, has, by now played about 10,000 gigs. Whether it's in front of six people or 60,000, there is always an opportunity for the bassist to gain new insights or develop new techniques.
"If I open my eyes to it, every gig offers some opportunity to learn something," he said. "The diversity of types of shows I have done have taught me probably more than anything; how to be flexible, how to follow a band leader, and also, as a bass player, how to glue together a band. If you're playing on a big stage, sometimes it's hard to hear each other, and, it's up to the bass player to keep things glued together."
Learning how to get the intimacy of the small stage onto the larger, more extroverted festival stage while keeping the band tight was a main lesson. "Another main lesson is how to pace myself, playing gigs every day, and teaching and having a family," he said. "It's just trying to manage it all. I'm not a natural born business person or organized person. Aside from a huge amount of help from my wife who is a great organizer and motivator, I've really had to learn trial by fire how to juggle the different aspects."
Williams didn't break into Boston's music scene as much as he oozed into it. He came to Boston from New York state to attend Berklee College of Music. Yet, long before Berklee, he played in numerous New York bands. Many of his New York neighbors were musicians who mentored him. One of his music neighbors was attending Berklee, talking up the school, making it sound like he was playing out day and night in a variety of bands while learning a lot about music.
"I just decided to ship up here when I was 17. I graduated Berklee, and was doing gigs all that time," he said. "I love the city, and I love the community here. I love the fact that as a musician who plays all sorts of different style, I can feed that desire, and every night pretty much play with a different group in a different setting. I feel one of the strong points of my musicianship is my versatility. I think of myself as a musical chameleon."
That diversity helped prepare him for sudden opportunities to play back up for name artists coming through town. Williams could be comfortable playing with somebody he's never played with before.
"When I was with Duke, we backed up Marcia Ball a bunch of times," Williams said. "Once we played in Australia at a festival in front of 60,000 people. I'd never played with her before. We jumped up there and backed her up and it was smooth. I live for those moments, and I feel like Boston is fertile ground for a lot of cross genre and there's a lot of vibrant musicians here."
Williams plays a lot of blues, jazz, and the other forms born out of those two genres. The bassist initially learned musicianship from his parents who were both true musicians. His father played early music, Medieval music, on a lute and on a recorder with a group called New York Promusica, a preeminent early music combo. His mother is a classically trained singer who also listened to The Beatles, Al Green, Little Feat, and Emmylou Harris.
Currently, Williams works with everyone from newer artist Sonya Rae Taylor to the nearly 40 year old outfit New Black Eagle Jazz Band. He can be found supporting names like Sissy Castrogiovani, and Thread Bear Fynn. He freelances with his own quartet, having just completed an Extended Play Sessions in Norwood, Massachusetts while logging in hours with monster guitarist Julien Kasper and putting in time supporting area blues chanteuse Diane Blue. He tops that off playing for a combo featuring Kit Holliday and Mike Welch. On April ninth at the Shubert Theatre, Williams will be participating in the new Boch Center Americana Hall Of Fame Concert Series, backing up Rodney Crowell, North Mississippi Allstars, and Brandy Clark. This continues his own music education, as he spends much of his time learning tunes to play with these artist.
"I've got to learn tunes for tonight's gigs, tomorrow night's gigs, Saturday's gig. I've got a clinic on Sunday I'm teaching," he said. "I was once asked to audition with Tedeschi-Trucks Band, and it didn't come together for various reasons. But, I wound up learning an entire show of their music, note for note, and that was a great education because Tim Lafebvre is a monster bass player."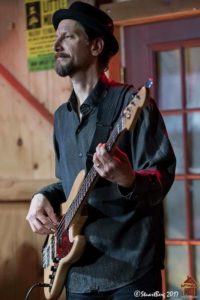 Williams second job is as a music educator, a position that allows him to imparts all of his hard earned knowledge to others. He teaches at the Victor Wooten Camp at Berklee as well as the college's summer programs, Milton Academy, and Philips Academy. He operates his own studio where he teaches bass, guitar, and jazz ensemble.
"The interaction with students who are enthusiastic about learning is very rewarding," Williams said. "I'm sharing a topic that I love. When somebody comes to me and they're enthusiastic about that and they want to learn about music because they love music as well, there's nothing better, (whether) one on one or group setting, than sharing and passing on knowledge."
From his students, Williams is always learning something too. It could be new music that they turn him onto or a unique way to learn or to practice. Many of his long time students become professional musicians. "That's very exciting," he said. "I've had some of my former students subbing for me at gigs. That's always a cool feeling."
In addition to everything Williams has going on, he presents a Thursday night residency at Monotony Grill & Tavern in Arlington, Massachusetts every Thursday night. Jesse Williams Presents has the bass player leading the band after bringing in various singers and musicians to join him. Arlington was a dry town in the late1980s and had, back then, only two restaurants. Today, Arlington has live music venues. "It's exciting to be a part of something like that that comes to life," he said.
From this point forward Williams, already quite happy with his career, would like to join an established touring band, once again. His kids are older now, giving him time to travel and to develop a band sound. "I love backing up different artists," he said. "When people who are on tour come to town, it's thrilling to go and play with people I've never played with before and deliver a good show."

Follow me on Social Media!