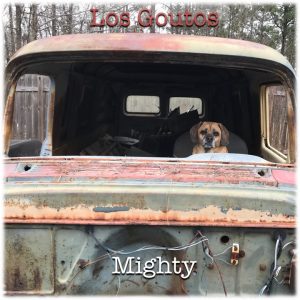 After toiling in Boston area venues the last few years, Los Goutos have released their debut studio album Mighty. It's combination of roots rock with s New Orleans and south of the border influences offers new flavors to audiences looking for something different. That this group of Boston music scene notables sing it and play it with such over the top flair for drama and explosive expression also makes Mighty a CD of killer music.
Opening track "Steal It, Pawn It, Buy Another" instantly pulls the listener into a world of celebratory joy. Singing over a mesh of acoustic guitar, banjo, accordion, and percussion, vocalist Mike Eigen emotes with a mighty holler, a rallying cry to rock out at the polka, hoedown, or barn dance event. His low tenor vocal barks out handsome lyrical lines with full throated sustains and howling expressions. A blaring saxophone from Emily Grogan and Spanish flavored percussion add to the feeling of a wild shindig at someone's border town barn.
"Tequila Set The House on Fire" finds another singer, Chris Gleason, crooning with a huskier timbre. He sprawls out with a mucho belt before jumping into his chorus with a lilting affection in his swagger. A lead guitar burns like a torch in the night alongside a pumping groove. The whole thing makes you wish you were at this combo's live show. One listen and you'll be looking forward to hearing how a saxophone sets this song on fire after the guitar lights up the scene with scorching assistance.
"Down To The Studs" is more of a rocking country toe tapper. Vocals roar with a party time enthusiasm while the drummer pounds it forward with muscular authority. Banjo and accordion are major players here, as much as the lead guitar, and the bits of flavoring from these instruments keep the song authentically gritty, flinty, and real. The singer's raspy vocal reminds of Peter Wolf while the swirl of musicianship around him can best be described as a country hoedown meets 1950s rock and roll diner.
"Can't Hurt" hops merrily along a fun intertwine of banjo and mandolin laced in accordion. A bumpy, rumbling groove gives it all a friendly slap forward. Raucous lead and backing vocals keep the party vibe jumping. The lead vocal here is also finely high pitched, sensitive to the song's changes, and it pulls one in with an alluringly different timbre. "Over Easy" continues to conjure the down home appeal of this brand of rock and roll. A down to earth unfurling of the lead vocal keeps things eccentric and friendly. The sprinkle of acoustic instruments and the way they are swathed in a fulsome horn make this an interesting dandy.
"Moscow Mule" is a fiddle swaying, accordion hopping number. An edgy electric guitar eases in and around the groove as the singer croons amusingly about a drink made of Vodka, ginger beer, and lime. One can two step to this shuffling piece or one can listen to the descriptions of Moscow flavored barn yard joy going on in this tune.
"Dawn," a soothing rocker, feels like 1950s rock and roll. Harmony vocals are in fine form here, as is the groove that pushes this poppy piece along, transporting the listener back to a better time in music. There is a fine layering of horn, accordion, and acoustic instruments intertwined around the main melody line, flavoring it like a sweet confection. A lead guitar rears its brittle, tasteful head and makes you wonder just how good this tune can keep getting.
A mosey on down the trail groove motors "Killing Me Kindly" with gentlemanly aplomb. Lines from fiddle, accordion, and electric guitar spike prettily when their needed to offer more color. Uncannily, the upper register instrument play with a pleasant snap that contrasts perfectly with the easeful motions of this piece.
"Rat In A Trap" moves along a sly groove with mischievous vocals and sneaky melodic lines. The vocalist on this tune speak-sings his lyrics to this old fashioned charmer. I'm picturing a night on the town in a 1920s city. An acoustic guitar line pays out a sweet, brittle melody as jazzy horns and a peppering of acoustic notes fall around the main action. It's a likable song with a personality and as swing all its own.
"The Blizzard" slaps it way forward with a brisk chord progression. Once it gets your attention, the lead vocalist here sing with weary resignation of the endless snow outside his home. It's a metaphor for the lack of heat in his own home. It's familiar dread of lonesomeness contrasts well with the distinctive qualities Los Goutos paints into their work. A homespun vocal approach, a slow organ swirl, and catchy stick work keep this in the roots category while also making it another likable, eccentric piece from this outfit.
"Louise" rocks out briskly. With raw, earthy vocals and a swinging harmonica line, this one jumps right in and compels you to follow its smacking force of nature. One can feel the action while also enjoying the nuances offered by each instruments. Once you get your ears beyond that jittery harmonica, you'll feel the energetic groove it all rides on, drawing you to hit the dance floor.
"If You're Gonna Miss Me" indulges in self-deprecating humor. Amusing as a singer describes the sorry state of affairs he leaves behind, it pleases the ear with a whistling fiddle line and an edgy zig zag lead guitar phrase.
Close out track "The Corkscrew" feels like an evening out. Its breezy melody and light touch of drum work is a call to the dance floor as well as a cue to lift one's glass. An amicable vibe fills this number as much as a vibrant horn that vibrates during its vigorous line.
Los Goutos, recording at 37 Foot Productions with Sean McLaughlin turning the knobs, have made a memorable album with Mighty. Enticing beats and grooves along with swirling melody lines and a host of flinty acoustic instruments makes the listener feel caught up in a massive dancing celebration. If you want to listen to a band that makes you feel like its Cinco de Mayo or Mardi Gras every day, this is the group for you.

Follow me on Social Media!