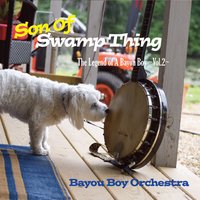 The second time around can prove a challenge for any group of musicians. Yet, The Bayou Boy Orchestra has come up with a terrifically fun sophomore album. Titled Son Of Swamp Thing: The Legend Of A Bayou Boy Vol. 2, it finds the merry band of roots, Americana players formed by the infamous Greedy Geezer come through with plenty of twang, grit, and pluck.
Greedy Geezer(Steve Donnelly) sings with a self-restrained rasp that fills these tunes with gritty personality. His daughter Lonesome Lil Donnelly croons with a voice that sounds refined and tempered by age even though she's still plenty under 30.
Title tracks "Son Of Swamp Thing" wastes no time jumping into action. Driving banjo, crying lead guitar, and a mighty strum from an acoustic guitar barrel along like there is no tomorrow. A gravelly lead vocal and a higher pitched background vocal travel the fast lane too, adding two more dimensions of personality while a rhythm section provides plenty of drum fills. Aside rocking out in fine country style, this song aptly describes a person raised in a marshy area. Listeners will have lots of fun getting into this one at any country hoedown.
"Papa" finds a young lady singing to her father about an unfaithful love and her father singing his fatherly advice to her woes. The vocal chemistry is full of charm as is an accordion played by Joe Frenette. Satoru Nakagawa, on loan from Tokyo Tramps, injects a Louisiana influenced lead guitar line. All of this plays out over a snappy two step groove that keeps it danceable, in a roots kind of way.
Down tempo and slightly bluesy, "Bayou Waltz" carries the listener through a stroll down Bourbon Street. That easeful pace then builds up into everything going on here. The combination of male-female vocals enhances the conversational feel of this piece as a carefully picked electric guitar pokes the soundscape with sweet dollops of southern flavor. It all comes together as something resembling a better, earlier time in music and in American life.
If there is one thing the Bayou Boy Orchestra does best it would be creating an impression through mood. "Bayou Boy Done Gone Rock And Roll" is a case in point. Sounding like a cross between a ballad and a dirge, this dandy speaks to a traditional music family losing their prodigal son to that new fangled rock and roll that's been sweeping the country and luring our youth into the devil's territory. A melancholy tone to the male-female vocals is a hoot. Sung over engaging acoustic instruments like a washboard, acoustic guitar, banjo, and mournful accordion, it all perfectly captures a mood and an attitude of an earlier time even while seeming to parody it. Perfect.
"Papa Lament" weaves a wide feeling with its lilting vocals, swirl of organ notes, and bluesy guitar picking. It's easy to get swept away with this large, easeful motion of rustic sound. This one stands out for the rangy, emotive voices, the kind of singing that keeps reaching ever upward. Beneath the vocal path are thick brushes of moody country blues, guitar notes that bend pleasantly, organ chords that shimmer.
Oddly enough, "Dog Track" has an air of 1960s pop music. Something in the playful organ work, engaging harmony vocals, and the groove patter makes this feel like something in between The Monkees and early Grateful Dead. Sweet banjo picking also flavors it pop. It shows true talent when a song could be played at a country hoedown due to its acoustic instruments while sounding like some from the Summer Of Love.
"Camp Fires In The Night" weaves acoustic guitar, accordion, and other fine instrumentation into a tuft of eerie, rustic mood. We don't know where Frenette's accordion or Lonesome Lil's haunting coos are taking us. Yet, the pace suggests we're being walked along a shadowy path. The vibe is perfect as well as perfectly well drawn. Suggestions of darkness, mystery, and questionable companionship permeate all.
"I Don't Need You" combines banjo flint with lead guitar tunefulness to create a sorrowful mood. Slow picking on that electric provides a woeful tone as a male-female vocal duet playfully detail the advantages of being alone. Their honky tonk drawl, a layering of accordion, and blues bar piano line complete the feeling of goodbye with a fine, emotive twang.
Closing track "Days Of Roses" features Lonesome Lil's sweetest singing. With her quite pretty higher notes she fills this with tender lament. Bits of banjo, easefully picked electric guitar, and a swaying accordion mesh into a forlorn landscape in the backdrop, giving her voice space to rise and descend in companionship to an inviting melody. The talent and the mood they create is balanced well in this piece.
The Bayou Boy Orchestra, on Son Of Swamp Thing, have formed their own special roots rock engine and they motor these songs with fiber and pluck. Coloring tunes with tasty country, Louisiana, bluesy flavorings, they create moods, colors and tones, and set particular lyrical scenarios. Produced by Bayou Boy Orchestra bass player Yukiko Fujii, recorded by Lew Bones at Lew Bones Studio in Middleborough, Massachusetts, and mastered by Keith Asack at Keep The Edge Studio in Quincy, Massachusetts, this disc is just dripping with fine roots flavoring, like the sauce that makes your pulled pork that much better.
https://store.cdbaby.com/cd/bayouboyorchestra2

Follow me on Social Media!