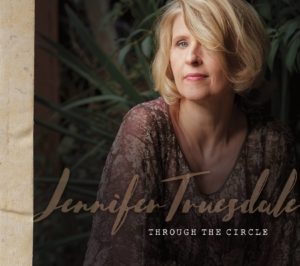 Jennifer Truesdale's latest CD Through The Circle is a full bodied work in which each track is packed with fine instrumentation to accompany Truesdale's high octane vocal appeal. Every track on here has nuanced and vibrant musical accompaniment to support a towering vocal talent and a singer with numerous approaches to each genre she works in.
Opening track "I Need You Tonight" finds Truesdale using her belty vocal in a classy application. She's as jazzy and free as the oldies horn lines beneath her voice. She also spreads her raspy timbre over the horn swaggering jazziness, sounding like a golden age chanteuse as well as a bit modern in her sassy attitude.
"Thinking Of You" takes us into a jazzy, mid-tempo glide. Here, Truesdale showcases her exceptional sustains, her voice holding a note like a jeweler holding a diamond before his eyes, letting it sparkle in all its grandeur. Coating this number with vast prettiness, Truesdale finds perfect accompaniment in a contrasting acoustic guitar phrase.
"Daydreaming" maintains the Truesdale classiness with an expressive, jazzy piano tinkling out a bright melody. She juxtaposes her singing with some spoken lines, finessing her lyrics by asserting her vocal more in specific places, creating perfect waves in her soundscape, a voice that swings and blares as vibrantly as the Jason Macres bari sax line that shadows her well. It does not hurt that Truesdale has pianist John Mulroy and B2 Hammond organist Tom West tapping out soul stirring notes on their ivories.
A high minded arrangement of Creedence Clearwater Revival's "Have You Ever Seen The Rain" lets Truesdale showcase how she can transform a rock and roll ballad into something special that reaches the higher levels of blues and gospel. Her vocal moves over the down tempo portions like a white gloved hand passing over a smooth oak railing. As the song progresses, Truesdale's voice expands like a sail, carrying forward with a tremendous power. The vibe she creates here will motivate listener to sing and clap along. It's irresistible.
"Sunrise" comes up out of nowhere on the strength of a jazz piano line, artfully tinkled notes that Truesdale glides over with a beautiful, whispery voice. This down tempo gem shines, instrumentation and voice, on the strength of its self-restrained power. There is a well spring of talent within what seems to be a mellow, jazzy piece. Actually, the volume of talent in each note, on the piano, in the subtle bass, and the sweeping voice, keep this number on a high level of composition and performance.
A dandy spiritual number, "We Will Not Be Forgotten," comes together with emotive power. Singing her heart out on the things that matter most to her, Truesdale reaches into that gospel power when she solos from her choir of beautiful voices. A narrative speaks the powerful words of civil rights leaders before Truesdale slips back into this well-concocted, percussion(Mike Ringquist) driven piece with a piercing truth in her lyrics, singing with a sweet clarity.
A bridge between blues and jazz, "River To Nowhere" returns Truesdale to that vintage feeling of music from earlier decades. Influences from Billie Holiday to Etta James come to mind as she phrases beautifully, emphatically with enormous sustains. Her voice can be as full, vibrant, and wide as a horn one moment, as lean, muscular, and taught as a guitar phrase the next.
"Moving Mountains" is a song of hope that feels shiny from beginning to end. Truesdale sings of having to push past obstacles to get to a happy place. Her voice carries through with a gentle presence but a strong underpinning. Only the stronger voices can make such a impression alongside a burning guitar phrase, also making it sound easy.
Truesdale has, for years, been including Stephen Stills' massive 1970s hit song "Love The One You're With" in her live shows. She nails this ode to newly discovered love with the energy of the original while keeping it fresh, injecting her own jazzy flourishes to the unwieldy vocal line.
Truesdale showcases even more big talent on closing track "My Life." From her gentle push at the beginning to her lilting, ever rising silky voice near the end, this singer goes down deep into the soul of her song before launching it into an emotional high. Inspiring and inspired, Truesdale takes the listener on am amazing journey with this one.
With supporting musicians like Joe Musella, who lends his eloquent lead guitar work to many tracks, and several others contributing to her artistry, Truesdale, along with producer David Minehan at Woolly Mammoth Sound in Waltham, Massachusetts, has created a fine beauty of an album.
Jennifer Truesdale has been for some time now a shining star on the greater-Boston music scene. Her ubiquitous presence on numerous stages as well as her work with many other artists has long been a testament to that. With this full length Through The Circle CD Truesdale will reach a higher level of recognition and respect in New England and possibly beyond.

Follow me on Social Media!