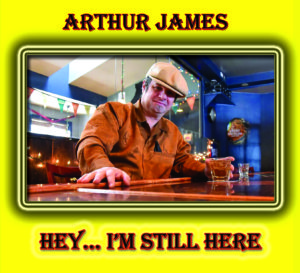 Lightning can strike in the same place and turn an ordinary man into an extraordinary blues artist with the utterance of a singer word. I'm not talking about Shazam. I'm talking about New Hampshire blues giant Arthur James, a tall presence on northern New England's blues scene. Last time around, Arthur James treated his listeners to several of his curiously interesting original blues tunes.
Arthur James' latest solo acoustic CD Hey….I'm Still here is an 18 track collection of his fans' favorite blues standards and cover tunes from his live shows. James' own instrumental blues acoustic guitar tracks divide this album into three sections of ear and soul pleasing numbers.
After opening his album with "Rollin," James rolls into "Parchment Farm" with his whiskey soaked gravel, a voice that speaks to the pain of human experience with its aching timbre. James takes this listener into his world by wrapping his voice around these timeless lyrics with a rasp that's harder than stone. His acoustic guitar picking pushes things along on "Spoonful" which finds Arthur James even raspier, more soulful, singing and picking his way through the snappy measures of this piece. He does not need a full band to make this old blues gem feel full and enticing. He picks his way through his acoustic guitar break with a speedy aplomb, letting the fancy fretwork speak its own need to push this message out of the soul.
Mr. James finds the plump, pulpy center of the blues poultry number, "Little Red Rooster," rendering it more potent for his listener. Gravel voice narrative meets slide acoustic picking. Feeling rustic, restless, and tumescent, Arthur James makes this one rock. He could play it this way at a rock concert and have the audience bobbing their heads to his presentation. Arthur James takes "Good Mornin' Blues" and renders the mellow blues in a smooth, flowing note fest, little gentle notes that run like a stream around a dead serious husk of a voice. Arthur James makes this listener feel the hominess of "front porch blues," sounding like he was recorded on his front porch in 1937. Maybe sipping some ice cold beer between songs.
Arthur James offers more of his savory acoustic slide work on "Ramblin' On My Mind." One can hear echoes of emotion in his sweeping notes, notes that force themselves into a juicy steak of music. Mr. James sings this one in a particularly considerate pace, admitting to just enough feeling in each measure. He sustains his vocal notes briefly enough to milk a little more of the message out, giving his listener something he can feel.
Gravel voice, slappy acoustic chords, and a curiously understated low end come together with a lot of depth on "Maggie's Farm," a swirl of acoustic guitar notes capturing the hipster blues of the original. "Keep Your Lamps Trimmed & Burning" is a low slung, dusky blues. Arthur James plucks out an appealing low end while maintaining his higher acoustic notes with a swaggering gait. An Arthur James instrumental piece named for his wife, "Susan's Song" takes the listener through a winding journey of tender emotions with an interesting underpinning from a second line of notes.
Arthur James has always been a bit of an odd child. Here, he takes the 1980s pop song "I Melt With You," plays it tenderly, sings it bluesy, and makes it his own like a king handling a prize possession. Cooing hums completes the mesh of 80s sentiment with a shadow of gospel blues.
Arthur James also renders his own the bar band cliché "Angel From Montgomery." It's refreshing to hear Arthur James make his original arrangement into something enjoyable after thousands of cover bands have tortured the life out of it. Mr. James offers his whiskey soaked gravel in a considerate pace as his plentitude of acoustic guitar notes hit the listener's soulful soft spot.
Mr. James uses a touch of wooden percussion to put a backbone into folk classic "If I Were A Carpenter." The song's serious side is more rough hewn here because of the husky rasp that Arthur James employs at the microphone. A down tempo sprawl of acoustic notes makes everything surreal, like these thoughts are the only ones the singer can keep in his head, a mesmerizing use of slow suggestion.
Arthur James goes into his next section with a rivulet of acoustic guitar notes on original "In My Room." A feeling of solitude comes across well here, a piece that inspired serious contemplation. Arthur James, here, keeps two acoustic guitar lines in motion and in cool contrast with one another. Getting back to the odd child quality of Arthur James, he rocks up "Will The Circle Be Unbroken," usually played by normal minds like a folk-gospel thing. But, Mr. James puts his own mid-tempo stamp on it, almost howling the lyrics out of his soul as he picks a swiftly moving acoustic line that he becomes even more nimble at, as if he had a burst of inspiration right in the studio while recording it.
Arthur James mines the spiritual side of blues with his take on "If I Had Possession Over Judgment Day." Mr. James makes one feel the vultures circling over head as the life runs out of a doomed soul. Deep blues, Mr. James sings with a tortured soul gravel while his angry guitar notes and chords buttress his voice with a line that reminds of someone trying to punch, scratch, kick with a fighter's fury at an opponent who cannot be touched. There is much darkness in the tight fist of chords going on.
"Driftin' Blues," in this solo artist's hands, gets plenty of notes to make it feel desperately afloat. Over that tuft of acoustic guitar dwell is a raw vocal delivery that contrasts well with a down tempo croon. Arthur James swiftly picks the direful melody as his time runs, leaving us to wonder about the fateful turn of this tale.
"Rock Me Baby" is one of the hippest songs on this CD. Mr. James makes all of those poppin', slidin' acoustic guitar notes jump up and down and side to side. You feel every one of those little note nuggets moving about. Over that flinty jive, Arthur James boasts tunefully in a throaty growl, more of his whiskey soaked timbre, milking that sauce for all its worth.
Closing track "Big Road Blues" gets plenty of lift with a puff of low end and a endless seam of acoustic guitar grist. One can feel this guitar line taking him down the highway in a smooth Cadillac ride. Over the jumpy, twisty notes, Arthur James croons in a mid-tempo glide, his rasp getting as smooth as it's going to get as he narrates this gliding experience. When his notes thicken, pick up speed, Arthur James makes you feel he's changing lanes, speeding past the slow pokes.
Arthur James has done it again. His last solo acoustic effort, Me, Myself & I was loaded with mainly original material. This time around, Arthur James gives his fans another fun solo(mostly) acoustic guitar treasure trove of music that inspired him and other blues musicians over the decades. Arthur James credits someone name "Barson" for bass, though that is probably a nickname for himself. Engineered by Anthony Cimino at Mojo Studios, the sound quality lets instrument and vocal notes ripple with authenticity in every track. People who are huge fans of Arthur James will probably purchase right away their own copies of Hey…I'm Still Here.

Follow me on Social Media!