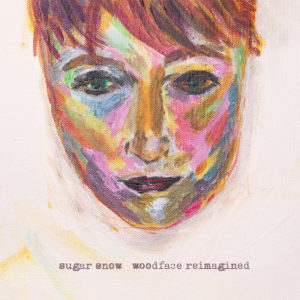 Sugar Snow, the band name representing singer Simone Berk, whipped up this re-imagined version of the Woodface album by 1980s and 1990s band Crowded House. Simply titled Woodface Reimagined, it is loaded with Sugar Snow's arrangements that rock with edge, precision, and daring.
I am not too familiar with Crowded House and had forgotten them until "Don't Dream It's Over" appeared in the recent final season soundtrack of Fox TV's The Americans. So, I will review this work on its own merits, not as a comparison to the album it is based on.
Opening cut "Chocolate Cake" is a well-paced, riffy tune. Berk's quirky vocal timbre carries well over a run of edgy guitar and a compact rhythm section. The song erupts during a guitar break, spinning like a top with frenzied emotion in the vocal and groove.
"It's Only Natural" is a light touch of keyboards and a brush of guitar as Berk croons sweetly, her voice moving over the soundscape like a white gloved hand. This eerie pop feeling certainly keeps the listener interested, especially as the Berk vocal approach grows wider, offering more sustains.
"Fall At Your Feet" finds Berk singing to an adeptly picked acoustic guitar line. She lets her vocal ooze out with a girlish vulnerability, a sensitivity that draws the listener in closer. Berk eventually receives a piano accompaniment, notes that fall like jimmies on your favorite flavor ice cream.
Berk and her backing musicians turn "Tall Trees" into a rockabilly affair. Berk's quirky timbre gets friskier here. Electric guitars snap with an oldies twang and a guitar break makes one picture a scene from 1950s American dance halls.
Berk eases like a floating cloud into the mellow "Weather With You." She releases enough of the clever Crowded House lyrics at a time for the listener to picture a scenario. Her pace perfectly matches an unfurling guitar line, singing above it and a down tempo chug of groove with a self-restrained power.
"Whispers And Moans" bursts with electric guitars in between Berk's whispery, slithering vocal. She makes her voice snake through the trademark wide electric guitar lines and tight rhythm section. This slight touch of guitar grist makes a perfect foil for Berk's slinky vocal.
"Four Seasons In One Day" finds Berk treading lightly over slight blips of keyboard accompaniment. She moves with a light, considered pace while tiny notes give her a lift. Contrasting that is Berk's take on "There Goes God," a number she has sounding like a 1920s horn jazz tune coming through period piece speakers. Berk could be a slinky chanteuse in an old time music venue as her voice eases sensuously through.
Feeling like a singer-songwriter approach, "Fame Is" becomes adorned with an airy sythnthesizer, a bleating electric guitar part, and a skittering percussion line. Maintaining her vocal composure amidst growing adornment, Berk's voice becomes a sweet beacon.
"All I Ask" oozes in with a low, minor key keyboard line, suggesting either a funeral or a soundtrack to an eerie movie scene. "As Sure As I Am" dwells pleasantly on a mild groove, with every melodic twist, instruments and vocals, moving persistently and pleasantly upward.
The synth pop bounce of "Italian Plastic" moves with jaunty joy. It electronic percussion augments well the new wave attitude as Berk emits just enough vocal at a time to lure in her listener. A few playful instruments surround her with their own bopping fun.
"She Goes On" is a breezy pop song that slowly grows on the listener. Berk's voice is unselfconsciously detached, like an ephemeral, otherworldly presence. There's also a lot of sweet instrumentation going on around her.
Closing tack "How Will You Go" leaves us with a pleasant calling card, Berk's take on Crowded House being a nice farewell for now. A rangy, honky tonk lead guitar rears its pretty rustic head here and there. Meanwhile, Berk's vocal captures the essence of pop joy, just an expression of hope and happiness, an unwavering flag of brightness in voice among tasty melody, and infectious groove.
Wow. Simone Berk and her band of merry men she calls Sugar Snow really went to town on this interpretation of Woodface. Produced by Brian Charles at his much vaunted Zippah Recording Studios in Boston, Massachusetts, the disc has a pristine sound that lets the listen hear every nuance in vocal and ever snap in the instruments. Mr. Charles plays most the instruments on this project, but it does include notables such as Chris Anzalone, Chris Baum, David Charles, Coner Duffy, Jim Haggerty, Haydee Drizarry, Parker Oualey, Jim Scoppa, and Anna Stromer.
It will be interesting to see where Sugar Snow(Simone Berk) will go from here.

Follow me on Social Media!