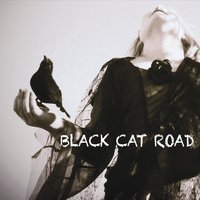 Black Cat Road have been bringing their punchy, earthy brand of blues music to Maine venues for nine years. The band's self-titled debut CD crackles with brisk instrumentation, soulful, raspy vocals, and true down beat grooves drenched in this traditional music.
A lead guitar grinds its way into the listener's attention on opening cut "Crow Stew." This one moves with a snaking groove as the electric six stringer Steve Bailey picks an interval of tasty, crunchy notes. Aside from sounding good, this number moves with a confident swagger emanating from lead singer Jessica Moore Hines' belty approach, her gutsy mama persona clear in every coo and sustain.
"Faith And Ammunition" finds Hines prancing through this down tempo pace with a well considered expression in each meter. Her voice does a waltz with accordion and banjo, strutting it over an old American roots music groove, something resembling a slowed down two step. She powers the song with her vocal emissions and twisty lyrics as the instruments flavor it rustic, old timey, and a bit mysterious.
Jumping right in with an engaging lead guitar phrase, "Undertow" makes room for Hines' enthusiastic expression while injecting the tune with stabs of organ. Its jumping groove pulls one into the energy of its terse, catchy chorus and then tosses the listener back into that smoky organ and spicy lead guitar. Again, it's the motions that make this band's music much of what it is.
Guitarist Steve Bailey delivers a gravelly lead vocal on "Hard Hearted Woman," a rocking blues number, complete with assertive rockabilly style guitar notes simmering on a hot burning groove. Bassist Kate Seavey keeps her low end notes knobby, humming, and throbbing, a pulse that catches hold of drummer Chris Hartogh's persistent backbeat. It's a tight ensemble piece that feels loose due to the colorful tones that make it feel like even more things are in motion here.
Hines' whispery rasp eases its way into "Rock Salt And Nails," a soulful, slow burner by Bruce "Utah" Philips, a piece considerately finessed by all five. Keyboardist Don Reed keeps it in a heavenly blues shade with his stirring organ chords. Hines' sultry vocal assertions seem to coax out Bailey's simmering, down tempo phrasing. His clear, thin line that turns into a fuzzy phrase takes its time expressing moody tenderness. The rhythm section pat things forward with smooth low end and carefully places drum smacks. Each band member milks this emotive work for all its worth, giving the listener something they can feel as well as listen to.
Bailey returns to the microphone for "Watch The Middle." His earnest chirp fully compliments this playful piece while blending organically well with Hines on the chorus. A toe tapping sing along, this number will surely inject as much joy as it does blues authenticity into a venue. Don Reed flavors it well, especially during his jaunty organ break.
"Work it" is an accurate description of what each Black Cat Road member is doing here. Bass player Kate Seavey sings lead vocals on this one, and she asserts herself like she's hosting a party, announcing her lyrics as much as singing them. Bailey cuts loose with a rockabilly twitch. Reed slaps out a party on his organ, and the rhythm section bop like there is no tomorrow. The lively feeling is completed by soaring harmony vocals near the end. Fun song.
Mid tempo smolder "Coal Mine" finds Hines injecting her purring vocal into a sonic landscape of hissing, growling lead guitar, hefty organ chords, and pushy grooves. This one takes its sweet time ladling out the gravy over the potatoes, a song that feels like it's springing up from a private depth of personal pain, turning the release of those feelings into something soulful and true. "Rain/Pushing" continues the band's penchant for smoky atmospheres before becoming a more assertive number. Its rocking section gives Hines a chance to showcase more of a Janis Joplin power belt, a voice with attitude that strikes quick and sharp.
Bailey's riffs begin "Eleanor" with twisty, spiking blues guitar. Hines sprawls her sultry purr over the guitar line like syrup flowing over pancakes. It's a combo of darkness, suggestion, and earthy expression that makes for a three dimensional approach to the mic. An emotive guitar bleeds out as much feeling as the singer, and the rhythm section kisses the upper registers with a smoothness that cannot be match.
"Talk Is Cheap" jumps right in with an old school R&B exuberance. The rhythm section keeps it bouncy as organ chords spike and float before an electric six string rides the beat with a compressed phrase, spinning on the quick beat. The whole thing pivots around that funky groove as Hines pounces on the sounds with a cat like reflex, hopping right into every open space. Not only is this highly danceable, each band member takes a turn strutting a fetching talent.
Title track "Bad Cat Road," sung by guitarist Steve Bailey, is a whiskey vocal married to a rocking blues tune. Bailey croons with hearty, gritty conviction amidst the band's thumping groove, forceful guitar and organ, and a sour-sweet harmony vocal from Hines. All offering nice touches to this heavy interpretation to blues.
Closing track "Damned" sashays in with perky guitar and flinty organ. Hines takes her time unfurling her sultry rasp, releasing just enough sass per meter to keep us wondering where she will go next. The singer seems to push the song forward as much as the rhythm section with her forceful vocal personality. Subtle guitar touches make this hypnotic, alluring. Organ nudges keep it soulful.
Black Cat Road have accomplished much on this debut disc. Produced by Davy Sturtevant at Davy's place and mastered by Andy VanDette, it serves as a fine document to how deep this band digs into the blues and how well they can bring it back up to the listener.

Follow me on Social Media!