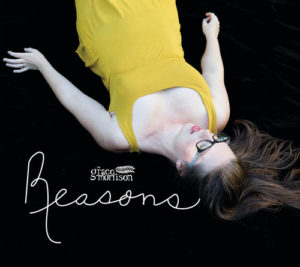 Grace Morrison's new CD Reasons is made up of the country roots material she is so well known for and which she is so good at delivering. Her natural timbre reminds of girlish chirps, a young voice that sings with an older person's wisdom and experience.
"Come On Rae" combines Morrison's girlish timbre with a sweet lead guitar line, drawing her listener in with her double prong ear candy. Her catchy chorus and the rhythm sections' kick keep this moving and enjoyable.
Title track "Reasons" is a mid tempo cruise through a landscape of images from a failing relationship. Amidst a backdrop of pleasant, country flavored guitar, dreamy organ chords, and a smooth rhythm section, Morrison applies her warm, tender vocal to a difficult romance. Contrasting her sweet alto with a sour subject brings out the beauty of her voice as well as the dire sadness and inevitable conclusion of the relationship.
"I Am Waiting" gets a rolling motion from Dylan McKinstry's gritty banjo notes. The banjo also creates a rustic vibe which guitars and a rhythm section gently tumble around. Over this tasteful mesh of sound, Morrison sings in whispery assertions. Within this delicate weave, she manages to keep her song empowered, expressive, a declaration of feelings large and true, and she does it all in a mellow vibe.
"Daddy Don't" continues the low key expression of large emotional content. Morrison's way of combining whispery expressions of her unique vocal with her wistful lyrics in uncanny. She has the one in a million voices and she also has that one in a million eye for key details. Put a few brittle lead guitar lines beneath her vocal and we have another winner.
"Still" comes on strong with eruptive organ chords, bracing guitar work, and a chugging groove. Uncannily, Morrison's voice, remaining a sweet tender expression, fits into this soundscape as easily as any of her others, her vocal presence setting as smoothly as Jimmy Stewart fit himself into any role or film. Moving through this anthem, Morrison expresses strength with musical momentum, talent, and grace.
"To Be Weird" moves like a tumbleweed of acoustic beauty. Listening to every dollop of banjo, mandolin, and acoustic guitar is a another Morrison conceived piece of ear candy. Likewise, her every injection of vocal beauty keeps this message of individuality positive, amicable, and engaging.
Duet "Feel Me" balances well male and female voices and male and female emotions. A fetching chorus, mild piano, and a stick percussion serve as beacons in the darkness of this song's themes. The entire piece makes one feel the separateness that it's all about, something inevitable in a couple's scenario yet something invincible in their love.
A full, pleasant trumpet melody (Kami Lyle) makes "I'm Calling You" feel like a fun pop music hit song. Morrison's voice and that horn keep rising in prominence here, bringing their magic to the top of the song, expressing itself like the best pop anthems and catchy love songs. "Throwing Stones" brings Morrison back to the acoustic instrument mesh she so enjoys singing over. Lilting melody lines intertwine as she expresses herself with a lush vocal, a perfect contrast with the brittle bits of notes around her voice.
Aside from its intriguing one word chorus, "Hide, Hide, Hide" is thickly constructed with elegant piano and emotive tufts of organ. Guitars add a lot to the lay of he land as well. It takes such a good platform for a vocalist like Morrison to work with. She can emit just the right amount of vocal, emotion, and lushness or leanness of timbre in just the right moments. One can almost picture her voice as a colorful line making its way gingerly through the song.
Acoustic pop dandy "Follow Through" is a well paced affair, layers of sprawling instrumentation around Morrison's voice. She builds momentum toward the chorus which catches even more lift. This could be another hit song on local radio formats. It constantly tugs at the ear with its energetic flow.
Morrison closes out her CD with "Bottom Of The Barrel," another roots tune with pop inclinations. She keeps her listener following her voice, words, and fetching sounds cape, perky inflections dotting every meter.
Morrison keeps coming up with these engaging, rootsie albums. By not letting herself fall squarely into any one genre, she keeps her songwriting open to fresh interpretations of her lyrical and musical ideas. With backing musicians like producer Jon Evans, Matthias Bossi, John Baptista, and Sam Babineau in tow, Morrison cannot fail to flesh out her flavorful songs. Produced by Evans at Brick Hill Studios and mastered by John Mailloux at Bongo Beach Productions, Reasons rings with beautiful voice, instrumentation, and clarity.

Follow me on Social Media!