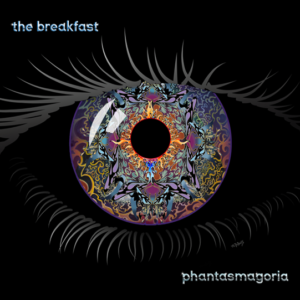 Connecticut prog rock band The Breakfast have released their third CD titled Phantasmagoria after a 20 year recording break since their second album, back when they called themselves Psychedelic Breakfast. This new masterwork reveals a band still capable of composing and recording gloriously epic songs that are packed with artistic flourishes of guitar, keyboards, drums, and vocals. It's a treat for the ears to hear this kind of music gushing with talent, energy, and inventiveness.
Opening track "Metropolis" offers a tuft of keyboards, strutting rhythms, and an airy lead vocal. Hearing their high pitched keyboards descend into swirling organ notes over a persistent beat will bring back fond memories of listening to Yes, Genesis, and King Crimson. Soon into the tune, bass player Chris DeAngelis takes the spotlight and unfurls a fast, funky expressive line. A synth line gurgles over it and a prog rock fan is in heaven. Lead guitarist Tim Palmieri pierces the atmosphere beautifully with a phrase that hopscotches over the expansive groove, maintaining a tone and a wave of sound that captures the imagination with its frenzied motions.
Palmieri kick starts ""Shotgun Butterfly" with a Jimi Hendrix attitude, unleashing a fierce phrase that sets up the tone, atmosphere, and steady pace of the song. A vocal adept at quick, tight verses adds to the hip vibe of this piece. The rhythm section comes in underneath the vocal and lead guitar with knobby bumps of fills and low end that contribute greatly to the funky hipster quality to this hard driving prog. Its catchiness and originality should make this one a strong contender for local music radio programs.
"Rush" comes in with a sweet phrase on at least two melodic instruments. A quaint, low sung lead vocal cruises over an attitude swilling ensemble of fine instrumentation. A tightness of drums, bass, guitar, and keyboards form into a bouncing, spirited groove, one that keeps its listener glued to see how their tight ball of phrases and fills goes from point A to point B in this unique piece. A lengthy work, it goes into an extended musical workout. A fuzzy guitar line soars into the stratosphere, shimmying around the groove with its own kind of grace. A synthesizer unfurls a space age soundscape. A speedy rhythm section lets loose with numerous, up tempo notes. There is an epic quality here that, like all of the pieces on this album, will remind fans of prog rock why they so much enjoy this genre.
"Reel Time" wiggles its way in with a Yes influenced life or death keyboard arrival. A soft, considerately delivered lead vocal indicates the care that The Breakfast put into their works. Gliding vocals and rushing instrumentation make this band sound like they always mountaineering toward great heights. One keyboard melody moves with sweet, high pitch twistiness as a synth spreads a wider, washy sound in the backdrop. Aggressive drumming and a thick low end line support the keyboard magic with hefty contrast. .
"Rust" comes the closest to being a catchy rock and roll song. Its infectious chorus is also a clever play on words. The lead vocal struts over the song with an undaunted stab into each meter. Totally cool. Yet, the prog rock bug bites into the creative juices flowing through this number, turning its strutting groove, riffy, guitar, and hipster vocal into a high flying, instrumental joy ride. A lead phrase waves like a banner with its frisky motions, leading into a palpable jam with many moving musical parts.
Within their progressive framework, The Breakfast runs a gamut of musical genres. "Episode 3" comes in with riffing intensity and eventually transform like a butterfly into a blues song. Bopping grooves, spiraling, glittering lead notes, and a humming keyboard mark the first half of this work with speedy, edge of one's seat drive. We eventually believe that the band has got their brilliant madness under control and are soon taking us into a more restful tempo before their manic creativity is soon pushing us up another mountain of epic sound. Why this becomes a blues song about a "mojo mama" complete with soulful organs, honky tonk piano, and a Chicago rhythm does not matter. It works. Jordan Giangreco's elegant blues piano tinkling takes one into smoky bars. His layering of organ overall is another earthy, gritty twist, a slap of earthiness amidst an album of prog cool and instrumental funk.
Close out track "Hard Luck Harry" could qualify as an entire side on a vinyl record. Clocking in at over 22 minutes, it goes through many sections, each one maintaining special qualities. Its opening section is a mellow rock flow. Like all things The Breakfast, it eventually, as if by magic, turns into something with a range of textures and emotions. Adrian Tramontano's drum fills signal a turn toward the epic with palpable urgency. Palmieri's lead guitar lets loose a galloping phrase. Supporting that gallop is bass player Chris DeAngelis with a thumpy low end, enough deep note motions that make one feel the moment this song exists in. Soon, the entire band is in overdrive, and the racing tempo becomes as impressive as the intricacies of this ensemble portion.
The Breakfast could be the new darlings of prog rock fans everywhere. They offer, on this Phantasmagoria album, all of the epic movements of freestyle guitar, frenetic keyboard work, and the wildest, most intricate grooves the genre is known for. Produced by Vic Steffens and the band at Horizon Music Group in West Haven, Connecticut, Phantasmagoria has a pristine sound that lets all of the instrumentation and all of the vocals ring.
https://www.facebook.com/thebreakfast/

Follow me on Social Media!