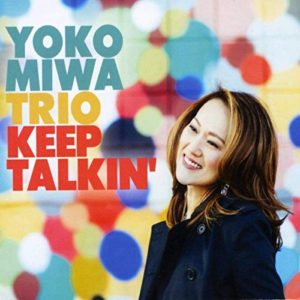 Yoko Miwa Trio's sixth CD release Keep Talkin' shows how she has developed her cool sense of delivery. There is more ingenuity in her arranging, playing, and interaction with her trio than on anything she's released up to this point. Aside from her own adeptly played composition, Miwa arranges Thelonious Monk, Charles Mingus, The Beatles, Marcelo Camelo, and Joni Mitchell to arrive at fresh, modern interpretations of jazz's infinite possibilities.
Title track "Keep Talkin'" opens this album with a hip rhythmic glide. Her piano tinkling is influenced by the more modern side of jazz, such as after the late 1950s. Her rhythm section, rather than hold down the bottom end of this song, take the ride with the upper register piano, forming a tight unit that moves in sync, offering a greater sense of movement. The motion is as much a part of this piece as the notes being played, and that is what makes it work.
Miwa and her trio next tackle the Thelonious Monk composition "In Walked Bud." Here, Miwa switches from chords to notes in a way that suggest something about the character that inspired this piece. Her melody line suggests a breezy person who instantly commands attention. It's uncanny how Miwa juxtaposes notes with chords, offering an interval of the latter then suddenly punctuating her line with heavier chords. Her rhythm section moves around her upper register with quick, sudden motions of their own notes. The quickness within this piece carries its own special message.
"Secret Rendezvous" offers a lighter but twisty piano line. Bright notes and only slightly deeper chords keep this one skittering pleasantly along a welcome path. Images of cocktail lounges and a conversation about slipping out with another person are brilliantly conveyed here. It's in the sly interaction between Miwa's notes and chords and the slyer interaction between her instrument and her rhythm section's that keeps everything in a suggestive mode.
A gentle tumbleweed melody keeps "Sunset Lane" afloat. Whatever peaceful moment inspired this piece was worth its weight in musical gold. Miwa milks the beautifully light spirit here for all it's worth. Listening to Will Slater's run of acoustic bass notes is another treat for the ears. He coaxes a warm knobbiness out of them as Scott Goulding puts his sticks to good service, drumming softly within an intricate pattern. Sunlight arises in this piece, Miwa shifting dynamics to widen the bright mellow sound, increasing tempo ever so slightly, to cleverly display emotive content.
Miwa moves into Charles Mingus's "Boogie Stop Shuffle" with a persistent low end line. It makes one feel like being gently pushed into a private corner for a private conversation. There is a hint of mischief as the recurring piano line, low and dark and anxiously supported by the rhythm section, pushes its way into prominence above the preceding lightness in the melody line. It is jazz where jazz meets the pop catchiness of a musical score. It's impossible not to appreciate the main melodic there. There is a subsequent portion in which Miwa's racing piano notes convey a secondary emotion, an urgency she weaves with a wilder tempo.
Jazz arrangers have worked wonders with Beatles classics over the years and the Miwa trio bring their own charm to "Golden Slumbers/You Never Give Me Your Money." Her piano probes the emotional depths and wide expressions of these pop classic. There is brightness and a plaintive cry in each note she taps out, making the listener appreciate the original source of her arrangement as well as her own sensitivity to that material.
When one of our innovative Boston artists names her piece "Tone Portrait" we know it's going to be interesting. Miwa's couples her melodic notes with her low end notes and the upright bass so tightly that she weaves an elegant thickness, a pleasant, substantial sound that feels pulpy, deep into her rhythmic joy ride. One can feel as well as hear the deep knobby upright bass notes played by Will Slater. His low end slow dances around Miwa's left hand notes. One can appreciate all that is sandwiched into this piece as bops it way along.
Casa Pre-fabricada, composed by Marcelo Camelo, offers a sophisticated performance of tuneful piano notes. Accented well, Miwa's melodic line lets the listener hear each note hit with its own shiny elegance. If you could ever hear a piano line smiling, this would be it.
Miwa conjures the rhythmic groove of Joni Mitchell's "Conversation" by seeming to slap out the piece's piano chords. At differing tempos, Miwa recreates the jaunty motions of the original's acoustic guitar. This welding of folk-rock assertiveness with jazz sensibility makes this piece as catchy as pop and as elegant as jazz. Miwa's rhythm section drive a hip groove that keeps the toes tapping.
"If You're Blue" returns Miwa to a harder, bopping jazz, likely inspired by the 1950s era of her genre. Setting a scene is another of Miwa's strengths. She conjures images; a smoky piano bar, dolled up women being coolly eyeballed by calculating males over Gin and Tonic. She creates this with suggestive tones, an element of mystery in her sudden chords, and Scott Goulding's playful drum work. It all feel like something sly is taking place inside a polite environment where things are not as they seem.
Miwa and her trio close out this Keep Talkin' CD with her original composition "Sunshine Follows The Rain." With Brad Barrett filling in on acoustic bass here, Miwa takes her sweet time unfurling her large piano theme. She employs a light tinkling over a flexible bass line when she takes it down tempo. With intervals of delicate notes, Miwa captures the easy going mood that ensues once the showers have stopped, the sun comes out, and everything is starting to dry. It loads the day with potential and that too is felt as her piano notes become more heavily accented and her melody line grows wider and brighter.
Yoko Miwa Trio just keep getting better and better. There are special arrangements on this album as well as engaging original compositions. The accessibility that this trio brings to jazz could be part of trend toward pulling in more fans and jazz venue patrons. The elegant shifts in dynamics and sophisticated developments of emotions could keep bringing back the die hard jazz fans. Keep Talkin' is a fun album to listen to and its content seems to actually "keep talkin'" in musical terms. Produced by Miwa at Wellspring Sound Studio in Acton, Massachusetts with Matt Hayes turning the knobs, the album sounds as good as the musicians play.

Follow me on Social Media!