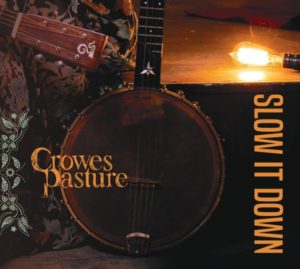 Crowes Pasture's latest CD Slow It Down find the pair in chill mode. The husband and wife team of acoustic guitarist Andy Rogovin and banjo player Monique Byrne offer nine tracks loaded with gritty, roosie acoustic notes and tender vocal harmonies. The duo construct their songs around their tender vocals and their alluring choruses and that blueprint works wonders.
Title track "Slow It Down" opens this mellow album with a steady acoustic six string, a seesawing fiddle, a pedal steel, and duo vocals that drawl with crisp clarity, remaining in a beautiful unison. The acoustic instruments play in an easeful sprawl, letting their notes spread far and wide as the singers keep their combined joy ride going right down the lane through the weave of natural sounds.
The duo combine her high harmony with his lower on "I Need You." One feels the vocal top and bottom and from there, the acoustic instruments, (Bas Van Der Brugge's)fiddle, acoustic guitar, banjo take a place with her or with him. Sandwiching the voices and instruments give this song a likable thickness. It also creates an amiable vibe, a feeling that there is room for everyone as this moves forward with a wide sweep.
"High Wire" offers a burst of Monique Byrnes vocal, a fine balance of voices during the chorus, and an upward motion as her voice rises in empowered expressions. When the two sing together, their blend reminds of the great folk and pop harmonies, The Limelighters, Peter Paul & Mary, The Mamas And The Papas, and others. The duo create a vibrant piece here with not only their vocals and instruments but with they way they conjure a largeness comprised of many moving parts.
"The Dance" offers more of the acoustic and vocal beauty. Yet, here their duo vocals keep rising upward in timbre and dynamics, creating interlocking peaks and valleys that create a lot of motion. It's uncanny how well this couple can combine certain kinds of vocal techniques with certain playing styles to manage the vibe of their song. The tumbleweed of acoustic guitar chords beneath their voices makes it all feel full and vibrant. A fiddle traveling alongside them as they unfurl their magic carpet ride of voice creates a warm feeling of companionship. There is actually a lot of things going on in this tune that seemingly appears pared down.
"So Many Ways" pleasantly weaves more of the duo vocals and fiddle with a touch of percussion. Taking turns at the microphone here and there, the duo nuance their lyrics and keep their chorus intriguing. A line of Byrne's banjo notes adds a stripe of flintiness that contrasts well with their more flowing vocals.
With a catchy folk-rock chorus, Bob Marley's "Is This Love" pulls the listener from their peppy verse portion into their catchy hook. Vocals glide through the intriguing chorus as well as they do when Byrne sings of her life with her man. Buttressed by a sweet fiddle line, the verses and chorus feel as gentle as a cloud event though they are making strong statements. It's easy to imagine this one ending up on a local radio show's play list.
Crowes Pasture make a serious folksy song out of The Cure's 1990s hit "Pictures Of You." The duo render the song well in their own special way. Acoustic accompaniment and twisty, adjusting vocal techniques let them ride the rails.
The duo take their time unfurling their cover of Paul Simon's "Hazy Shade Of Winter." The duo caress the timeless lyrics with the richness of their voices and with the depth of feeling they put into it. The lyrical images pass through the listener's mind as they put emphasis in just the right places.
Crowes Pasture close out with a cover of Mary Gauthier's "Mercy Now." Without losing the spirit of the original, this duo manages to layer their version with two vocals, more acoustic instrument notes, and a distinct percussion pump. Hearing the two of them sing out their request for mercy with their special unison gives the song an even deeper meaning.
This duo has accomplished much on this Slow It Down disc. Hearing them wrap their voices around their melodies and lyrics as well as wrapping their talents around other artists' work is a special treat for the ears. Following the emotive content of what Byrne and Rogovin are doing is a treat for the heart. Everything on this album rings with authenticity and sincerity. Recorded and produced by Doug Kwartler at Hollow Body Studios in Chelmsford, Massachusetts and mixed and mastered by Glenn Barratt and Erik Balkey at Morningstar Studio in Philadelphia, it has a clarity of sound that lets each note ring with purpose.

Follow me on Social Media!