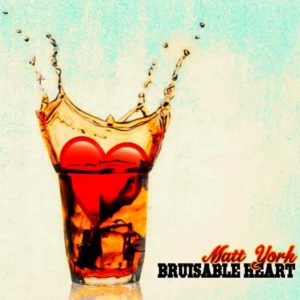 Matt York's latest roots album Bruisable Heart conveys many emotional states with his plaintive lyrics and sandpapery vocal. Playing most of the instruments on this disc, York keeps his tight arrangements full of nuanced touches, spiking electric guitar here, slappy acoustic chords there, and just enough of other instruments when needed. The rangy Americana vibe he conjures, though, is what makes this album the gem it is.
Opening track "I've Got Nothing" is a plaintive cry, an emotive plea about the numerous things going wrong in a person's life. York delivers the world weary attitude with a voice that reaches into this heart of darkness and returns it to the listener with qualities to be felt as well as heard.
"Permanent Crush" showcases how he can let multiple emotive verses just roll off his tongue in easeful succession. One can feel the tumbleweed of thought roll with a strong current toward a drawling, soulful chorus. A lead guitar emerges with brittle, bright lines, another emotional flashpoint in the sonic texture of this song. York slaps out assertive chords on his acoustic guitar that perfectly augment the mounting, climbing qualities of this piece.
"Love You Patiently" finds York slapping out a catchy acoustic guitar riff. Floating over that brisk rhythmic slap is York's charmingly vulnerable vocal, his unique timbre, emotive coos, and considerate delivery nestling into the listener's consciousness and soft spot. One can relate to his plight while feeling what he is singing about as his sincerity comes through in each verse pleaded.
Title track "Bruisable Heart" offers more of York's combo of rootsie acoustic guitar adventure and his personable, crying timbre. His voice skitters anxiously around his brittle electric guitar and Zach Ivy's lilting fiddle melody. This kinetic energy carries the message with a personable touch and a truck load of talent.
The overwhelmingly sad "I Lost My Baby To the Needle" lets York spin a mournful yarn, a loss that becomes a metaphor for everything in his life that he feels left him with her demise. Tragic notes fall like a light rain from each instrument, light footed acoustic six string, quiet piano notes, and a forlorn fiddle line wafting in the backdrop. York's boozy misery comes across with a depth of feeling in his sensitively rendered vocal.
"Feels Like Home" is a contemplative piece. York's vocal sustains turn his chorus into a thing of roots beauty while Zach Ivy's simmering fiddle line flavors it all with such longing, passion, and a sense of destination. This could be the local radio show hit song for York. It's catchy as hell without ever becoming cute or unreal.
York comes on strong with a rock and roll swagger moving into "Marry You." This tune has a vigorous build up that carries one with its momentum. His vocal assertions power this muscular tune and his emotive statement is as ruggedly built as the driving force of instrumentation.
York rocks things up even more with "I'm Never Unsure." It's a good thing York is a multi-instrumentalist because only he can get the sound he is looking for. His brisk guitars unleash a flow of tender melody while racing along to a rocking beat. Electric and acoustic guitars dovetail into a swaggering motion. His higher vocal notes make one feel the ecstatic emotion of his lyrics and keep things artfully in play.
Darker notes and perilous thoughts are the driving force to "Winter Will Bring." Using harsh weather as a harrowing metaphor York give his expressive vocal something real to wrap itself around. His high pitched vocal assertions contrast brilliantly with his dissonant electric lead guitar, a secondary power source to this beat driven work. All of the moving parts come together in a tapestry of good songwriting and good musicianship.
York closes out with "Going Crazy," a number laden with tuneful guitar notes that ring with authentic emotion. This singer-songwriter makes his emotive case with a vocal range that rises up from the valley of the canyon to a high mountain top. Every verse and vocal technique combine into a very important signpost in this life journey song.
York is at his best here since he began releasing his solo albums a few years back. The former front man for Wide Iris found his niche on his own, and he continues to prove his salt with each release. Bruisable Heart is a must have for any fan of local New England roots music. Produced by Thomas Wenzl at Bitch Kitty Studios in Jamaica Plain and mastered at Sage Audio in Nashville, this recording captures every tiny little nuance of York's intentions.
Matt York Band is in the line up for Green Harbor Roots Festival at Marshfield Fair on August 18.
The CD Release Party for Matt York's Bruisable Heart will be held at The Lizard Lounge in Cambridge, Massachusetts on September 28.

Follow me on Social Media!