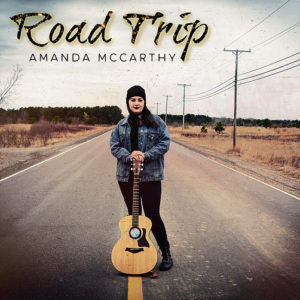 Amanda McCarthy's debut full length CD Road Trip is loaded with folksy, pop-rock tunes that grab the ear and never let go. McCarthy's earnest, sincere vocal delivery reaches the listener's soft spot as much as her plaintive lyrics about her life in our modern times.
Opening track "Idaho" focuses on her life in a small rural community and her desire to move into a larger world. McCarthy's heartfelt delivery keeps her song aloft as does her might acoustic guitar strum.
"Elephant In The Room" comes on strong with a mighty forward stomp. McCarthy belts her lyrics heartily, projecting her voice over her rocking accompaniment, including a simmering organ thrust that moves with her because of the punctuation of the snappy rhythm section beneath them. McCarthy pushes her lyrical vision forward like a force of nature. A lead guitar jumps in with a whipcord phrase that increases the intensity of this McCarthy style rowdy rocker.
Easing into a mellow, mid tempo, acoustic piece called "On The Border," McCarthy finesses her lyrics with a girlish charm and a sweet timbre. Crooning innocently to a pretty fiddle melody, this singer expresses feelings of companionship in an evolving, changing world. Her timbre offers solace to her long journey and her joy for life shines in every verse.
McCarthy's ode to good songs, "Folk Song," showcases her observations of the music industry and her insight into why certain songs are important. Her chorus is charmingly simple and catchy as is the tuft of keyboard beneath her vocal. Nick DeFrancesco's fiddle makes a second comely appearance and gives the singer a perfect arc to sing over.
McCarthy shows, on "Can't Look Back," her talent for writing catchy pop-folk. First, she allures the reader with a low key vocal that hovers over a synth line. She then makes her voice curlicue through further verses before singing her hooky chorus. This will likely be the hit single on area radio stations' local talent formats. McCarthy keeps this one on a musical high with a restrained but undeniable positive energy.
McCarthy turns into a rocker and becomes despairing on "Secret Love." Her timbre is more sultry here, and her low key intro turns into a spunky, smacking piece. She belts over a confident build up, swinging into action, belting out her words over a massive organ workout. The singer also puts forth some twisty lyrics with cool finesse, but it's her aggressive singing that makes the strongest impression.
This singer-songwriter shows her sense of humor on "If I Were President." Singing chirpily over a uke, McCarthy takes on the hypocrisy irony, and carefree attitude of today's world leaders. "San Diego" takes McCarthy into emotive pop territory as she reflects on a relationship with a man and a city. Her sweeping chorus envelops all, a lofty feeling that keeps this one flying high.
"Tiki Bar" is a seemingly sweet, simple ditty with mild instrumentation supporting McCarthy's self-restrained delivery. Yet, this song of isolation which uses an island as its metaphor, reflects deep emotion and it's chorus is as irresistible as a pinacolada in a tiki bar.
McCarthy and her band rock things up more with "Fusion," wedge of aggressive guitar fuzz and a sassy vocal along with an undeniable rage. You wouldn't want to mess with this chick after hearing her delivery here. Her assertion is packed with tension, and her swaggering way of letting out only a small burst at a time makes you realize that her ex better be alarmed when she rolls into town.
Down tempo ballad "Solo" reveals the prettiness of her voice amongst sparse accompaniment. Her voice has all of those inner gears that can make a singer great. McCarthy constantly shifts dynamics, oozes out sweet sustains, and coos beautifully. That's pretty darn good for a singer who, up until this point in her disc, has already revealed how well she handles rock and folksy tunes.
"Just One Night" shifts gears into more pop-rock territory. A backbeat keeps this danceable while McCarthy's voice keeps it alluring and hooky. This singer-songwriter reflects how well she can write within the pop format. Her vocal assertions jump out over the beat with confident aplomb before she slips back into a cruising croon.
"The Ballad Of The Runaway" is a quaint ditty with ukulele supporting a sweet, plaintive vocal. McCarthy keeps the feeling big even though her voice is self-restrained and her accompaniment it quit sparse. Closing track "Somewhere In Syracuse" is a wider, more expansive pop rocker requiring McCarthy to croon with a mighty spirit over a pop landscape of sweet instrumentation, a big sound with a lot of moving parts, and it all sweeps and swoops with a majestic ease.
Amanda McCarthy proves on this Road Trip debut that all of her hard work these last few years have been well worth it. She's mastered folk, rock, and pop idioms. Half of this album was produced by Kristian Veech and the other half was produced by Karl Anderson. Both producers keep McCarthy at her best, singing her heart out while staying to true to form as an artist with precision and skill. It will be fun and interesting to see how far this young singer-songwriter will take her music.

Follow me on Social Media!