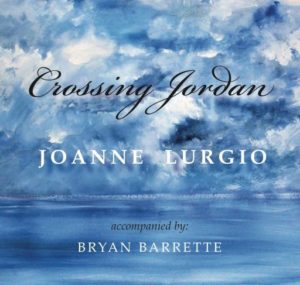 Joanne Lurgio's latest CD Crossing Jordan, featuring accompanist Bryan Barrette, finds her in a spiritual mode. Although she's returned to her church and her religious training for her lyrical fair, Lurgio's vocal and musical delivery is not far removed from her previous singer-songwriter material. Her ten arrangements and two originals here tug on the ear as much as any of her previous recordings.
Title track "Crossing Jordan" inspires Lurgio to sing her heart out, her voice rising above swells of piano and synthesizer, her gust of emotion coming from a strongly personal place, and all within an impressive original song structure. The spiritual depth of this material cannot by overstated. It's big dandy of the song regardless what the song is about, though its meaning is also large, a subject matter beyond human evaluation.
An arrangement of "Lord You Have Come (Pescador de Hombres) contrasts Lurgio's beautiful, sizeable voice and spiritual ebullience with a thin, twisty Cathy Clasper-Torch violin line. The effect brings out the grandness of Lurgio's vocal talent while keeping the violin as a quite presence that powers things in its own more subtle ways.
Lurgio's arrangement and delivery of "Amazing Grace" makes the old time favorite gospel number feel fresh, lively, and she fills it with emotive pluck. Lurgio's vocal assertions charge this one with something special, and a listener who has never followed gospel might find something to appreciate in Lurgio's use of roots music influences and her modern singer-songwriter approach.
"In The Garden" gets a hooky chorus in the way Lurgio emphasizes the "He walks with me/And Talks with me" line. Her voices rises in just the right places to keep this artful while Barrette's piano lift and his synthesizer line engorge this with spiritual oomph. The harmony vocals also match the quality of the partnership this song is about, making the listener feel it as well as understand it.
"Fly Like A Bird" is a fine arrangement of a 1990s gospel pop song. Lurgio uses her vocal talent to wring out the spiritual presence that guides her. Her voices travels in a loose, large, free manner that makes one feel a soul flying like a bird to the lord. Vocal sustains empower this one with more of that grand, epic feeling that marks much of this album's feeling of religious enthusiasm. Violin, synthesizer, and piano keep this all afloat with a sizable gust of sound, something that represents the size of the subject matter being praised.
"Take My Hand Precious Lord" is a down tempo, almost whispery appeal for support from thee man. Lurgio travels through the twisty lyrical motions with an emotional depth that comes through in her vocal exuberance. One can feel her struggle and one can feel her reaching out to her lord and savior for a helping hand in the way she asserts her vocal lines amongst a slightly darker tapestry, likely symbolic for something beyond the secular world to reach back to her.
"Shepherd Me, Oh God," like the previous track, maintains the theme of reaching out to Him for help during darker times. One can feel Lurgio crying out on an emotional level as her down tempo vocal grip makes us feel her struggle as well as her hope for salvation. Emotive piano grist expresses the message beneath her vocal as a violin keeps its presence quiet and sublime. This piece is also catchy, in a sublime manner, its chorus and its repetitious piano line keeping one hooked as much as any pop, rock, or show tune.
A piano ballad approach makes "You Are Mine" feel like a 1980s pop tune. Though a closer examination of the lyrics will reveal a spiritual theme, Lurgio's voice rises above a piano melody, a synth backdrop, and string players in way that suggests a love song. It's just a different kind of love song because it's a different kind of love. Voice and instruments reach a level of sweet beauty, maintaining its sense of large emotion.
Traditional song "Wayfaring Stranger" feels a bit like 1970s singer-songwriter fare with a touch of Americana. Lurgio sings this one cool and steady, indicating the song's call to strength. Her acoustic guitar and her son Joe Lurgio's mandolin keep it in a roots vibe. Vocals and instrumentation come together perfectly making this a song anybody can appreciate.
Lurgio and Barrette do incredible justice to "How Great Thou Art" rendering it into a piano and violin laced ballad. One can appreciate Lurgio's powerful vocal and how she expresses these timeless lyrics. One cannot help but feel carried away on the spiritual wind of this epic hymn. One also gets a new appreciation of this 1940s composition on the strength of this fine arrangement and solid delivery.
"Going Home" reveals more of Lurgio's beautiful voice. This down tempo song moves quietly but powerfully with all of her vocal techniques. Singing over piano and fiddle, Lurgio rides the melody line perfectly, expressing her feelings with a nice understated delivery.
Closing track "Where This Street & Heaven Meet" is the second Lurgio original song. It's a gospel flavored Americana tune, complete with barrelhouse piano, show tune vocal jive, and Aubrey Atwater's foot percussion. Elwood Donnelly's backing vocals adds an choir like texture as Lurgio rejoices at the microphone at finding a special end to her spiritual journey. It's also a fun closure to this album.
Lurgio has outdone herself. Her two originals and ten arrangements show her at her highest level of achievement. That she accomplished that while tackling more gospel and spiritual material shows she's an artist on a high level of ability, a true musician who can utilize instruments, support players, multiple vocal techniques to put her message across. Recorded live at St. Kevin's Church in Warwick, Rhode Island with producer-engineer John Paul Gauthier of Lakewest Recording turning the knobs, these tracks shine with clarity and purity of sound.

Follow me on Social Media!