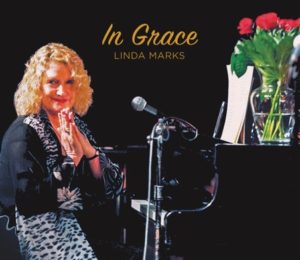 Linda Marks must be taking a lot of vitamins or drinking a lot of coffee. She seems to have new CD release every year, each released like clockwork. Her latest, In Grace, is aptly titled, as she's emboldened by her previous successes and this recording shows it.
Every song feels like it's approaching something epic. Opening track "In Grace" glides in with a gentle, pleasant sweep of smooth vocals and a softly tinkling piano line. A graceful saxophone melody from Willie Sordillo wafts prettily in the backdrop, making more motions in this piece with its second melody line. Marks, as usual, sings with silky smoothness as well as with a largeness of purpose; her sustains so seamlessly inserted into her vocal line, her high pitched vocal seeming to climb ever higher in range and in emotion.
"Enough" finds Marks crooning mournfully about how her world is changing during a time of commercial development. This singer-songwriter still manages to make it beautiful by asking, in her likeable vocal, if the little things can still count a lot and if flowers and sunshine can make her world brighter. She leads her violinist Jackie Damsky and her cellist Valerie Thompson through sweet passages with a strong sense of direction that belies the gentle approach of this song.
"Alone," part acoustic singer-songwriter fare, part romantic tune with saxophone(Dave Birkin), shows how Marks can balance opposing elements in one song to come up with something new and different. Her voice travels along a lonely, forlorn path, yet her vocal tone is lovely enough to bring out the joy of what she once had. She sings like a warm, summer breeze, and her voice seems to move in patterns like the natural perfection of a flower.
A cover of the Cornelius Brothers And Sister Rose hit "Too Late To Turn Back Now" injects a swinging element into this CD. It reveals, artfully, Marks' fondness for this sort of jazzy pop song. Jackie Damsky's violin melody dresses it with a sweet, flowing feeling, and Marks goes to town with an assertive pop flair.
"Tree Of Life" marks this singer-songwriter's interest in songs with philosophical lyrics. Here, she uses her silky smooth, pretty higher pitched voice to describe human foibles, not in a judgmental way but with a reflective warmth. Her imagery brings her song to the listener's heart as they make the listener an eyewitness to tragic circumstances. "Keeper Of My Soul" is similarly sensitive, though this one focuses on the singer-songwriter's own guardian angel. Her coos are lovely, and her understated approach through out is angelic.
Taking on the current Lady Gaga/Bradley Cooper hit "Shallow," Marks shows courage and determination. She pulls of a successful arrangement that respects the source material without copycatting. "The Mistake" features a dramatic imagery of being assaulted and violated. With vocals over brittle banjo notes played by Yani Batteau and her own understated piano, Marks makes her case that trauma is something that travels through generations.
Written by Nancy Ford and Gretchen Cryer and recorded by many name acts, "Old Friend" speaks of solid friendship and companionship. A friendly shoulder theme, it's mildly reminiscent of Billy Joel's "Piano Man." Marks croons down tempo, almost talking, and that keeps this amicable piece conversational and personable. It is relatable, comforting, and quietly entertaining.
Marks continues with another arrangement of a standard, David Buskin's "All In All." Her vocal and Jackie Damsky's violin travel the familiar melody lines while subduing the emotion, making it more forlorn and more touching. Marks's own song "Light Up The Love" is about taking the initiative to make one's life brighter even when the outside world is getting darker. This theme gets lift under its sails from Marks' bright vocal coos and sustains.
Marks closes out with John Lennon's "Imagine," a courageous choice considering who wrote it and how many others have recorded it. As expected, Marks meets the challenge. Her pretty voice shifts its gears in just the right places, giving this cover a feeling of motion and meaning. Jackie Damsky's violin fills in nicely for the original melodic line as Marks tinkles the piano rhythms with a warm touch, notes that give the song forward momentum with their understated presence.
Marks scores not just another fine album with In Grace. It is her strongest thus far. She's risen to a higher level of writing, arranging, performing, and recording. With Doug Hammer turning the knobs at Dreamworld Productions in Lynn, Massachusetts, Marks knocks it out of the ballpark with a palpably superior effort.
https://www.facebook.com/lindamarksmusic/
https://www.facebook.com/events/412818402889512/

Follow me on Social Media!