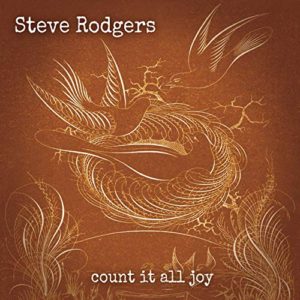 Steve Rogers is a Connecticut singer-songwriter who aims for the listener's soft spot and always hits it. Focusing on tales of loss, hope, human connection, and triumph on his Count It All Joy album, this singer-songwriter mines the depths of his experience as well as the human heart to come up with realistic song scenarios expressed with gritty vocals and flinty instrumentation.
Opening track "Love Will Comfort You" introduces Rogers as an artist who comes to you straight from his heart, crooning about solace where it's least expected. His handsome, sandpapery vocal rises above the sorrows of this world, reaching a better place, vocally and emotionally. His voice rises to a point just above his considerate acoustic guitar strumming and a forlorn fiddle line, played by Ben Dean, that keeps this song's balance between a chasm of sorrow and the courage to surmount it.
"Lessons That I've Learned" Finds Rodgers still in a contemplative place. His edgy timbre gives a seriousness to what he sings of. He also plays simple progressions on his acoustic that contrast perfectly with his fiddle player's sensitive, emotive bowing. It's impossible not to love his voice and his steadiness of purpose.
Rodgers becomes a hearty prophet on "There's A Hard Time Coming." His vocal melody travels a lonely path, save for his harmony vocalist, Ricci Harke, who keeps things nicely textured. Acoustic guitar and fiddle travel as tightly as the vocals, and a bit of shuffle rhythm keep this one likable and fun even though it presages difficulties in the future.
A hearty strum and more of that emotive fiddle work introduce "Why Are You Here" to the listener's consciousness. Rodger's vocal cruises through a landscape of sorrow with a hearty endeavor. One can feel him working against the pressures of his world, both lyrically, musically, and vocally. His distinctive vocal timbre, with its fiber and edge, is born to sing these kinds of lyrics. He also creates dips and swells with his acoustic guitar that, while augmented by that fiddle, bring a pleasing sense of motion to all he does.
"Oh Captain," a take on Walt Whitman's poem "Oh Captain, My Captain," allows Rodgers to lift his lyrics to a higher level. Both literary and historical, the poem this based on something that keeps one's hope and spirit alive rather then merely mourn, as the original poem did, someone who has passed. Rodgers applies his vocal timbre and vocal techniques to the task of keeping this one balanced between sorrow and triumph.
Getting more lively with "Ain't Growing Old In This Town," a bouncy acoustic folk number, Rodgers still maintains his warm, insightful observations of life. He finds solace in what he has and that helps him to move onto better and brighter things. This singer-songwriter's way of releasing just enough verse at a time helps the listener to picture his images and metaphors. He then places enough vocal emphasis on the right words in those verses, and his sudden instrumental build up with his bursts of expression keep this one full of positive nuggets, lyrically, vocally, and musically.
Rodgers becomes more forlorn on "The Devil Wants To Take You Down." Conjuring images of the devil and the many ways he lures one in, Rodgers keeps this folks song on the dark side. His vocal assertions and his gritty acoustic guitar work keep this one full of haunting zip.
Contrastingly, Rodgers mellows out on "I Will Never Let You Go," a light fare with his chirpy timbre sung down tempo, gentle. A fiddle accompaniment rides alongside his voice, a pretty and polite accompaniment that stresses the song's theme of endless partnership. There is a ripple of acoustic guitar notes that carry this song along like a kid's toy boat along a backyard stream.
"I've Always Had You" is a puff of positive vibe. Rodgers sings with a hefty exuberance and his adept acoustic guitar changes give him quite the platform to ride along. He sings to a marching rhythm, as if he's chanting an anthem, an anthem of hope and an ode to companionship.
"Walking On" is another of Rodger's more assertive numbers. His vocal here climbs with strength up to a high peak of vocal and emotional expression. Brisk acoustic guitar notes fly out of the speakers with flinty aplomb while he croons with a directness, a steadiness of purpose, and a sense of mission. One cannot help but appreciate the mojo behind this composition.
"Welcome Home" feels like what the title states. Adept acoustic guitar low end notes ring with authenticity as Rodgers sings in a forlorn manner about a place he remembers well. A lightly bowed fiddle melody contrasts well with the yearning expressed in the acoustic and in the fiddle line. Rodgers keeps his vocal even to mix with the distant tones of the instruments while connecting with the listener on an emotional level. His understated delivery makes even more emotional this his theme of returning.
Close out track "My Spirit's On Fire" relies on a light sprinkle of keyboard notes. Those notes contrast with Rodgers gritty vocal approach while accompanying him through this easy going number. The singer-songwriter floats with gentility through a sounds cape of emotional honesty.
Steve Rodgers has come a long way. He began his noteworthy career in the band Mighty Purple, running The Space Ballroom music venue for 15 years, and now for his solo acoustic work. Rodgers' new Count It All Joy effort, produced by Vic Steffens for Horizon Music Group in West Haven, Connecticut. It also helps to have along for the ride his brother Jonny Rodgers on guitars and harmony vocals, bassist Seth Adam, and keyboardist Fred DiLeone.

Follow me on Social Media!