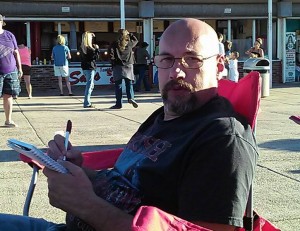 Bill Copeland is a music journalist with over 20 years experience writing about the music industry. Before branching out on his own with this zine, Bill wrote for such New England area music magazines like Metronome Magazine, SoundCheck Magazine, Skope Magazine, Boston Blues News, BostonBlues.com, Blues Audience Newsletter, and others.
In addition to covering the New England music scene, Bill was a news reporter and an arts reporter for many newspapers in his native New Hampshire, Nashua Telegraph, Salem Observer, Foster's Daily Democrat, Hippo Press, Derry News, and the Portsmouth Herald.
Bill currently writes articles and reviews about bands, singers, songwriters, and soloists for this zine, BillCopelandMusicNews.com, his own online music magazine.
BillCopelandMusicNews.com is a for-profit on-line music magazine. The focus is on highly talented artists from the greater-Boston /New England scene. Artists do NOT have to purchase advertising in order to be profiled. Music industry businesses, music venues, musical instrument retailers, and CD manufacturers are welcome to advertise in BillCopelandMusicNews.com.
Musicians from all genres of music, based in New England, are welcome to inquire about coverage, but talent level will be the deciding factor. Bill must hear your CD and or your music links before making a decision. Bill covers the Boston music scene, Worcester music scene, North Shore music scene, Massachusetts music scene, Rhode Island music scene, Connecticut music scene, Vermont music scene, Maine music scene, and the New Hampshire music scene. The entire New England music scene, in fact.
Policies: Bill doesn't review E.P.s, digital singles, two song samplers, or any other sort of short form recordings. Bill only reviews full length CDs. Bill considers anything with EIGHT or more tracks to be full length.
Bill seeks out new bands as well as established bands for interviews and reviews. A new band, as defined by Bill, is about a year old. Bill does not write about start up bands, meaning a group that just got together in recent weeks or months, save for a mention in his Buzz colum. Start up bands tend to not last very long and Bill does not have time to invest in something that might not exist within weeks after it's written up. It is also very confusing to readers to read an article about a band that they cannot find in the clubs because it no longer exists. Granted, bands long established on the scene also break up, but readers will at least have a context of who they were and what they were doing before they split.
Bill only works with professional musicians and music industry professionals. If you approach him on a basis of mutual respect and professional courtesy, he will hear out your sales pitch and or listen to your music. To those who choose heavy handed methods or underhanded strategies to get what they want, peace out.
https://www.facebook.com/billy.copeland.37
Share on Facebook

Follow me on Social Media!